Welcome back to What The Heck Do I Do With This? In this series, we help you put a single ingredient from your Misfits Market box to delicious use. This week's spotlight: the artichoke!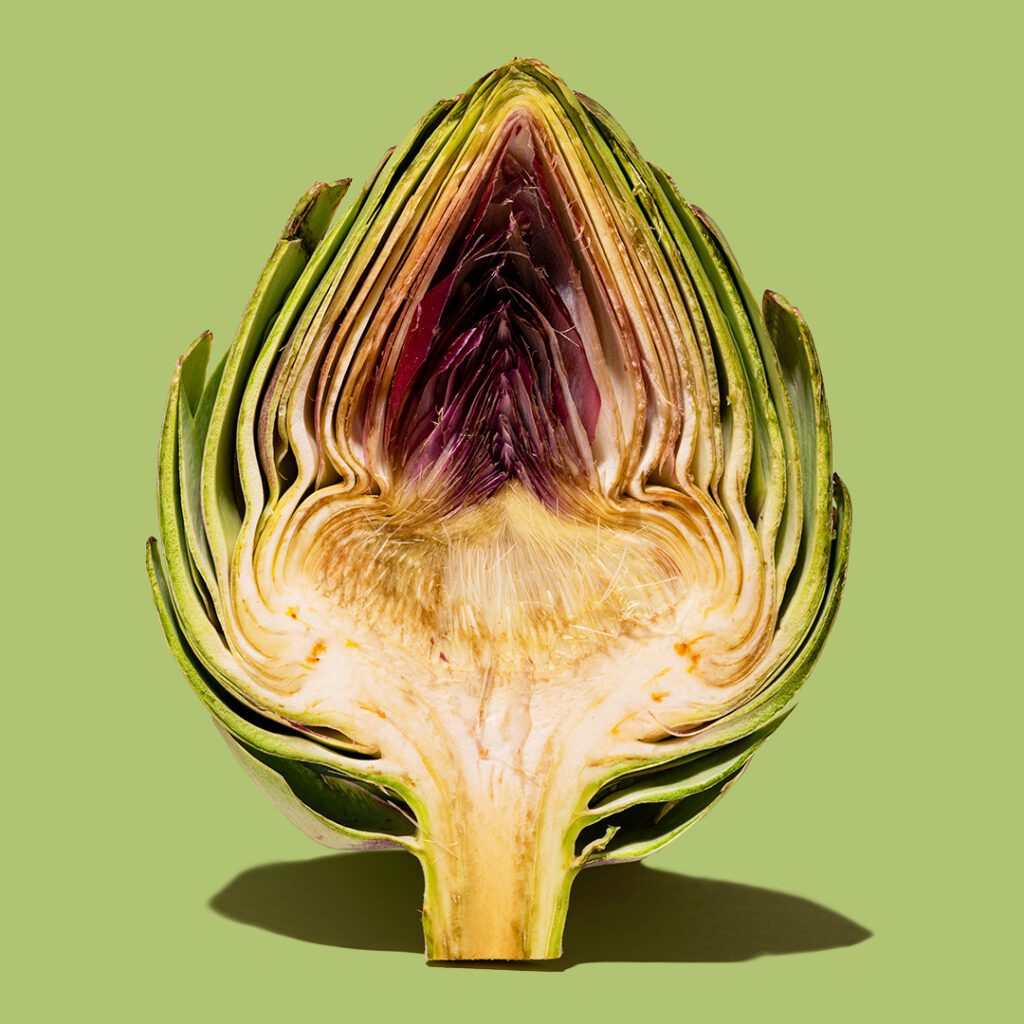 The artichoke is actually the bud of a thistle (a kind of flower) that's harvested before it blooms. Don't be intimidated by the artichoke's tiered, tightly layered spikes, as its bark is way louder than its bite! Once those spiky tips are trimmed, along with the tough outer stems, you'll be rewarded with a tender treat with lemony undertones.
You're just a few rips and snips away from enjoying fresh artichokes at home.
Here's our favorite way to prepare artichokes:
Once you've mastered the prep routine, here are 10 tasty ways to put artichokes to use:
Spinach Artichoke Dip
It's a classic for a reason. Spinach, artichokes, and plenty of cheese are mixed together and cooked until browned and bubbly for a dip that'll disappear as soon as it hits the table. Get the recipe from NY Times Cooking.
Grilled Artichokes with Herby Lemon Aioli
When it comes to preparing 'chokes, you can't go wrong with keeping it simple. Sometimes all you need is a punchy dip to pair with some nicely charred leaves. Get the recipe from Food & Wine.
Steamed Artichokes
Don't get it twisted—steamed artichokes are still full of flavor (and nicely tender!). Pair 'em with your favorite accompaniment, like an infused butter. Get the recipe from Food Network.
One-Pot Creamy Spinach Artichoke Chicken Pasta
Want an excuse to eat spinach artichoke dip as a meal? This recipe's the answer. Everything comes together in one pot, and thanks to the addition of pasta and chicken, it's hearty and filling, too. Get the recipe from Delish.
Mediterranean Roasted Artichokes
Artichokes are blessed with a mild flavor, which means they're great contenders for pairing with stronger flavors. Like in this dish, which includes briny capers, onions, dill, and feta cheese. Get the recipe from The Mediterranean Dish.
Spinach-Artichoke-Sausage Cauliflower Gnocchi
Another weeknight-friendly take on The Dip, this version includes sausage and cauliflower gnocchi. Get the recipe from Eating Well.
Italian Fried Artichoke Hearts
Who doesn't love a fried appetizer? This one only requires a few staples—eggs, flour, those stray cans of artichokes, and the last few stems of fresh parsley. Not to mention, you can whip it up in a snap. Get this winning recipe from Sip and Feast.
Caramelized Onion and Artichoke Flatbread
With sweet caramelized onions, salty feta, and briny artichoke hearts, this flatbread comes together quick enough to rival your go-to frozen 'za. Get the recipe from Budget Bytes.
"The Most Amazing Roasted Artichokes"
Need we say more? Not only are these 'chokes full of garlicky-herby-buttery goodness, they're also halved before they're roasted, making for an A-plus presentation. Get the recipe from Gimme Some Oven.
Spinach-Artichoke Grilled Cheese
What better platform for the iconic dip than an ooey-gooey grilled cheese? Take date-night appetizer to easy lunch in just a few steps. Get the recipe from The Kitchn.
Hungry for more? Try this:
What The Heck Do I Do With Green Bell Peppers?
What The Heck Do I Do With This Zucchini?