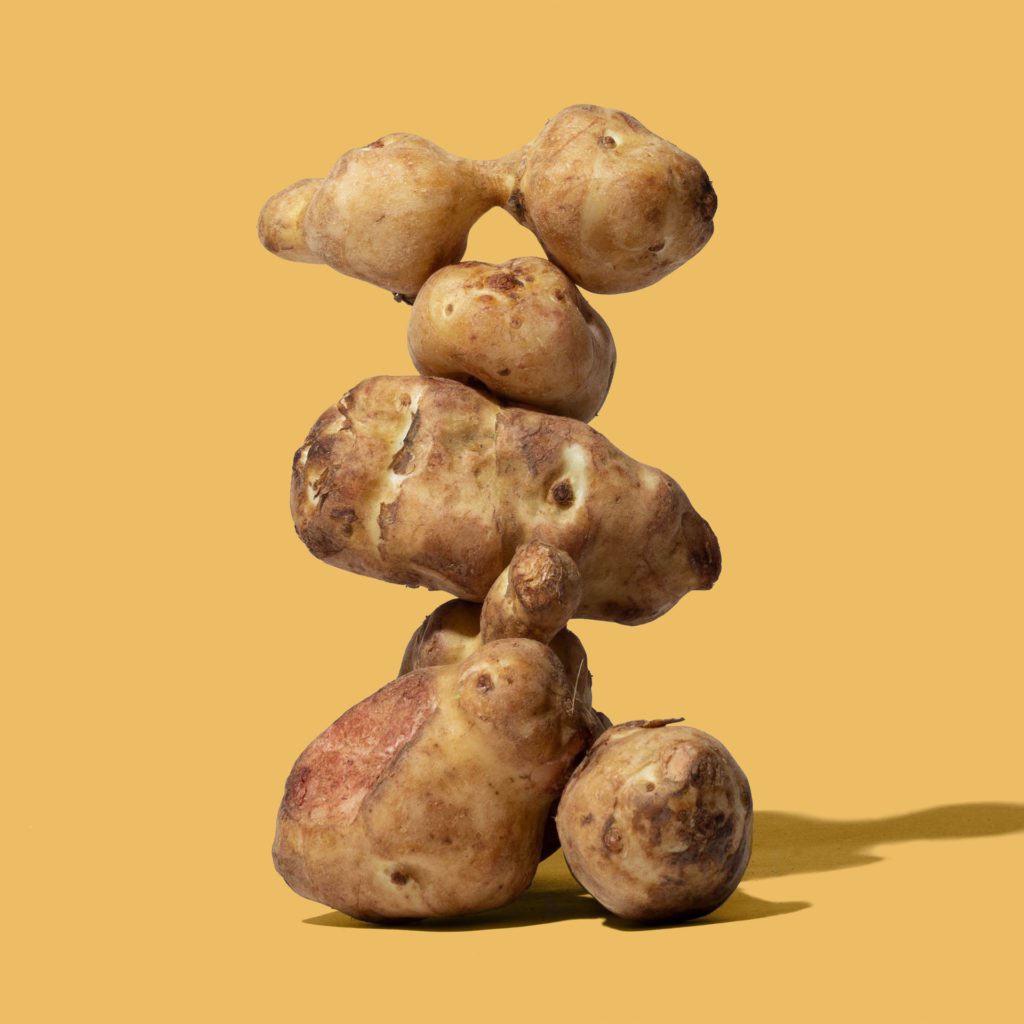 Also called the Jerusalem artichoke, sunroot, or earth apple, the sunchoke is a small, misshapen tuber that's actually the edible root of the sunflower. Like potatoes, turnips, and other root veggies, sunchokes have a distinct starchy taste. And, like a potato, when baked, the skin becomes crispy and the inside tender, sweet, and nutty. Despite its knobby appearance, the sunchoke is relatively easy to cook with both minimal prep and cook time.
Word to the wise: Sunchokes are sometimes referred to as a "fartichoke" because they're full of good-for-you fiber that can make some people a bit gassy. If you think you might be susceptible, just be sure to cook them thoroughly and not eat too many in one sitting.
What's the best time to buy sunchokes?
Sunchokes' optimal roastability and hardiness lead them to be grouped in with other root veggies and featured in many a cool-weather recipe, but in reality, they're most frequently harvested in the Spring.
Get your fresh produce delivered with Misfits Market
Sweet honey and salty soy sauce come together in a thick glaze that coats soft roasted sunchokes. Quickly dry roast sesame seeds for a fragrant crunch to top your new go-to Asian-inspired side dish.
After cooking sunchokes in boiling water until tender, smash and bake them with a fresh thyme butter to be rewarded with crispy roasted sunchokes. If you don't have any sunchokes on hand, this same recipe can even be used for small red or fingerling potatoes.
The best part about sunchokes? They're a winter staple, which makes them the perfect root vegetable to add to comforting homemade soups. This creamy sunchoke soup is then topped with caramelized shallots, which adds a hint of sweetness, to this sweet-yet-nutty soup.
If you aren't a fan of tangy feta or fresh dill, just don't add them to the dish and instead consider this your go-to recipe for simply roasted sunchokes when you want a simple yet flavorful side dish.
Sunchokes are often added to hummus and other hearty dips and this recipe is no different. Blend savory roasted sunchokes with creamy cheese of your choice and fresh sage—which you can get in our Marketplace!—to make a thick dip perfect for holiday parties or a snack for lazy Sunday afternoons.
This recipe calls for two ingredients you probably have in your box this week: sunchokes and ginger. Bake them as you would in your regular scalloped potato recipe, but get ready for surprising ginger and nutty sunchoke flavors instead of your classic mild potato taste.
Sunchokes don't need to be relegated to just simple side dish! They're also a delicious addition to hearty fall main dishes, like this vegan-friendly mushroom pasta.
It's not a secret that we're huge fans of picking veggies, especially if you're struggling to use all your produce in a single sitting. Pickle sunchokes with other root veggies and then top it on cooked quinoa with a few other key ingredients for a simple yet filling lunch.
Spend just a few extra minutes (like, 3 tops!) to heat spinach as a base to roasted sunchokes and crispy, seasonal Honeycrisp apples. It's the perfect savory and sweet cold weather salad.
Roasted sunchokes and garlic become a hearty base to chicken thighs for a tasty one pan dinner that the entire family can enjoy in just under an hour.
Do you have a go-to recipe for sunchokes? Let us know in the comments!