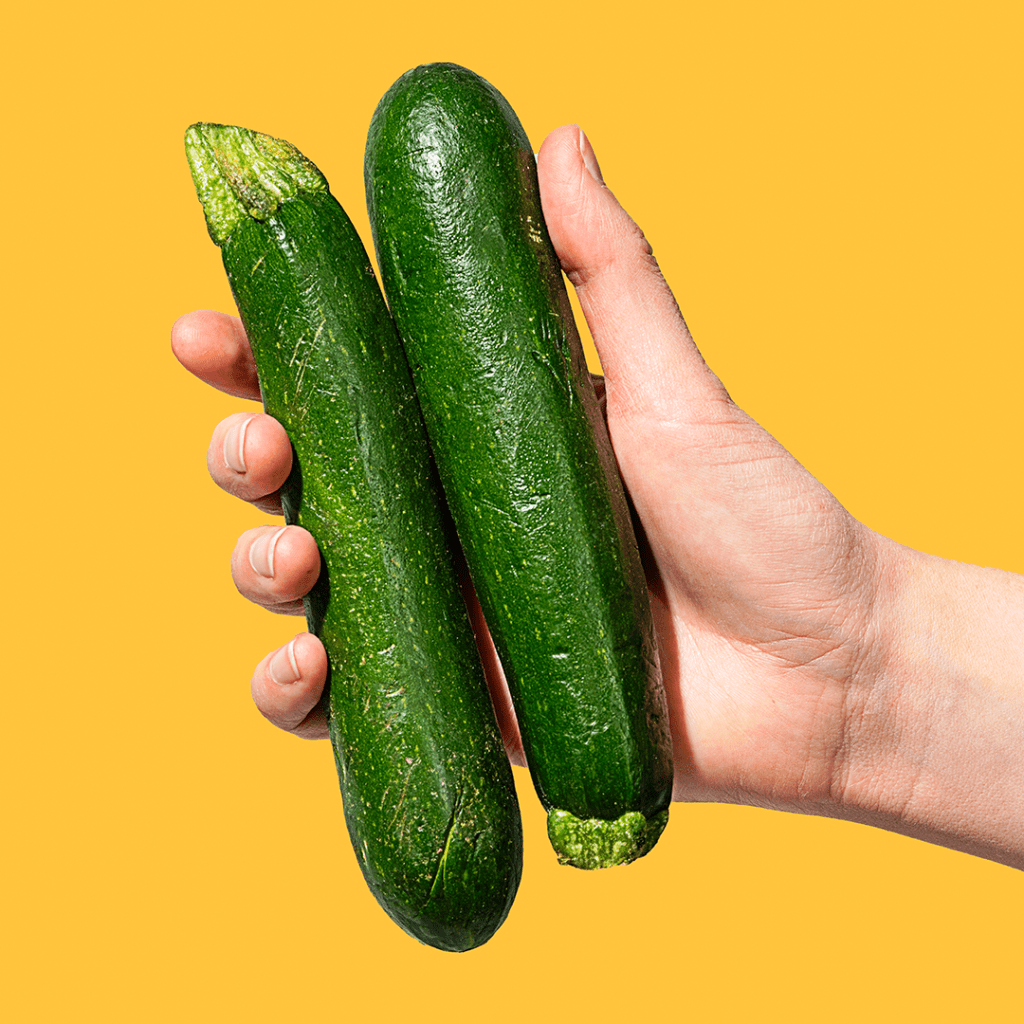 Zucchini is a true multitasker when it comes to cooking and can be used in anything from ratatouille to breads (sweet and savory!), pastas, sandwiches, and more. Its mild flavor and tender texture can be completely transformed depending on the cooking method—grilled, baked, steamed, sautéed, or used raw. Try it shaved into zoodles as a lighter, lower carb alternative to pasta, or let it take center stage on your plate and serve it baked and stuffed with any combo of veggies, cheese, and meat.
If you're swimming in zucchini, great news: It can be stored in the freezer for up to three months. Here's how we recommend prepping and freezing zucchini.
Step 1: Thoroughly wash the squash to ensure there is no dirt or debris.
Step 2: Blanch zucchini. Blanching is a process of quick-cooking vegetables in boiling water and then transferring them to an ice-cold water bath to stop the cooking process. This process stops an enzyme action that can cause loss of flavor, texture, and color. (Science!)
To prepare the zucchini for blanching:
Cut the zucchini to your desired thickness of slices or cubes.
Fill a large pot with water, let it boil, and prepare a bowl of ice water.
Add the pieces of zucchini to the boiling water and cook for 60 seconds. Once those 60 seconds have passed, use a slotted spoon and quickly transfer zucchini to the ice bath to stop the cooking process.
Step 3: Dry off as much moisture as you can before freezing. Place zucchini in a single layer on a baking sheet and freeze overnight. Then, place frozen zucchini into an airtight bag or container and store for up to three months.
However, if you're looking to add more zucchini recipes to your rotation right now, check out our favorite zucchini dishes below.
The zucchini noodle, aka zoodle, is one of those foods that may have been created as a substitute for a beloved item (pasta), but has since taken on an entire life of its own. Whether you peel, slice, or Spiralize your squash into luscious strands, zoodles are a great low-carb alternative when you want to pack more veggies on your plate. But, let's be honest: A plate of zoodles is only as good as the sauce it's tossed in. Half the time, it's just a delivery vehicle for something more exciting.
Bobby Flay toasts zucchini in this recipe to bring out an almost nutty flavor and tender consistency. Pair it with your favorite kind of pasta to complete the dish.
Spring is here with this zesty zucchini bread. The lemons give a pop of flavor to the classic spicy cake, and the glaze gives it just the right amount of sweetness to satisfy your sweet tooth.
These quick-to-make wraps use raw zucchini, bell peppers, and carrots to give you a filling way to use up any extra veggies in your Misfits Market box. The kale pesto is also a delicious touch in this recipe!
Grilled stone fruit and zucchini pair great together in this salad. We top it off with a lemon-yogurt dressing to bring all the flavors together.
If you're looking for a fun vegetarian entrée that's stuffed with mushrooms and hearty tomatoes, these zucchini "boats" are a quick and tasty option. Just don't skimp on the cheese.
This salad is not only refreshing, but the zucchini ribbons make this dish look so inviting. Add some roasted pine nuts to give it some added texture.
We make our zucchini bread with feta, so you can have it either savory or sweet. Toasted and served with ratatouille and parmesan cheese, or battered, fried, and covered in maple syrup. In our professional opinion, you should have it both ways.
Garlic and Parmesan are always a match made in heaven. Adding shredded zucchini to this side dish makes for a tender middle and crispy outside.
Who knew you could make zucchini fries even better? If you don't have a spiralizer to make these magical zucchini curly fries, you can always run a vegetable or julienne peeler down the entire length of your zucchini to create noodle-like strips.
Sometimes we're swimming in zucchini but lacking inspiration on what to do with them. This super-quick side dish solves that issue with absolutely delicious results. Slender spears of squash are the perfect vehicle for this garlicky sauce that, frankly, you'll want to slather on every seasonal veggie.
We have a theory that cream cheese frosting can take most desserts to the next level. This zucchini cake is no different. You can even make the cake layers ahead of time and freeze them for up to three months!
These quesadillas are a perfect way to use up shredded zucchini and frozen corn if you are trying to make room in your freezer for more Misfits Market goodies. Pair it with a spicy salsa to give it an added kick!
If you have any veggie skeptics in your life, this lasagna is sure to change their mind. It's perfect for Meatless Monday, and great for impressing friends at your next dinner party along with a simple salad.