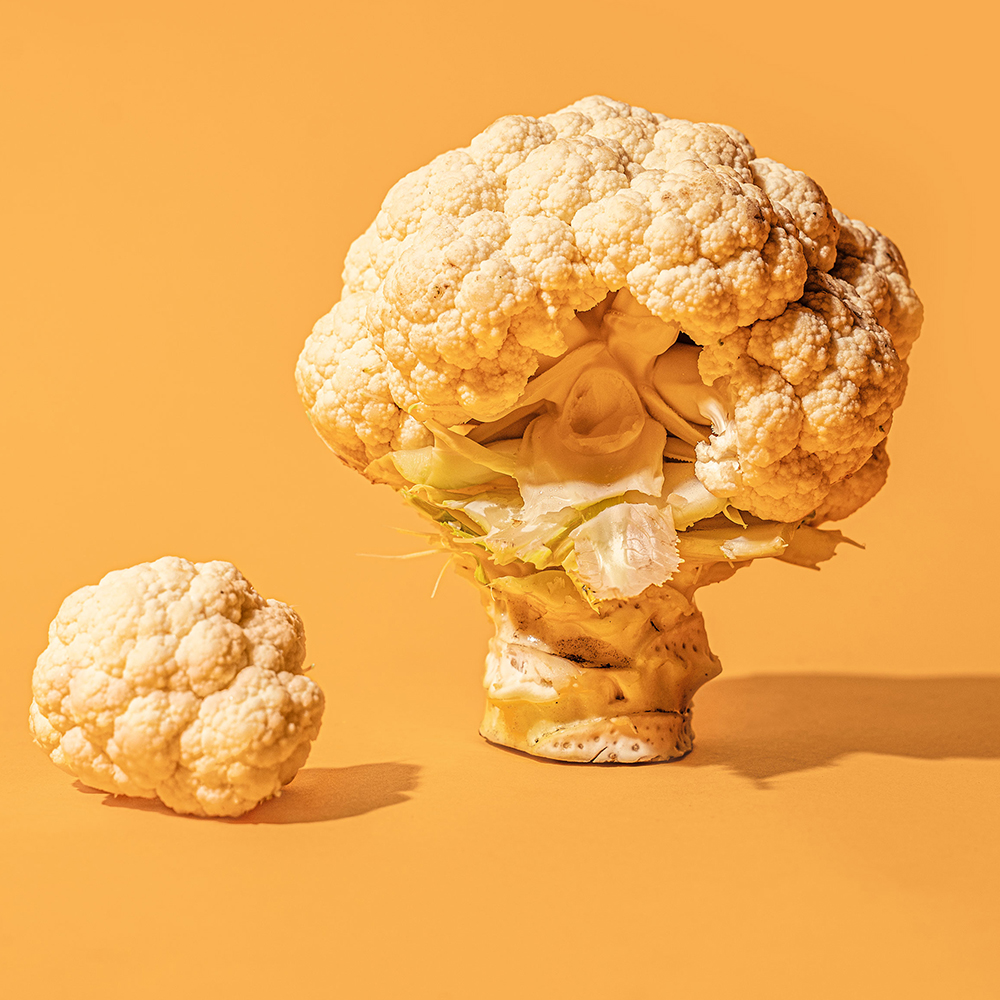 Cauliflower is one of our favorite veggies, for good reason. It's super-versatile, nearly always in season, and if you prep it correctly, you can get a few meals out of a single head of this cruciferous veggie. Packed with fiber, vitamin C, and antioxidants, it's easy to roast and it plays a starring role in many vegan dishes (cauliflower nachos, anyone?). Don't be intimidated by its size and unwieldy shape—in our latest Prep School, we break down how to cut, store, and use this multifaceted must-have.
Roasted, shaved, fried, mashed, pickled. There are so many ways to cook cauliflower because this cruciferous veggie is a total chameleon. It takes on all the flavors you throw its way. Need a little more inspiration? Scroll through our 12 favorite cauliflower recipes and let us know in the comments your favorite way to enjoy cauliflower.
If you haven't had a nacho night in a while, here's a very good reason to: our vegan cauliflower nachos. Not only do these use everyone's favorite cruciferous veggie—the cauliflower, of course—but they also make good use of that extra can of beans you have hanging out in your pantry. Extra toppings? Go nuts. The sauce? We made ours with a vegan "cheese." But if you want to drown yours in cheddar, you definitely have our full support.
These cauliflower skewers were inspired by the Southeast Asian satay technique, which includes a spiced coconut milk marinade and a sweet-and-salty peanut sauce. But instead of using a more traditional protein like chicken, we're firing up cauliflower for a veg-friendly take.
Substitute cauliflower to make a low-carb, gluten-free pizza crust that bakes to crispy perfection. Top with your favorite pizza toppings—cheese, sauce, fresh peppers and onions, whatever you have in your Misfits Market box!—to be rewarded with a guilt-free pizza any night of the week.
With plenty to offer in both texture and taste, these baked cauliflower bites slathered in buffalo sauce are a delicious alternative for game day parties. If you can't handle the spice—or want some more variety on the plate—simply swap in BBQ sauce instead. Just don't forget the carrot and celery sticks and blue cheese!
You'll often see cauliflower "riced" as a substitute for the popular grain in many dishes. Rice bowls, burritos, you name it. But since cauliflower is on the milder side, it can take on sweet flavors, too. Yes, you can even try your hand at sweet rice pudding using cauliflower.
Toss these thick-cut cauliflower "steaks" on the grill—they're a hardy veg, they can take the heat—for a smokey twist on a vegetarian-friendly main dish. Top them off with an easy corn salsa, or sub in other sauce. A fragrant chimichurri or herby sauce would be delicious.
There's a reason why you'll see cauliflower used as a meat substitute in a lot of classic dishes. It's hardy, yet gets soft and steamy once cooked. Plus, it can hold its own against strong flavors and long cooking times. Here, cauliflower is used in place of chicken in a delicious one pot tikka masala. Even better: It's ready in less than 30 minutes.
These crunchy, breaded and fried, cauliflower pieces are covered in a homemade orange sauce that tastes better than takeout.
Like cauliflower pizza crust, this gluten-free recipe uses cauliflower instead of flour to make cheesy breadsticks. Dip them in pesto, tomato sauce, or eat them as is. A recipe to be enjoyed time and time again.
Anyone else out there refuse to eat broccoli or cauliflower as a kid unless it was slathered with cheese? This one's for you. The magic still happens when cheese meets cruciferous veggies, but instead of trying to disguise some limp, steamed veg, we're enhancing the nuttiness of these amazing vegetables by baking them. (If you're still in the anti-broccoli camp, pour the cheese sauce over cooked pasta instead for a tasty spin on macaroni and cheese.)
Yep, you guessed it. This chocolate cake is not only delicious, but it holds a secret ingredient: cauliflower. Consider it the best way to sneak in a side of veggies while enjoying an indulgent chocolatey treat.
Once finely grated and squeezed of excess liquid, cauliflower takes on the consistency of cooked rice. That's why we like to use it in homemade sushi. You get the nutritional benefits of cauliflower, fewer carbs, and all the delicious sushi flavors you love.