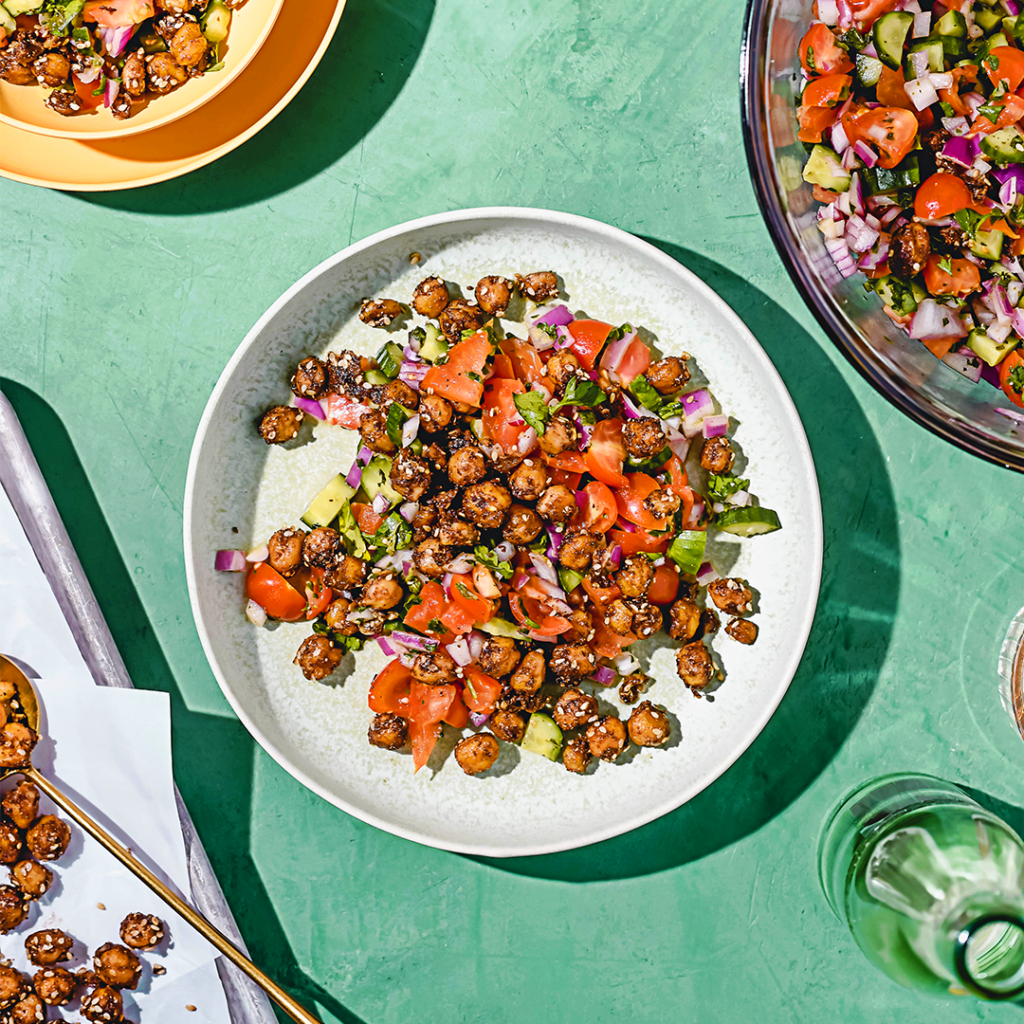 Crispy, refreshing, and flavorful, the next recipe in our Cabinet Castaways series completely transforms any canned chickpeas you may have tucked away in your pantry. Though these cooked legumes are great as-is—added to pastas, puréed into hummus, mashed onto toast—they take on new texture and flavor after a turn in the oven with lots of spices. (In fact, we often roast a full can for an easy afternoon snack that satisfies our cravings for something crunchy.) Roasted chickpeas are the perfect base for this Mediterranean-inspired salad, which is chock-full of so much produce from your Misfits Market box: cucumbers, tomatoes, onions. Packed with fresh herbs and veggies, there's no better dish to kick off spring.
Print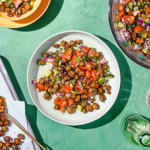 Mediterranean-Inspired Salad with Roasted Chickpeas
---
Roasted Chickpeas:
2 cups

canned chickpeas, rinsed and drained

2 tablespoons

olive oil

2 tablespoons

za'atar or Mediterranean-style seasoning of choice

2 teaspoons

sea salt
Mediterranean Salad:
1 cup

red onion, diced

1/2 cup

parsley, chopped

3 tablespoons

mint, roughly chopped

1 cup

cucumbers, diced

1 cup

cherry tomatoes, diced

2

lemons

2 teaspoons

sea salt

1 teaspoon

ground black pepper

2/3 cup

Kalamata olives, pitted and roughly chopped
Roasted chickpeas
---
Instructions
Preheat oven to 400 degrees.
Transfer chickpeas to a lined baking sheet pan. Toss with olive oil and za'atar and evenly spread across the baking sheet. Roast for 20-30 minutes, shaking the pan halfway through, until chickpeas are golden and crispy.
Remove from the oven and season with more salt if necessary. Let cool.
In a large mixing bowl, add the remaining salad ingredients. Zest and juice the lemons directly on top, mix, and serve immediately. Enjoy!
---