You might know the onion, but are you familiar with the leek, the shallot, or the ramp? Here's how alliums are different, when to use them, and why they're the best.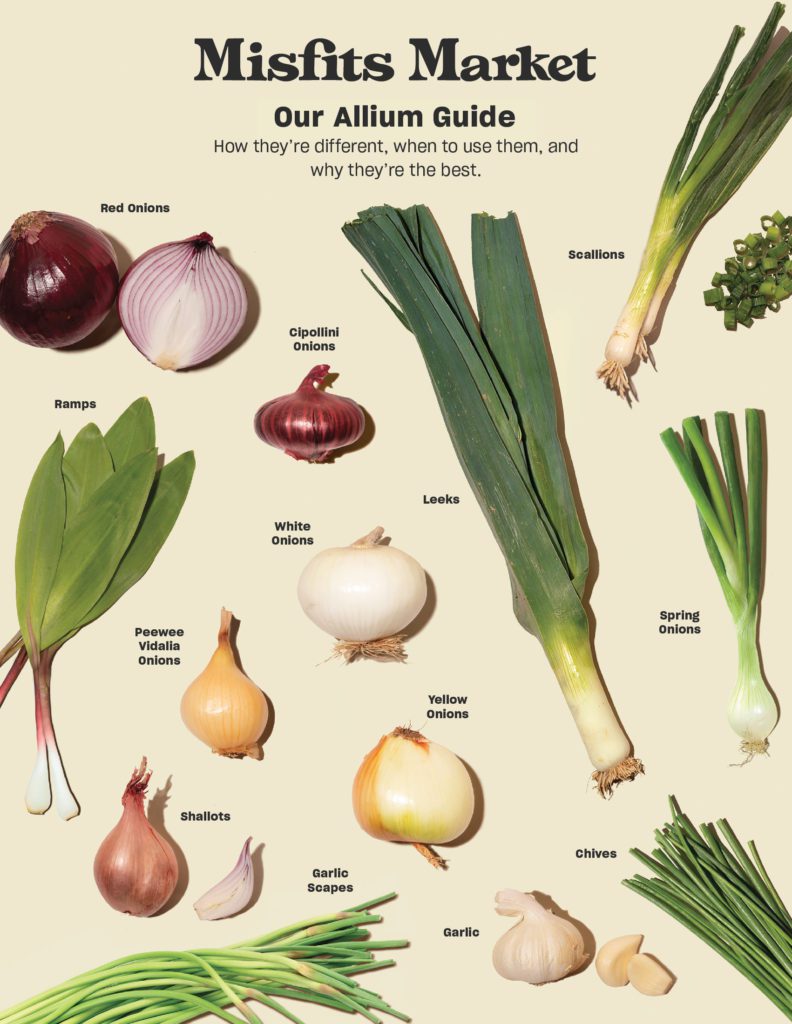 Yellow onions
Definitely your all-purpose cooking onion. Probably because it has a nice balance of sharpness and sweetness—and it only gets better after it's been cooked down and softened.
Peppery and a little spicy. This is the onion you want to eat raw, thinly sliced, or finely diced. Winner for tastiest onion as a pickle, too. The brine mellows out any bite.
White onions
You could use these like you would a yellow onion, but they're milder so we like to dice them up for raw salsas, sprinkle over refried beans, or slice up for burgers.
Vidalia onions
A total sweetie. They still have a bite but not much of one. Our go-to for caramelizing or flavoring any low-and-slow recipes we're making.
Cipollini onions
No need to chop up your cipollinis. They're small and squat: roast them whole and serve as a side, or add to braises like pot roast.
Garlic
You know it. You (hopefully) love it. It can be overpowering raw, so lightly sauté for a few minutes to flavor your dish. A long roast will really bring out its sweetness.
Garlic scapes
These are the tangled up flowering stems from garlic. Don't be fooled by the green: they still impart serious garlicky-ness unless blanched. Make pesto, use on pizza, or add to fried rice.
Use the white and pale green stalk for flavoring soup, or roasting until they're a caramelized, melt-in-your-mouth consistency. The tougher, darker green top should be saved for stock.
Scallions
Scallions are the perfect garnish: a little crunchy, a little oniony, and they add color and freshness. Every part is usable minus the roots at the bulb.
Spring onions
So, how is this different from a scallion? It's not. They're the same, except for the timing of when they're harvested, which is why spring onions have a thicker bulb. Grill these!
Chives
Thin and delicate, but big on flavor. Sure, you can finely mince this oniony herb as a garnish—or give it more to do: vinaigrettes, compound butters, make a creamy pasta sauce.
Ramps
A sought-after spring favorite with a short season. Ramps are actually wild leeks, and they're garlicky, pungent, and absolutely delicious. Pickle, add to pasta, and have with scrambled eggs.
Shallots
For when you need all that good onion flavor but need something a bit more delicate and sweeter. A tasty addition to vinaigrette. You can also fry a big batch and add to, well, everything. 
How pungent is it?

Root Alliums: Bulbous (quite literally) with wispy, peelable outer layers. They're dried post harvest to lengthen shelf life once stashed in your pantry.
Fresh Alliums: Stalky, snappy, green-leafy, and bright. These bunches only last a few days before starting to wilt, wither, and brown.
Still can't get enough alliums? Read more:
What the Heck Do I Do With This Onion?
How to Pickle Onions (and Everything Else!)