Say hello to the onion. It's the third most-sold vegetable in the United States and though it's a kitchen (and Misfits Market) staple, you still may struggle with the "correct" way to cut and prepare the tear-inducing veg. Never fear! In this week's edition of "Prep School," we'll explain how to cut, how to store, and how to cook the common onion. Because it's never too late to learn!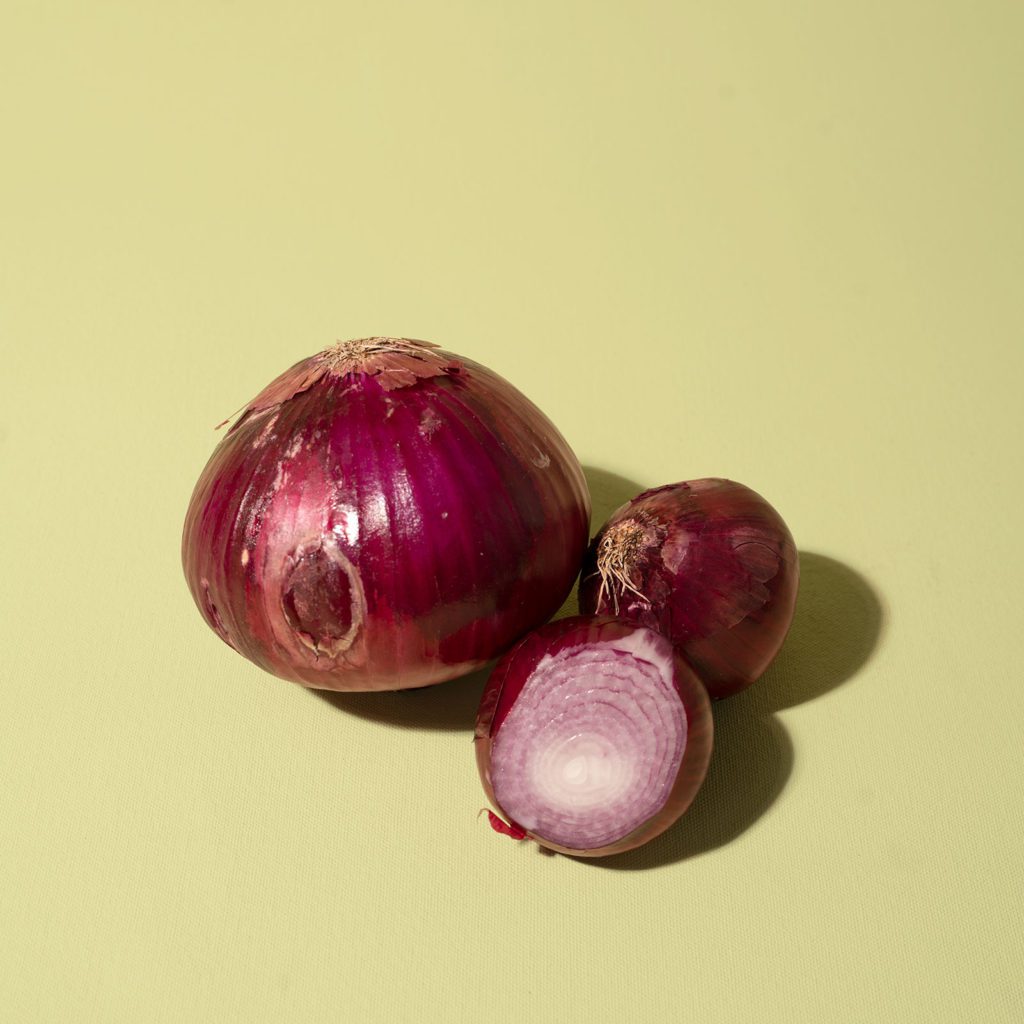 Watch now to learn how to cut, store, and cook any onion:
If you've never used reusable wax wrap to cover and store your food, the first time you're ready to use it, make sure you scrunch the wrap in your hands a few times to activate it. Then, you should be able to use it to protect a number of fruits and veggies. (If they get a little too tacky for your liking during activation, feel free to give them a rinse in cool water and let air dry before first use.)
Though red, white, and yellow onions are not always interchangeable—for example, white onions are better for caramelizing and in an onion soups whereas red is the preferred onion for pickling—we've always been a fan of customizing recipes based on whatever we have in our boxes. We've already talked about the onion at length (read: What the Heck Do I Do with This Onion?) but we also found the below must-try recipes you can essentially use whatever onion you have on hand. Happy cooking!
It's one of the easiest ways to remove some of red onion's intense spice while keeping crunch, color, and flavor. Follow our simple pickling method and get ready to enjoy pickled onions on burgers, hot dogs, salads, and just about everything else.
French onion soup is a classic recipe to use a lot—and we really mean a lot!—of onions in a single dish. This slow cooker version just makes it that much easier to enjoy a fragrant, flavorful soup without much work at all.
Once onions are cooked low and slow, their umami flavor is replaced with surprising sweetness. Sweet onions are the perfect complement to mild flavors like eggs and ricotta cheese, both of which are in this creamy onion tart.
Instead of your average onion rings, these rings are sliced extra thin so they crisp up more like onion straws. Eat them as a crunchy side dish or top them on your burgers for a surprisingly special weeknight dinner.
You can't go wrong with pizza! Sweet caramelized onions are paired with smokey bacon and tangy goat cheese to take your Friday night pizza night to the next level.
Also called an onion blossom, use an air fryer to get all of the flavor without the grease in this restaurant-worthy dish.
Picture onions slathered with cheese upon cheese and you have this tasty dish. Swap asiago for any other sharp cheese like Parmesan. Once baked to perfection, take these slow-roasted, cheese-covered onions and top them on burgers or simply eat them as is.
Like French onion soup, onion dip is a go-to onion recipe. This healthier version uses Greek yogurt in place of sour cream for just the right amount of tang. Don't forget the potato chips!
A classic sandwich combo gets a delicious upgrade when added with onions and stuffed and fried in flaky empanada crust.
There's more than one type of onion in this dish from Bon Appétit—the genius recipe team added sour cream and onion potato chips on top for extra flavor and crunch. Sign us up!
Caramelized onions add a sweet yet savory umami flavor to any dish they're added to. We love them on burgers and even in pastas. But caramelized onions can take hours to prepare if you want them done right. That's why we're fans of cooking up a big batch of caramelized onions and then freezing them for easy access when we need them in a pinch. Just pop out caramelized onion cubes that have been drizzled with olive oil, heat the cube in a pan, and have fragrant and delicious caramelized onions in minutes.