Ever worry you'll get bored of a dish after you meal prep in a large batch? We've got another approach you just might love: Cook it once, eat it twice. Take your favorite Misfits Market veggie (like beets) and prepare it with a super-simple method. Then, add that cooked veg to a number of recipes with totally different flavors.

Suddenly, last night's dinner has become today's lunch or tomorrow's breakfast in an entirely new dish with new different flavors—all without any extra cooking.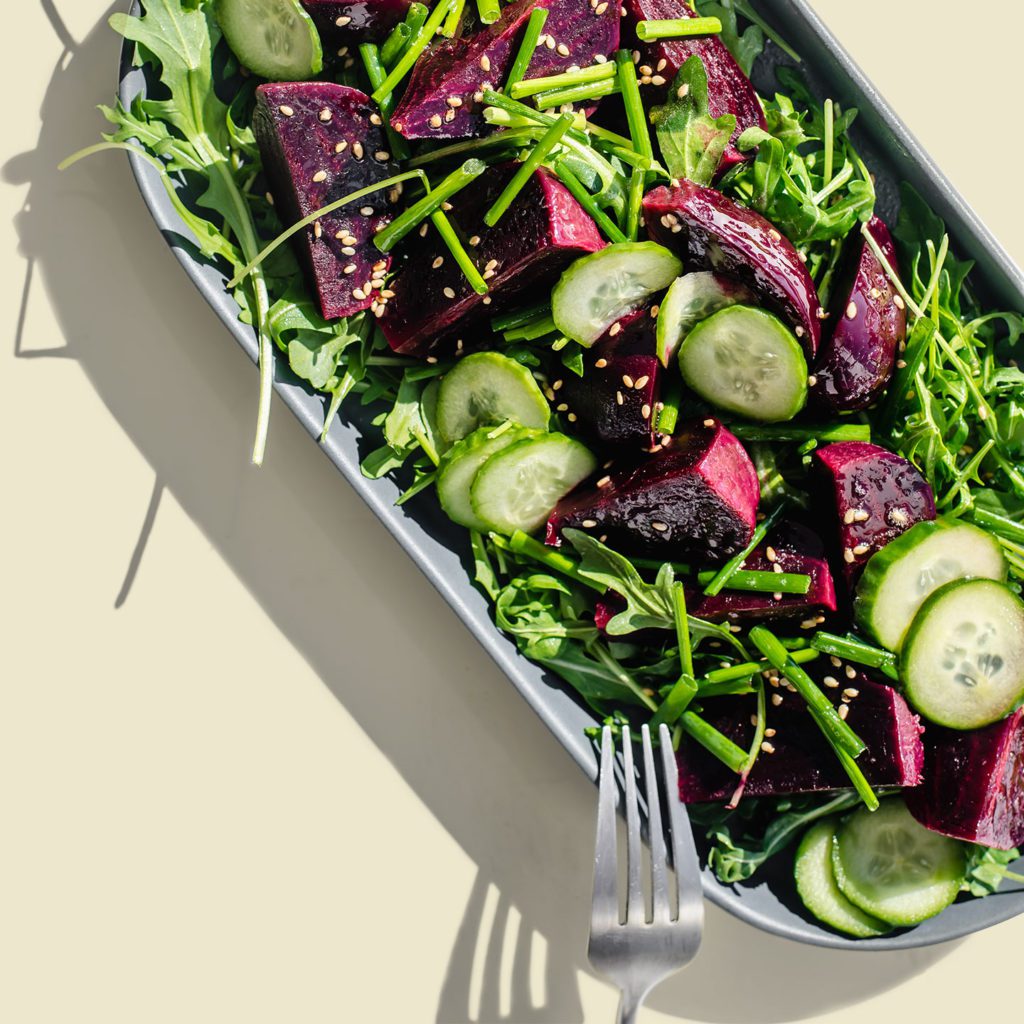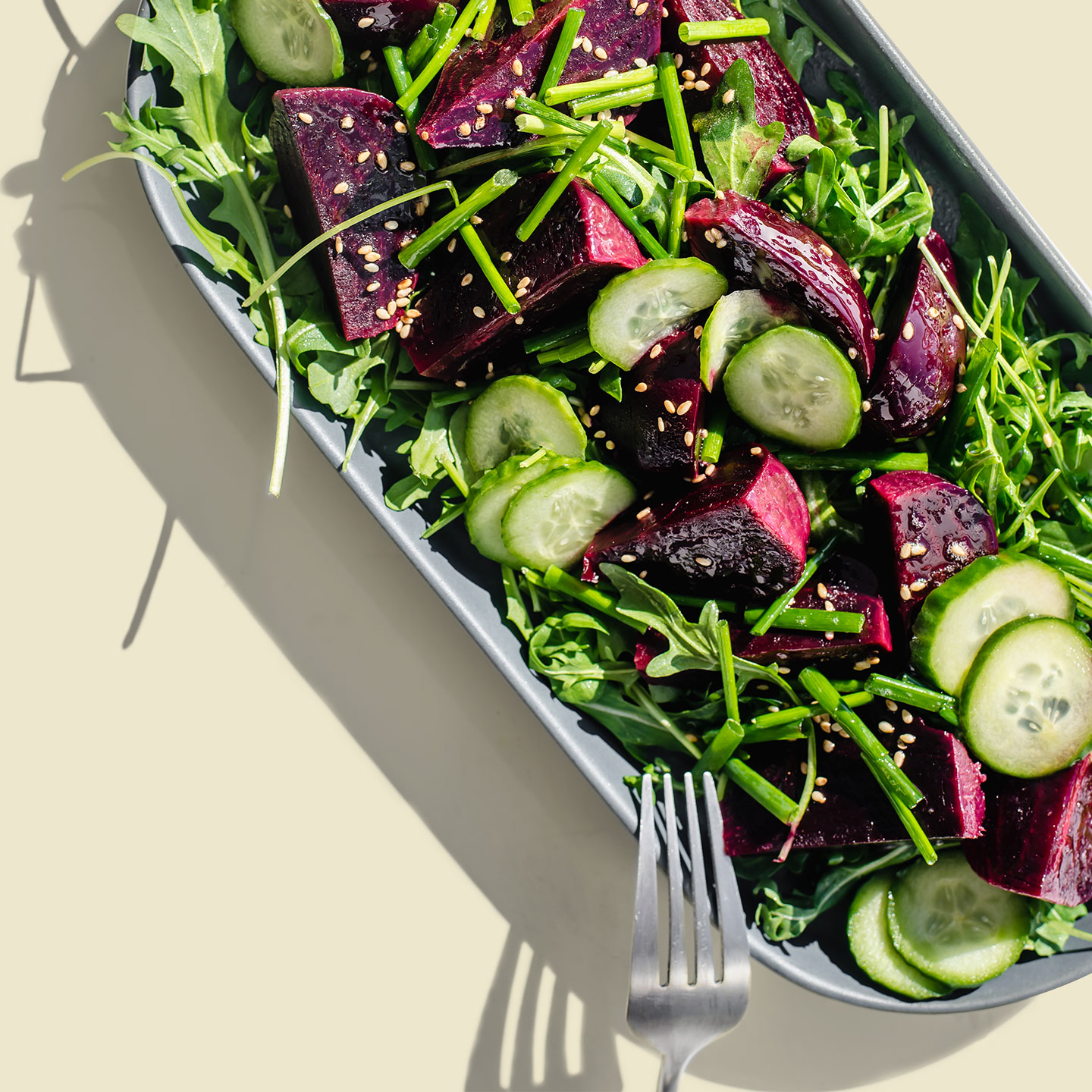 Start with boiled beets. Boiling softens the beets and makes them easier to eat in a number of dishes. Once boiled, they can be stored in the fridge for up to 5 days and then be used in a refreshing beet salad, beet and carrot latkes, topped on pizza, added to flatbreads, and so much more.
What you'll need:
6 large beets (red or gold)
2 teaspoons salt
3 cups water, or enough to cover the beets in a cooking pan
What to do:
Brush and clean the beets and remove greens. (Save tops for a beet top pesto, sautéed beet greens, or compost them.)
Transfer beets to a small pot. Add salt and water.
Bring to high heat and boil for 20-30 minutes or until fork tender.
When ready, drain and under cold water carefully peel to remove the skins.
Then you can make:
Print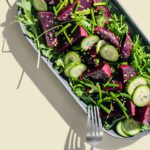 Chilled Sesame Beet Salad
---
2 cups

boiled beets, quartered

1 teaspoon

toasted sesame oil

1 tablespoon

sweet rice vinegar

1 tablespoon

chives, chopped

1/2 cup

cucumbers, thinly sliced

2 cups

baby arugula

2 teaspoons

sesame seeds
---
Instructions
In a large mixing bowl, toss together beets, sesame oil, sweet rice vinegar, chives, and cucumbers. Chill in the fridge for 1 hour.
When ready to serve, lay a bed of baby arugula on a platter. Then, layer on the beet mixture and garnish with sesame seeds. Serve immediately while cold and enjoy!
---
Print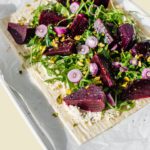 Pistachio, Arugula, and Beet Flatbread
---
1

large, ready-to-eat flatbread

2 cups

boiled beets, quartered

1/2 cup

herbed goat cheese

1 tablespoon

extra virgin olive oil

1/4 cup

red onions, thinly sliced

1 cup

baby arugula

3 tablespoons

pistachios, chopped
Juice from

1/2

lemon

1 teaspoon

salt

1 teaspoon

black pepper
---
Instructions
Bake flatbread according to package instructions.
Let flatbread cool slightly. Then, spread the goat cheese evenly along the bread, leaving about 1/2-inch around the edges for the crust.
Layer arugula, beets, and red onions. Drizzle extra virgin olive oil on top and add salt, pepper, pistachios, and a squeeze of lemon juice evenly across the flatbread.
When ready, use a pizza cutter to divide and portion to size preferences. Share and enjoy!
---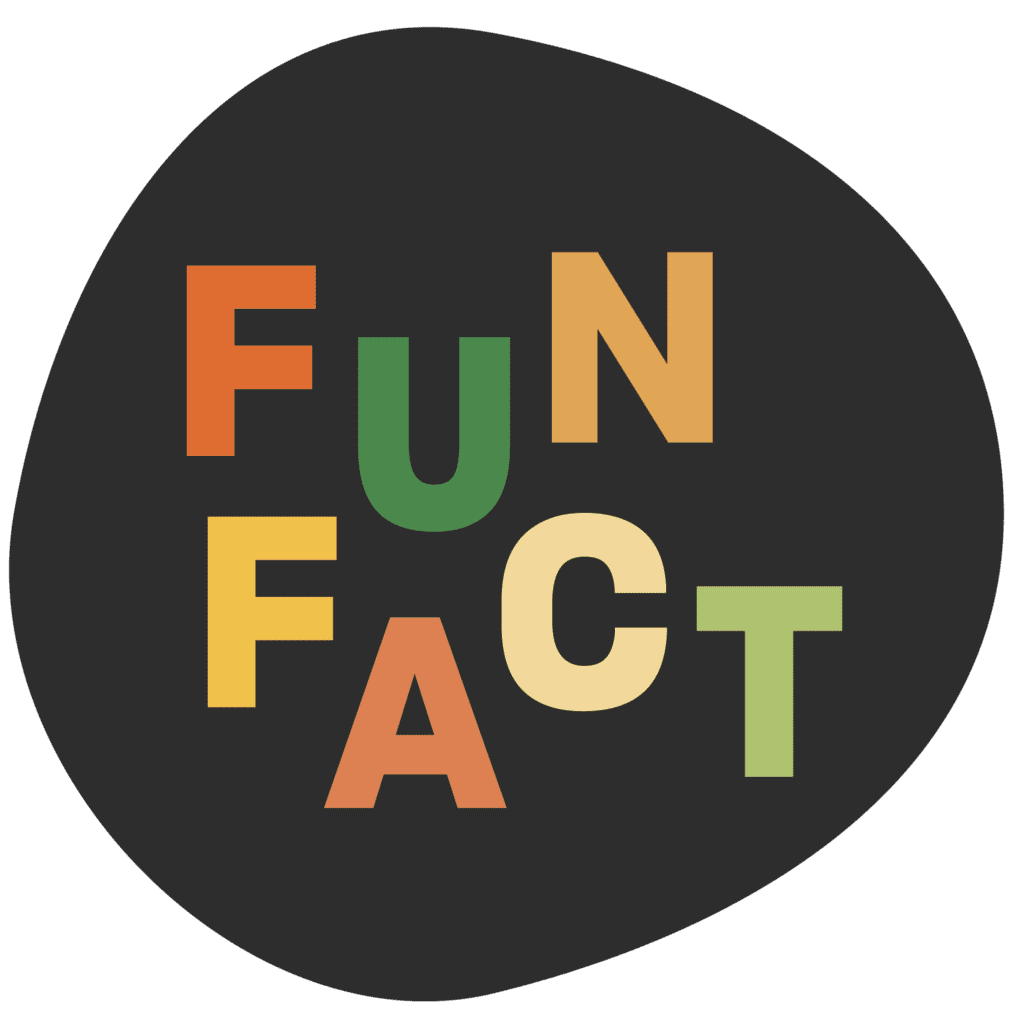 How long do cooked beets last in the fridge?
If you store them properly, cooked beets will last for three to five days in the refrigerator. They're best kept in shallow, airtight food storage containers or wrapped tightly in heavy-duty aluminum foil or plastic wrap in order to maximize their shelf life. You can also freeze cooked beets to extend shelf life even further. Simply freeze your beets in covered airtight food storage containers, heavy-duty freezer bags, or wrapped tightly in heavy-duty aluminum foil or plastic wrap. Frozen cooked beets will stay good for up to eight months.