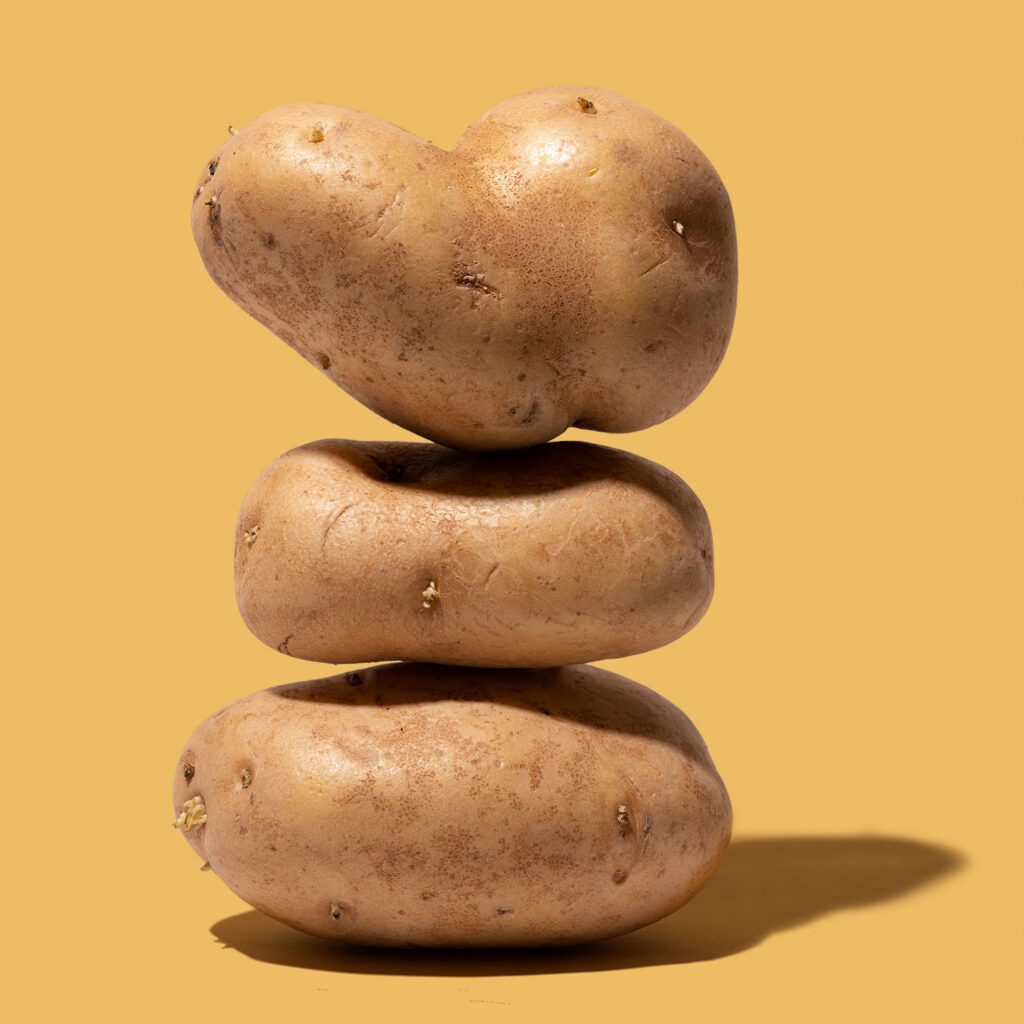 What can't the potato do? Breakfast, lunch, and dinner, even snack time and cocktail hour get in on the potato love. The potato (and all of its wonderful varieties) can take on far too many forms to count—or that we can attribute to any one single meal.
Sound off in the comments below whether you agree—or disagree!
Unsurprisingly, the potato renders itself highly versatile with preparations galore. Since the possibilities are endless, we've narrowed down a few of our reliable, forever-favorite potato recipes. Here's what made the shortlist:
Apps, Nibbles, and Sides
Sure, you can make homemade potato chips using the entire potato. But if you're already using red, Russet, yellow, or sweet potatoes for another dish, make them go the extra mile by saving those peels! You can fry them in minutes for a crispy snack that's boosted by a flourish of smoked paprika. Get the recipe.
There's only one way to improve on mashed potatoes (yes, even those leftovers): bread them, mix with cheese, and deep fry them. Get the recipe.
Potato Salads
With a batch of boiled potatoes, a handful of any fresh herb, and this no-fail mayo base, only two minutes stands between you and a bowl of creamy potato salad. But if you're looking to put a spin on the classic, here are two more ways to dress it up:
Goodbye bland, mushy potato salads of cookouts past! Whole-grain mustard and white wine vinegar paired with cornichons and their broth means this side is infused with serious tang. Though of course, that's not without mayo to balance things out and add characteristic creaminess. Get the recipe.
Though mayo is tried-and-true, this recipe calls for a Greek yogurt swap—the tartness is leveled by a generous drizzle of honey and chopped leafy herbs. It's meant to be served warm but if you bring a cold version to an elegant picnic, you certainly won't hear any complaints. Get the recipe.
The Main Event
A couple pieces of foil, a grill, some veggies, and seafood of choice rubbed with our butter Old Bay spice mixture—this is really all that's required for a zero-fuss seafood bake. We went with classic potatoes and corn for this version, but these seafood boil packets are totally customizable based on whatever you have at home. And, perhaps the best part, there's minimal clean up involved: just eat directly from the foil packets, then toss when you've had your fill. Get the recipe.
Time: saved. Cleanup: easy-breezy. Fancy equipment: forget about it. What doesn't the sheet pan meal do?! Here, our chef-in-residence Bobby Flay elevates classic salmon and potatoes with a fragrant and tart Meyer lemon dressing. Get the recipe.
With thinly sliced potatoes—we're always on the hunt for new ways to use spuds— and a simple dough you can prep five days in advance (or even freeze for up to a month!), this galette has us sold. Long-stemmed leeks halved lengthwise for a stunning presentation only give all the more reason to add this to your must-cook list. Our galette is a deliciously savory breakfast, afternoon snack, appetizer, or even late-night bite. You choose. Get the recipe.
To Sweeten the Deal…
Chef-in-residence Bobby Flay may have had Thanksgiving on his mind when creating this dish, but we'd argue that there's always a place on the table for these sweeter-than-sweet bourbon-glazed sweet potatoes. (Among a BBQ spread, for one.) A splash of fresh lime juice and zest adds some much needed citrus to cut the sweetness, plus you get a nice crunch from fresh pomegranate arils. Get the recipe.
Veggie burgers are easier to make than you think, and even easier to eat. This version spotlights the sweet potato for its base—not only is it sturdy enough to provide necessary bulk, it also (unsurprisingly) adds a pop of sweetness to a dish that commonly sides more with the savory. Get the recipe.
When you're craving ALL the veggies, these spicy, smoky sweet potato bundles are the answer. Tasty, filling, laden with veggies, 100% plant-based… trust us here. Get the recipe.
11. Sweet Potato Buns
Sure, making buns from scratch is absolutely going the extra mile, but if not now then when? These sweet potato buns will be worth it. They're so pillowy, sweet, and begging for a rich burger patty. Whether you call them rolls, buns, or biscuits, if you've got sweet potatoes, then you've got bread. Get the recipe.
Like this? Read more:
8 Ways to Make the Most Out of Summer Tomatoes
9 Must-Try Recipes for National Zucchini Day