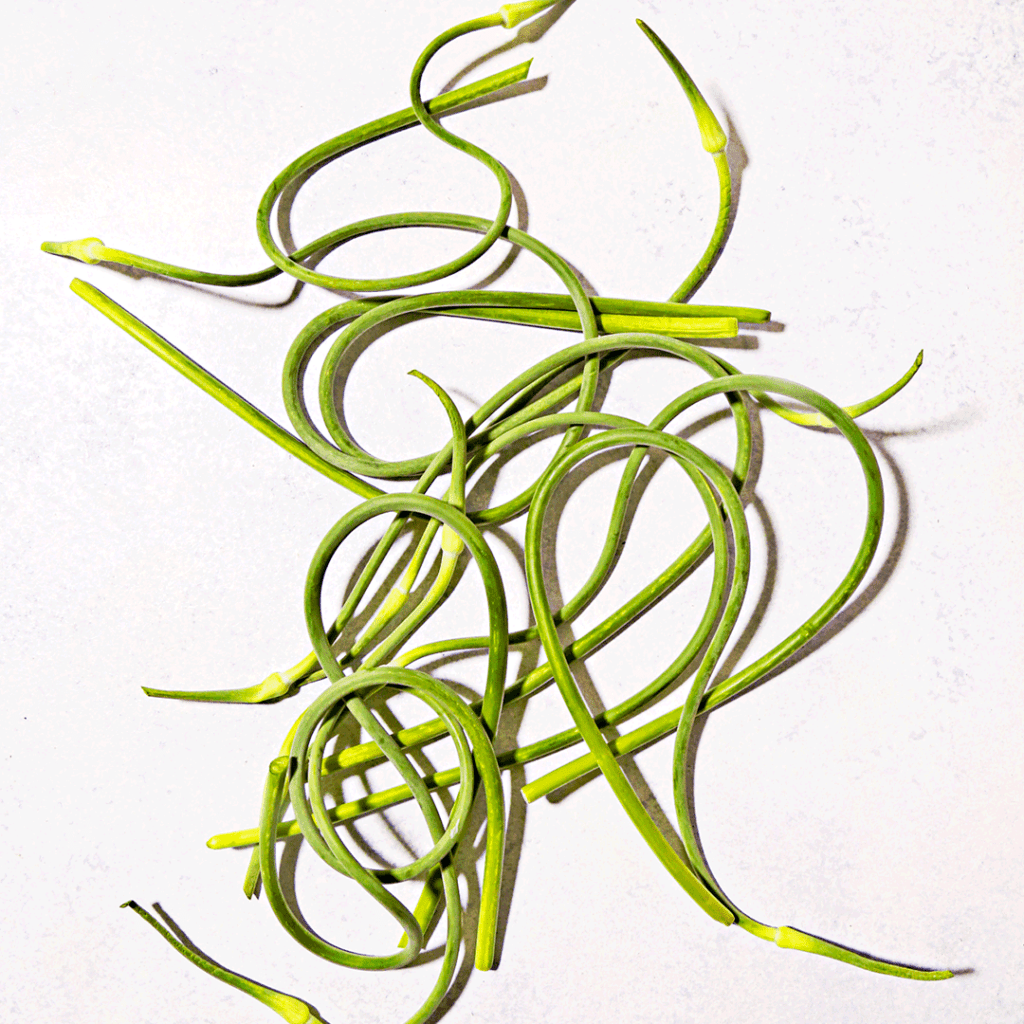 Introducing summer's newest cast member: garlic scapes! These curly stalks grow off of garlic plants, and are a little more subtle than the more mature garlic bulbs. But don't be fooled by the green, tender stems—they still impart serious garlicky-ness unless blanched.
Prepping garlic scapes is almost too easy. Simply trim the bulbs (you should cut one off right before it balloons outward) as they're fibrous and tough, then proceed cooking with the whole stalks whole, or chopped further.
Need some cooking inspiration? Keep reading for our favorite recipe ideas for using the fragrant, tender garlic scape stem.
Blend garlic scapes into pesto
Classic pesto is made even greener by subbing in fresh garlic scapes in place of cloves. This recipe then takes things a step further by adding in scapes in a second form—grilled—as a smokey, crunchy topping. And if you'vegot both scapes and a blender, you're just as easily equipped to…
Showcase garlic scapes in homemade hummus
Put a twist on classic hummus with one simple swap: garlic bulbs for garlic scapes. This comes down to following a simple a 1:2 ratio—whatever amount of minced garlic a recipe calls for, you'll need double that amount with minced scapes.
Make garlic scapes the hero in fried rice and stir-fry
Less of an official recipe and more a one-size-fits-all technique, thinly slice each garlic scape stalk into coins for boosting both flavor and aromatics when added to stir-fry or fried rice. If it's a mildly garlicky side dish you're searching for, stir-fry them on their own, whole. You'll discover they have a woody, almost asparagus-like texture when cooked intact.
Make double garlic soup
Combine early spring garlic with crunchy scrapes for double the flavor in this so-simple-you-won't-believe-it soup. With just 10 ingredients, a lot of garlic scapes, and about 30 minutes, you'll be rewarded with a seasonal soup that'll rival fall's best.
Looking for longevity recipes for summery scape flavor all year long? With hyper-seasonal produce we've been known to get ahead of ourselves when that last harvest comes around. While we're all in support of a garlic scape-centric menu, we don't blame you if you can't (or simply don't want to!) make that work while they're still fully fresh. Never fear, because there are ways and then some to extend the life of your stash.
Fuse flavors with garlic scape compound butter
"When in a bind, use butter." This adage holds true if your fridge is flush with garlic scapes because there's always compound butter. Aptly named, compound butter is the product of mixing butter with aromatics and other flavor-enhancing ingredients, often fresh herbs and a squeeze of lemon juice.
Use it for brushing over toasted bread or slathering generously atop grilled steak. And leftovers can be frozen for up to three months. (If you're looking to try a new cut, read up on three of our favorite grilling steaks, plus an added tip, here.)
Quick-pickle garlic scapes with minimal effort
Cut each stalk down to 1- to 2-inch-long pieces and add along with your brine base to a glass jar—one with a strong seal to lock in garlic scapes' smooth and snappy crunch. Each batch of these pickled garlic scapes takes form in the fridge over the course of 2–4 weeks (depending on your desired flavor intensity) and can be stashed there for an additional 3 months. Use for adding oomph to burgers and hot dogs, salads, and charcuterie boards.
Keep things simple by freezing your garlic scapes
As we like to say, your freezer is your friend! Just mince up garlic scapes and freeze flat in an airtight zip-top bog so they're always within reach for sprinkling into scrambled eggs or tossing in a batch of sautéed veggies. (This hack doubles as a way to catch dinner guests off-guard with summer-laced dishes well into the fall—your secret's safe with us.)
Like this? Read more:
How to Make Herbs the Star of Any Meal
How to Make Pesto with Whatever You Have
What the Heck Do I Do With Leeks?