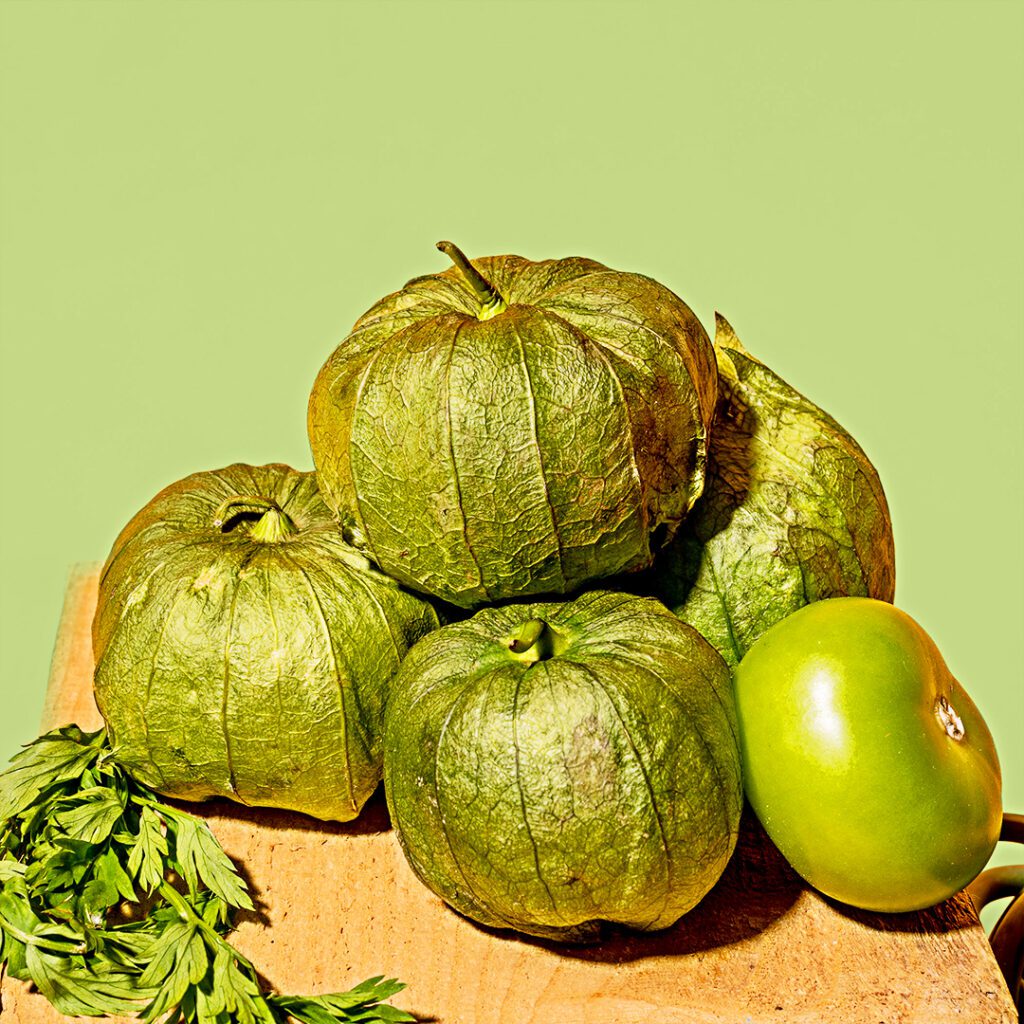 The tomatillo is small-but-mighty—its name does translate to "little tomato" in Spanish, after all—that's tangy and packed with acidity. Though don't confuse it with the green tomato, which is, simply put, an unripe tomato. In fact, tomatillos aren't technically tomatoes at all!
When raw, tomatillos are green, bright, and zippy, whereas cooking them mellows out the acidity by drawing out sweetness and further deepening the savory notes.
Store tomatillos inside a paper bag, leafy husks and all, and they'll keep in the fridge for two weeks—up to three, if you're lucky! When it comes time to use 'em, be sure to first unwrap the papery outer layers. Then, transfer tomatillos to a colander for a quick rinse to dissolve any stickiness that can sometimes grace their firm surface.
Ready to get cooking? Here are a few ideas for how to make the most of this warm weather berry (yep, you heard that right!):
Make a big batch of salsa verde.
You can't talk about tomatillos without the most iconic way to use the fruit: in a tangy salsa verde. Some involve additional ingredients, like roasted poblano, or avocado for added creaminess. If you have time for a bit of advance prep, though, this grilled tomatillo salsa is a crowd pleaser.
Blend tomatillos into a gazpacho.
A hot weather fruit calls for at least one no-heat recipe, and this gazpacho fits the bill. The tomatillo is the star of this chilled-out soup along with cooling cucumber. 
Feature tomatillos in seasonal, plant-powered tacos.
Summer gives us an abundance of delicious produce: summer squash, bi-colored corn, and of course, tomatillos. These three form the base of these veggie-heavy tacos, with room for customization if you happen to have more summery veg on hand, like radishes or garlic scapes.
Fight food waste by turning tomatillos into tamales verdes.
Yesterday's post-shuck corn husk pile can be dried out and used as today's tamale wrappings. These tamales verdes then make use of a tomatillo purée that's more a flavorful marinade than mere filling; cooking melds the flavors, creating a briny fusion that's laced with a hint of sweetness.
Preserve tomatillos with a quick pickle.
After prepping a jar of pickled tomatillos, let it veg out in the fridge for one week before eating so it marks the sweet spot when the tomatillos have soaked up enough briny flavor, yet retain a snappy crunch.
Slow-simmer tomatillos with shredded pork.
In this dish, tender, juicy shredded pork is bathed in a vibrantly tangy sauce made with jalapeños, tomatoes, and tomatillos. Come for the fact that it's slow cooker and Instant Pot compatible, stay for the countless ways to eat it: as a nacho garnish, soft taco filling, companion to refried beans, and more.
Dry them into a savory snack.
Dried tomatillos are a lot like dried cranberries, except savory! Halve them, lightly salt them, and bake them low and slow (at 200 degrees) until they shrink down to snackable size. Pack them in a jar with spices, a few cloves of garlic, and more salt, and then use them as you would sundried tomatoes. Their puckering tartness and lemony notes make them a great pizza topping, too.
Like this? Read more:
Our Favorite Fruits and Veggies for the Grill
Everything You Need to Know About Tomatoes