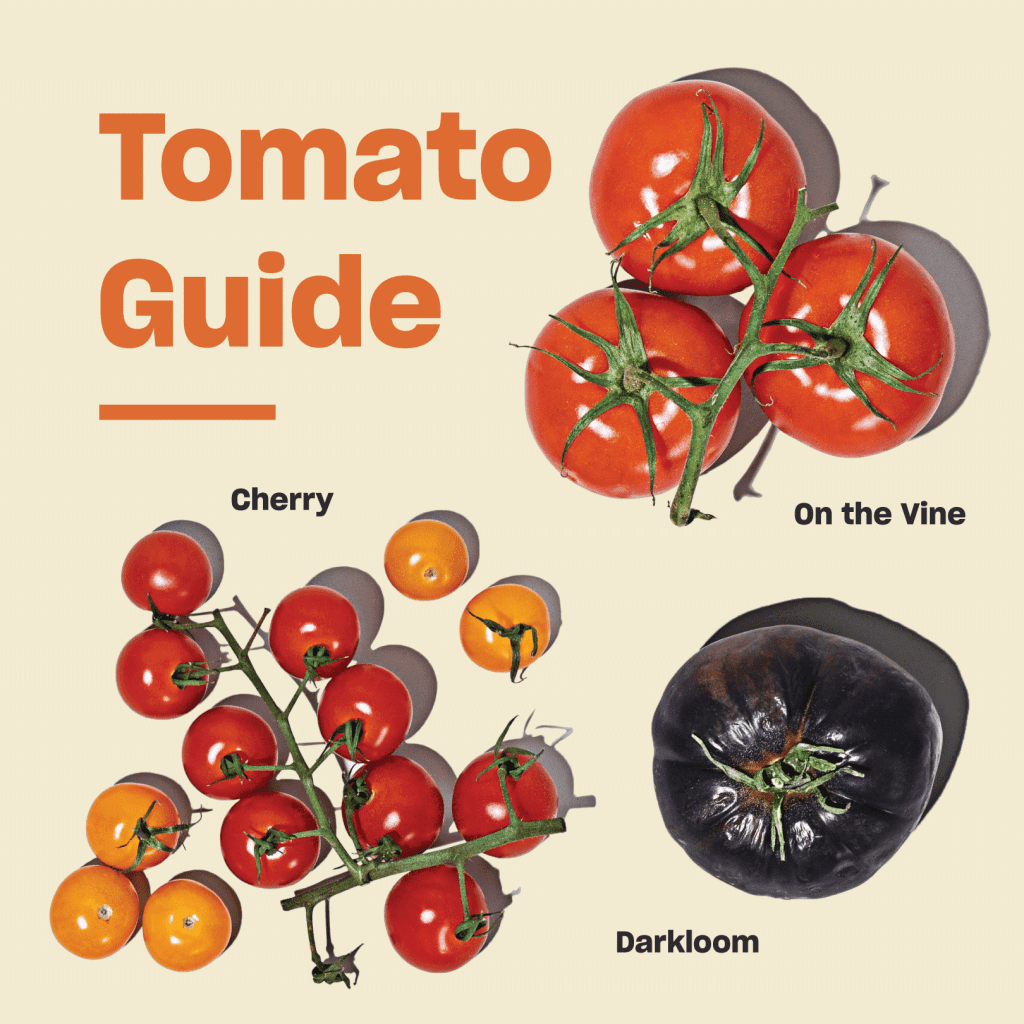 They're red (usually!), juicy, and tend to go with just about everything. Use our guide to learn how to tell this season's tomatoes apart and the best way to use them.
On the Vine
Unlike other varieties, these are ripened (and shipped!) on the vine. By the time they hit your plate, they're bursting with classic sweet, acidic tomato flavor. Try them pan roasted with olive oil and balsamic.
Cherry
If you're looking for a snackable tomato, this is the one. These round, bite-sized tomatoes are sweet and juicy with a snappy skin. Great eaten raw, tossed into salads, or skewered and grilled.
Heirloom Cherry
These tomatoes come in a variety of colors from purple to red to yellow, and even green. We're able to rescue these super-sweet tomatoes year round thanks to greenhouses, but they're extra special in the summer.
Darkloom
These dark and mysterious tomatoes come in shades from maroon to black, thanks to higher amounts of chlorophyll. Their sweet, lower-acid profile makes them great for eating raw with fresh mozzarella.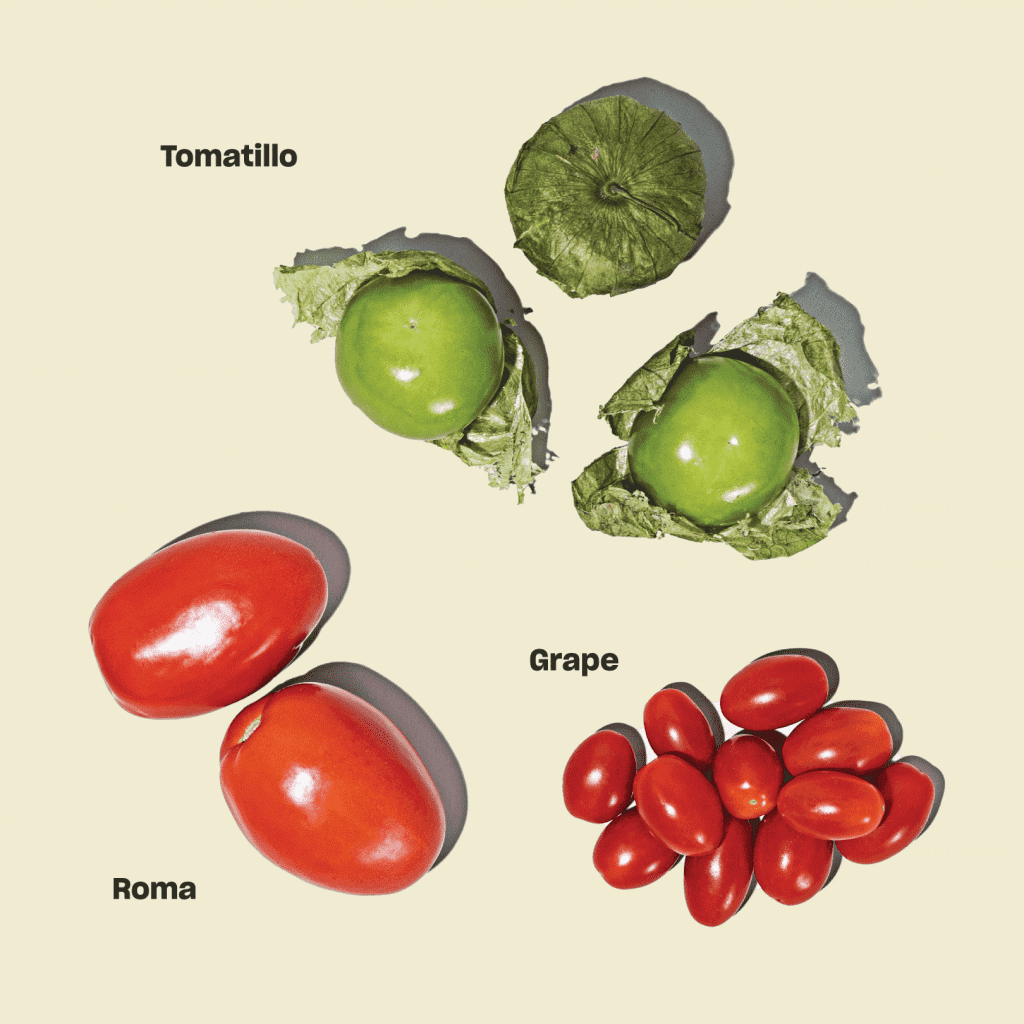 Roma
This oval-shaped variety is also known as the Italian plum tomato. With fewer seeds and a firmer texture, the Roma is ideal for sauces and purées. In fact, it's often used in canned goods and tomato pastes.
Grape
Unlike round cherry tomatoes, these are oval…like a grape! They have a hardier and meatier flesh making them great for roasting and adding to baked pasta with fresh garlic and feta.
Tomatillo
Also known as a husk tomato, these aren't exactly a tomato but still deserve a spot on the list. Just unwrap the husk, rinse, and prep like a tomato. Use them raw as a base for a tangy salsa verde.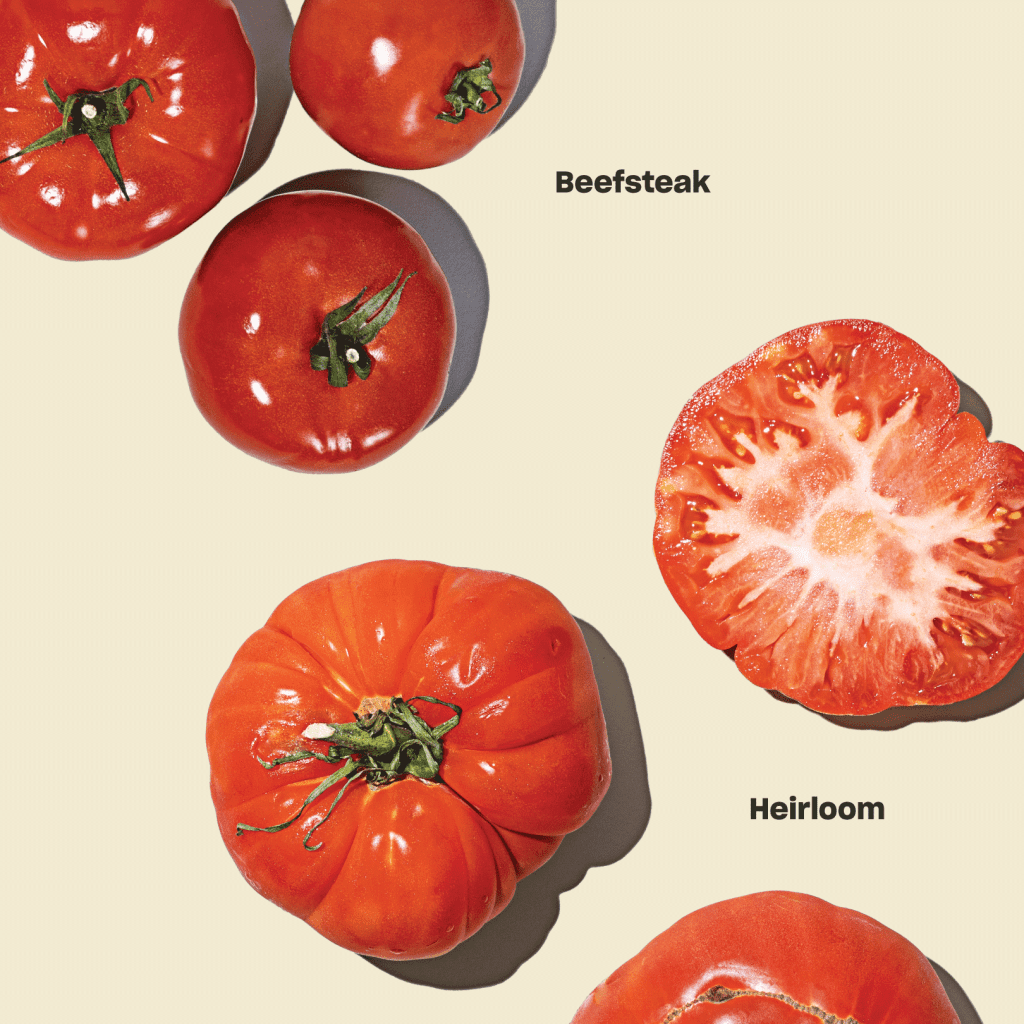 Beefsteak
Larger and meatier than most, the beefsteak is the "king" of tomatoes. Its size makes it perfect for slicing and adding to burgers, but its superb juiciness also makes it a great base for salsas.
Heirloom
Stock up on these megasized, odd-shaped tomatoes while you can—heirloom season is short. These tomatoes have a rich, unique flavor that doesn't require much preparation. Simply slice, season with salt and pepper, and get snacking.