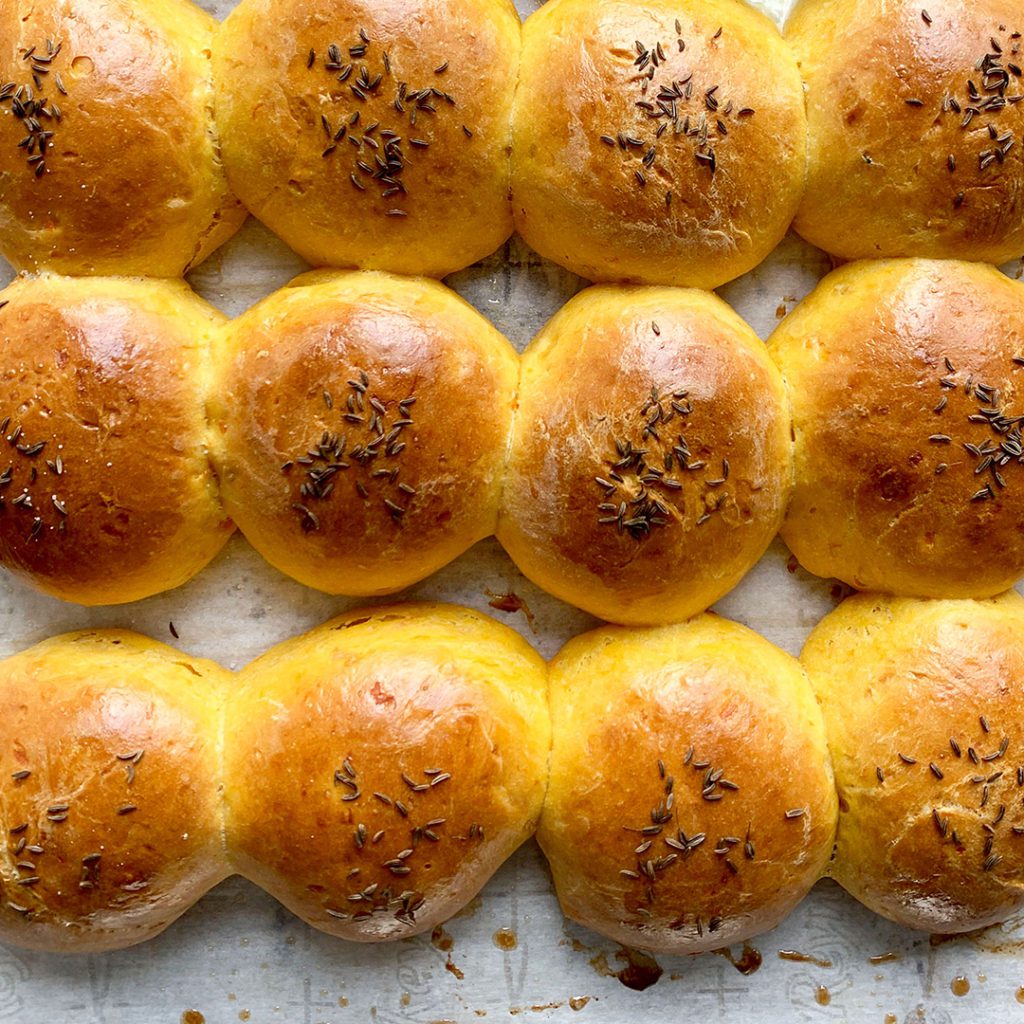 Sure, making buns from scratch is absolutely going the extra mile, but if not now then when? These sweet potato buns will be worth it. They're so pillowy, sweet, and begging for a rich burger patty. Whether you call them rolls, buns, or biscuits, if you've got sweet potatoes, then you've got bread.
Print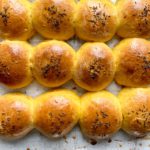 ---
Yeast Mixture
1

packet (1 ounce) dried yeast

1/4 cup

lukewarm water

1 teaspoon

granulated sugar
Milk-Butter Mixture
1/2 cup

milk

3 tablespoons

unsalted butter

3 tablespoons

granulated sugar
Dough
1

egg

1 tablespoon

salt

4 cups

all-purpose flour, plus more for kneading
Egg Wash
1

egg, beaten

1 tablespoon

milk
Caraway seeds (optional)
---
Instructions
Preheat oven to 425 degrees.
Quarter the raw sweet potato and wrap each chunk in foil. Place on a baking sheet and bake for 40-50 minutes or until fork tender.
Let cool slightly, then scoop out the cooked flesh and measure 1 cup. (Save the rest of the cooked sweet potato for other uses: toss it into a corn and black bean salad, spoon into pancakes or muffins, or even try your hand at sweet potato waffles!)
In a small bowl, combine lukewarm water, yeast, and sugar. Stir until everything has dissolved and let sit for 10 minutes until the yeast mixture becomes frothy.
Meanwhile, make the milk-butter mixture by combining milk, butter, and sugar in a small saucepan over medium-low heat. Stir gently until the sugar dissolves, then set aside.
In a large bowl, combine yeast mixture, milk-butter mixture, and the 1 cup of mashed sweet potato. Add in 1 lightly beaten egg and gently mix.
Add 1 cup of flour and 1 tablespoon salt. Once mixed, fold in remaining flour. Combine and then put dough on a flour-dusted surface. Knead until you get a round, soft dough, adding more flour until it's no longer sticky.
Put the dough in a bowl and cover with plastic wrap. Place in a warm spot and let it rise for about an hour or until it doubles in size.
Once risen, rip off chunks of dough with your hands and roll into fist-sized balls. (You should end up with 16.)
Roll each round with your hands in a circular motion to make balls. Place on a greased parchment sheet with about 1/2-inch between each ball. Cover with plastic and let dough rise for another hour, or until doubled in size.
Preheat oven to 375 degrees.
Whisk together egg and heavy cream to make an egg wash. Brush dough with egg wash and cover with a sprinkle of caraway seeds.
Bake for 16-20 minutes or until buns are golden brown and warm.
Serve immediately, sliced with butter. Or, use them as sandwich rolls and fill them with your favorite sandwich fillings. Or, even better, use as buns for your favorite homemade burgers!
---