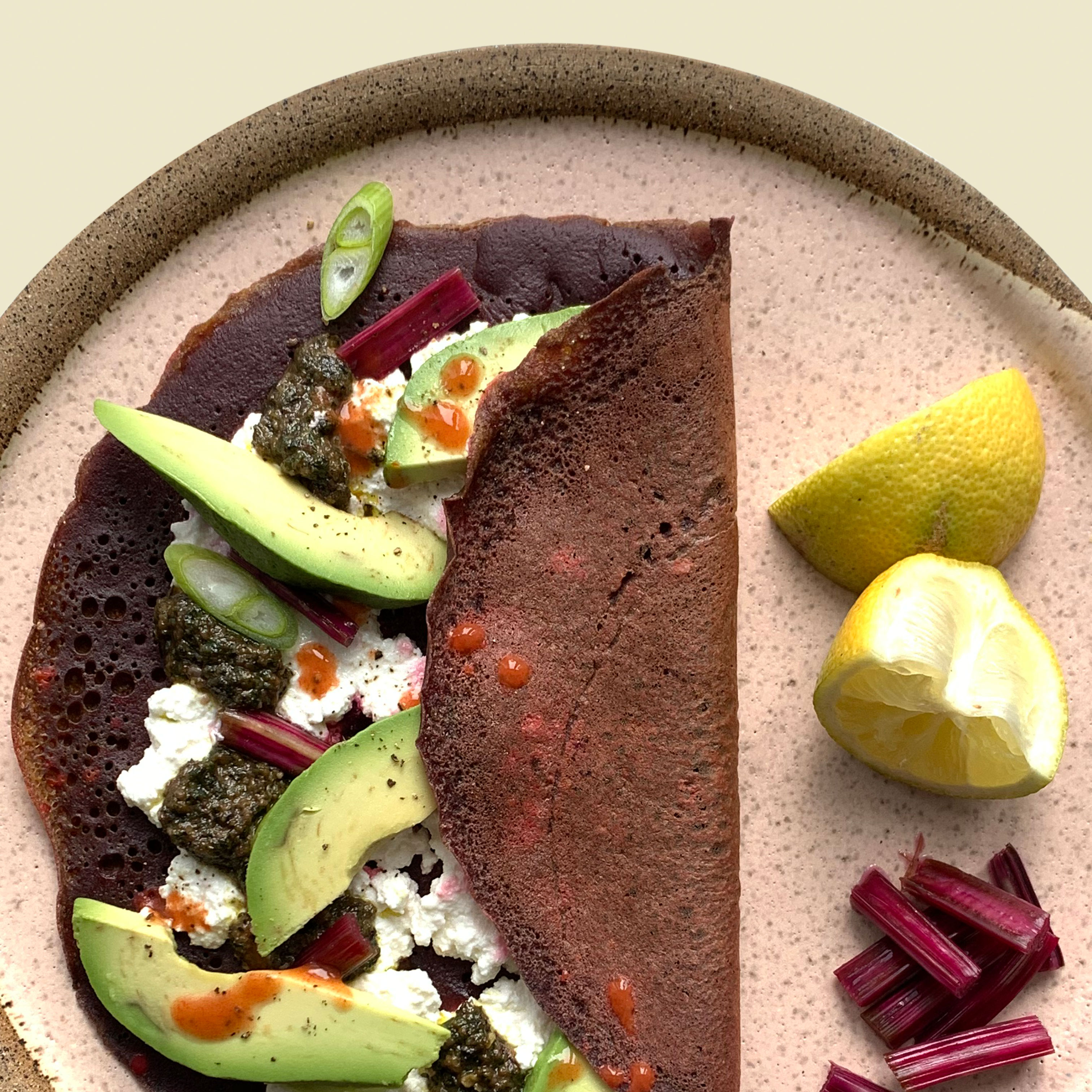 The flavor of the deep red beet is basically synonymous with "earthy" and adds some much-needed color to green salads and roasted root veggie dishes, even if they sometimes stain your fingers blood red. But if you aren't a big fan or user of beets, you may be left scratching your head when you receive an entire bunch of beets—stem and all! So, we've put together four handy recipes (plus tasty tips) to help you eat the entire bunch of beets:
Simple roasted beets
Beet greens pesto
Pickled beet stems
Beet pancakes
Print
---
Description
Roasted beets are easy to prepare and good to have on hand for a number of tasty recipes. Store cooked beets in an airtight container in the refrigerator and use them later  in a salad drizzled with balsamic vinegar, folded into a risotto, or wedged between thick slices of sandwich bread with good quality mustard and mayonnaise.
---
3

whole beets, stems and leaves removed
Olive oil
Salt and pepper
---
Instructions
Preheat the oven to 425 degrees.
Rub beets with oil, salt, and pepper. Individually wrap them in aluminum foil. Roast 45-60 minutes until beets are soft and fork tender.
---
Notes
If beets are a mix of large and small, halve the larger beets so they're all of similar size.
Print
---
Description
This basic pesto recipe works for any greens you have, including the greens from the tops of carrots, leftover kale, spinach leaves, and any bunch of herbs you want to use like parsley and cilantro. Or, try doing a mix of all five!
---
1

–

2

cups of loosely packed beet leaves

2

cloves of garlic

1/4 cup

pine nuts, lightly toasted

1/3 cup

of finely grated Parmesan cheese

1/4 cup

of olive oil

2

large pinches sea salt
---
Instructions
Put everything into a food processor and blend until well combined. Add more olive oil depending on your preferred pesto texture. Taste and add more salt if desired.
Serve immediately or store in an airtight container in the fridge for up to 5 days.
---
Notes
Pesto is such a hardworking flavor-booster and a super simple, fast dinner solution. Always keep a jar in the fridge to throw over a big bowl of hot al dente penne pasta. Kids (and parents!) love it.
Print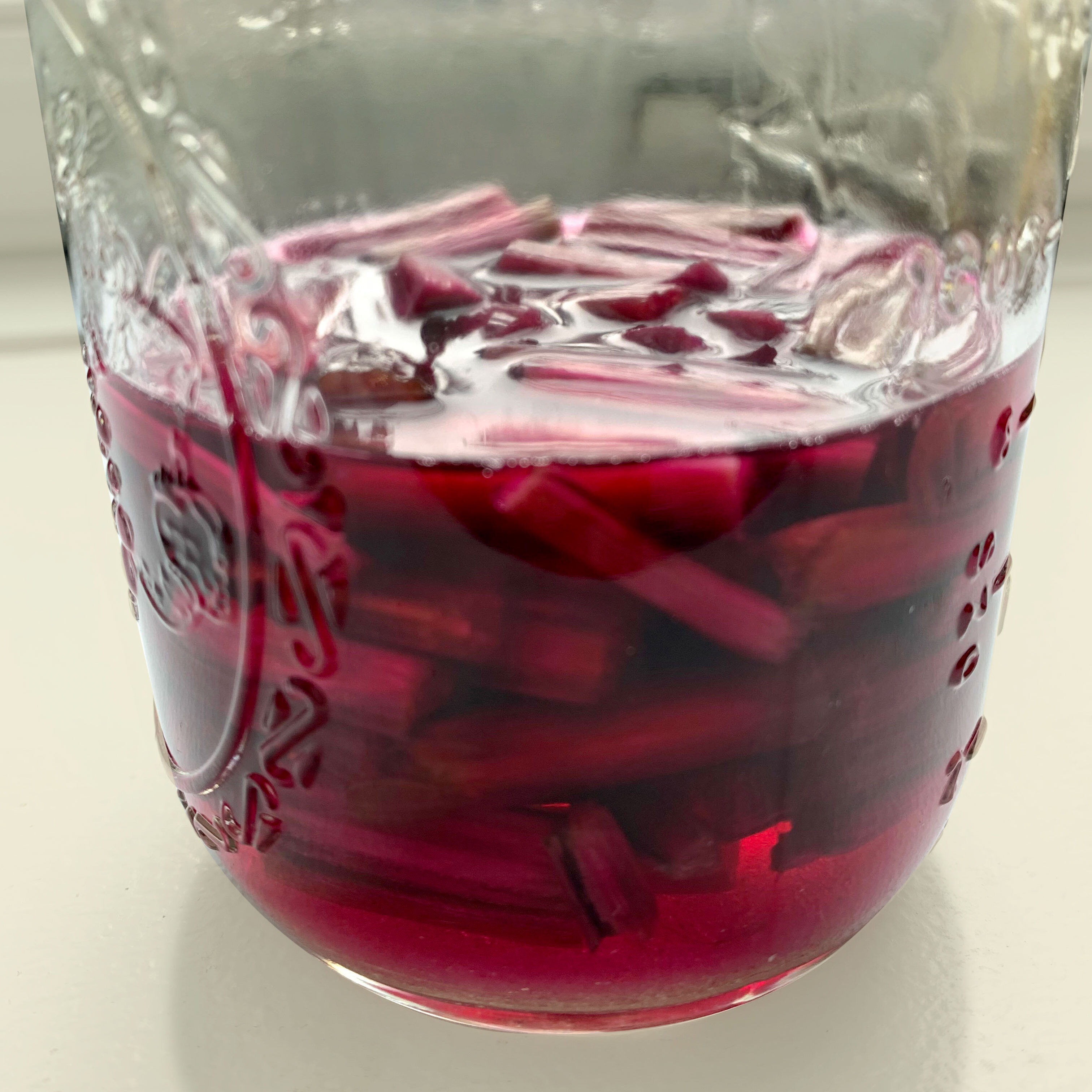 ---
Description
Have leftover vegetables in your box that you don't know what to do with? You can quick pickle any vegetable you have—mushrooms, carrots, radishes, turnips, you name it!  
---
1/2 cup

rice vinegar, white vinegar, or apple cider vinegar (just don't use balsamic vinegar)

1 tablespoon

sugar

2 teaspoons

salt

1 cup

beet stems, sliced
---
Instructions
In a glass jar, cover beet stems with salt, sugar, and vinegar. If there isn't enough liquid, add water until stems are covered. Mix until sugar and salt dissolve, then cover with a lid or plastic wrap.
Let the stems pickle for at least 30 minutes before using but preferably 24 hours. Store in the fridge for up to two weeks.
---
Notes
Pickled beet stems add color, texture, and flavor to any dish! Use them whenever you would use a regular pickled cucumber. Add as a side to a breaded chicken breast, add to any sandwich, burger, or even to top a piece of grilled salmon. For a tangy salad, toss pickled beet stems with sliced pears, walnuts, and goat cheese.  
Print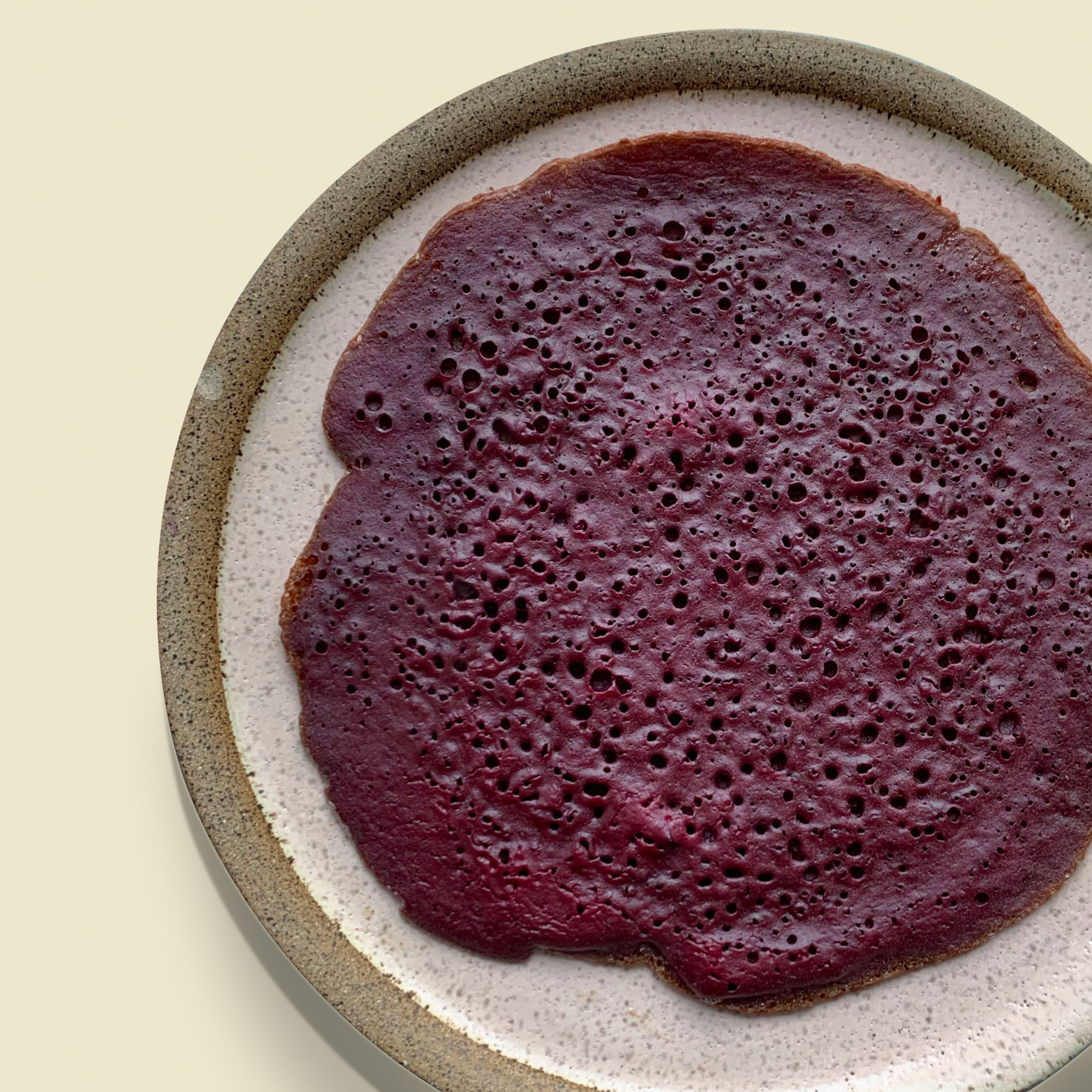 ---
Description
Despite their deep burgundy color, beet pancakes taste just like regular pancakes. They're not overly beet-y or earthy, so kids will love them.  
---
1 cup

all-purpose flour

1 1/2 teaspoons

baking soda

1 cup

and 1 tablespoon milk of choice

1/2 teaspoon

salt

1

oven-roasted beet
Butter or oil
---
Instructions
Put flour, baking soda, milk, salt, and beet in a food processor or blender. Purée until smooth. If the batter is too thick, add a tablespoon of water or milk to thin it out.
Add butter or oil to a medium-hot pan. Pour batter, swiftly swirling to coat the entire base of the pan. Don't flip! Simply remove the pancake when completely cooked through—it will be littered with bubbly holes.
To serve, top with whatever you have on hand, but we like both savory and sweet toppings:

Fresh ricotta
Lemon zest
Scallions
Hot sauce
Sweet chili sauce
Avocado wedges
Dijon mustard
Fried eggs
Ham
Grated cheese

To assemble a fully-loaded beet pancake: Lay pancake on a plate, top with a dollop of ricotta with squeeze of lime or lemon juice. Layer on a spoonful of  beet green pesto, sliced scallions, hot sauce, pickled beet stems, and slices of avocado.
---
Notes
Save leftover cooked pancakes for breakfast! They can be topped with something sweet, like apple or pear puree, strawberries, whipped cream, chocolate chips, or sliced bananas with maple syrup and a side of bacon. Or, make a savory Ham, Egg and Cheese French Crépe: Put a pre-cooked beet pancake into a warm frying pan. Add a sprinkle of grated cheese. Once the cheese melts, add ham and top with a fried egg. Remove from pan. Fold edges over and serve like a French-style crépe and serve with a side of spicy Djion mustard.
Even more ways to use beets:
Crispy Curry Chicken Thighs with Roasted Beets
Chocolate Beetroot Pudding Pots
Chocolatey Hidden Beet Brownies
Garlicky Warm Kale and Beet Salad