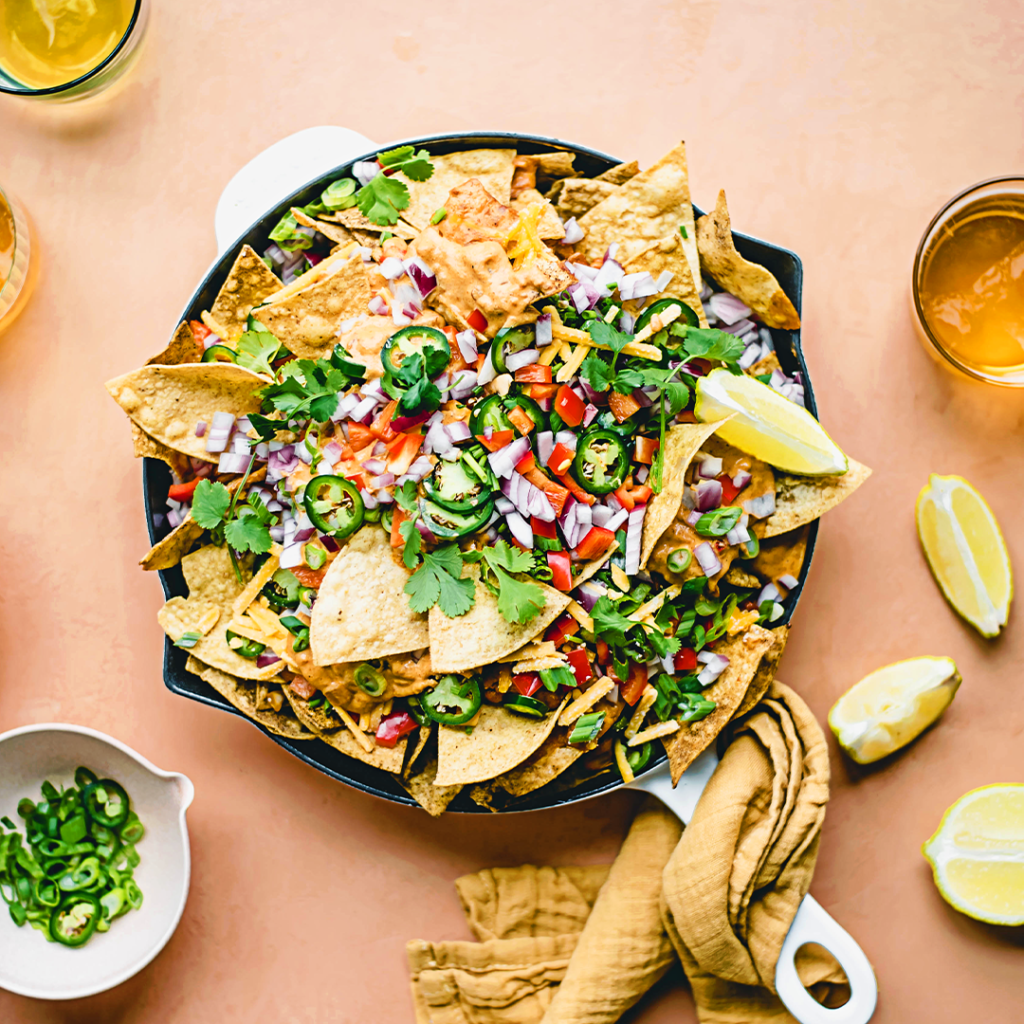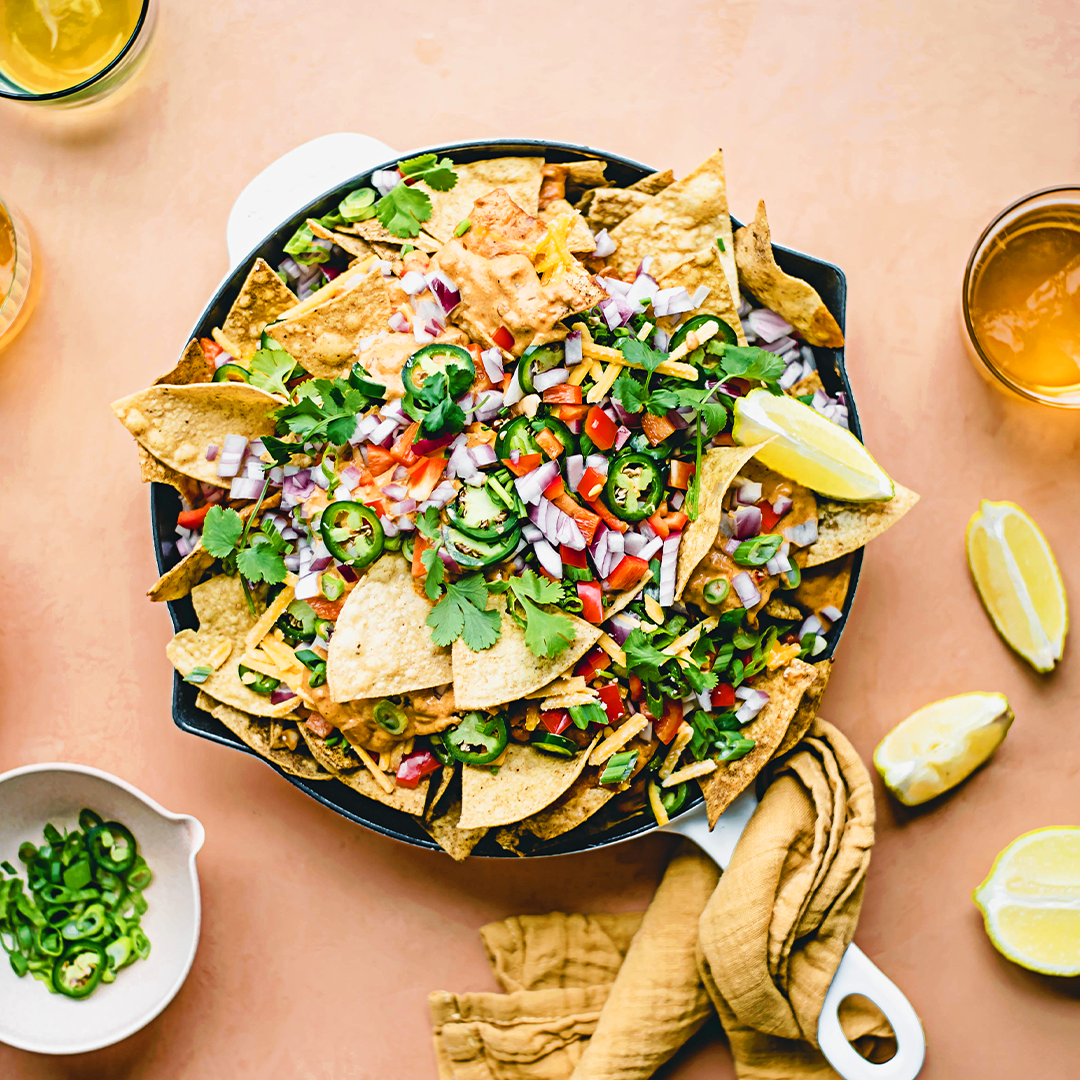 Here's the thing. It's totally fair to love cooking, but not love spending all your time doing it. Dinner-making fatigue is real. Especially during the week. Especially right now. To help you keep it up in the kitchen (while keeping it easy), we've rounded up the most ingredient-swappable, mix-and-matchable, use-what-you-haveable recipes we've developed. Hopefully these make you feel a little less stressed about what's for dinner.
And when all else fails? Put an egg on it.
Nachos just might be the world's perfect dish. The flavors, the colors, the textures, the ability to customize based on whatever you have in your fridge—if you've got tortilla chips, cheese, and fresh produce, you have the base for delicious homemade nachos for dinner.
For those nights when you're not sure how to tackle dinner, we can't think of an easier fix than a sheet pan meal. Think of it as the oven version of the one-pot meal. It saves time, makes cleanup a breeze, and doesn't require any fancy equipment. In this recipe, chef-in-residence Bobby Flay elevates classic salmon and potatoes with a fragrant and tart Meyer lemon dressing.
Pork just doesn't get enough love. According to chef-in-residence Bobby Flay, pork loin chops need plenty of added flavors and a nice crust to make a dinner-worthy dish. Luckily, he knows just how to make the most out of them with a quick citrus and herb marinade, pan-seared stone fruit, blue cheese, and a tangy balsamic glaze.
Roasted squash is on the menu once, twice, maybe even three times a week. It never disappoints when you need a no-brainer dinner. But when we were thinking of new (read: not boring) ways to use hardy squash, we ended up using it as the base for a "creamy" pasta sauce.
One of Bobby Flay's special, practically no-recipe-needed-at-all dishes takes advantage of zucchini, a veggie you might often forget about in your crisper drawer. The mild squash becomes nutty, soft, and fragrant when given the attention it deserves. (A lot of garlic, butter, and Parmesan cheese doesn't hurt either.) Pair it with whatever pasta you have on hand, and lots of fresh basil, for a weeknight dinner that takes less than 20 minutes and will soon become part of your regular rotation.
Thanks to its mild flavor and buttery texture, the chickpea is one of the most versatile legumes around. We always keep a can on hand for simple snacks like roasted crunchy chickpeas and creamy hummus. It's also one of our favorite proteins for vegetarian-friendly dinners like quick curries.
It doesn't matter what onions you have, or if you have grape tomatoes not cherry tomatoes. The most important thing here is letting it all simmer together. Everything happens quickly, but taking the 10 minutes to reduce the sauce down is key to make this pasta so fragrant and filling. Missing the meat? Add in pre-cooked, chopped chicken.
Is this recipe quick? No. Is this recipe worth all the work? Absolutely. It has three components—the chicken, the stewed mushrooms, the herbaceous salsa verde—and if you make extra of each, the rest of your week will be a lot easier. (Tastier, too.) Shred the chicken for salad. Have the mushrooms with a fancy dinner omelette. Slather the springy salsa verde on roasted veggies or with pasta.
Breakfast for dinner is a pro move. You keep it simple. You put an egg on it. You can't really go wrong. For the hash, don't feel like you need to stick to spuds. Root veggies like chopped beets or carrots are awesome alternatives. Optional: Adding sausage or corned beef.
This vegan sauce has all the classic bolognese flavors with none of the beef. You likely have most of the ingredients either hanging out in your pantry or right in your Misfits Market box. Make a big batch, freeze it, and reheat when you just can't bother with cooking.
Satisfy your need for greens with your need for pasta. Arugula, kale, spinach—it all works. You can also swap in snap peas, broccoli, or cauliflower for the green beans.
Start by picking your base. Quinoa? Rice? Farro? Then, what veggies came in your box? There's a good chance you have potatoes, squash, or peppers. Raid the pantry for a can of beans and spices like cumin, cayenne, and paprika. You can make this recipe a little different each time.
Keyword: freestyle. As long as you have soy sauce, you can use this fried rice technique with pretty much any grain, any veggie, and any garnish.
You can't make grain bowls without veggie toppings. Well, you could, but they wouldn't be as good. We like to roast a big batch of spiced cauliflower to keep on hand for such occasions. Cauliflower soaks up strong flavors, while still being mild enough to blend in with whatever else is going on.
About that extra cauliflower… Have yourself a veggie-filled taco night. Or skip the tortilla and make taco bowls over crunchy romaine lettuce instead.
While we're on the subject of tacos, how do more tacos sound? Any hearty squash like butternut, acorn, or kabocha would work here as the filling. Time to think about the toppings. You know, the best part.
There's nothing wrong with the classic basil and pine nut pesto. But there's nothing wrong with breaking with tradition, either. If it's leafy, green, or herbaceous, you can probably use it for pesto. The leafy tops from carrots, beets, and turnips? Yep, even those.
You'll see lots of stuffed acorn squash recipes out there. But butternut and delicata work just as well. So does mixing up the stuffing. Slice in half, remove the seeds, and bake.
This simple veggie frittata was developed in the spring when herbs were abundant, but you can swap in veggies like beets, onions, green beans, and even tomatoes.
We created this Mediterranean-inspired recipe as a side salad, but adding grilled chicken or poached fish quickly makes it the main event. Not a meat eater? Stuff this light, summery salad into pita for a filling, veggie sandwich.
You can make this takeout-inspired dish in less than 20 minutes. If you don't have quinoa, use rice instead. We had snap peas for this, but any crunchy, green veggie works.
Risotto is delicious. But it's also time consuming. And who has arborio rice in their pantry at all times? Not us. Rolled oats on the other hand… Not only does this recipe use inexpensive oats, it also comes together in no time at all.
Our Marketplace has new grains and beans on a weekly basis, so we've become pros at easy, one-pot chilis. Adding ground meat is optional. Pairing with a slice of homemade cornbread and a huge dollop of sour cream is highly encouraged.
Save this recipe for the citrusy salsa alone. Spicy, sweet, and delicious on all types of tacos.
You've likely seen a galette with a fruit filling, right? It's sort of like a pie, but more rustically wrapped together. We find this wonderfully misshapen pastry is ideal for all sorts of wonderfully misshapen veggies.
We never get bored of beets over here. You can do so much with them. Don't believe us? We thought you might say that. So we made a hybrid crepe-pancake—out of beets! We like to fill them with fresh ricotta and ham, but really you can get creative here.
Though poke bowls are traditionally made with raw fish, the term "poke" simply refers to the way the fish is prepared—it translates to "slice or chunk" in Hawaiian. In our vegan-friendly version, we swap raw cubes of fish for cubed squash and keep all of the classic, umami-forward flavors. For more protein, add boiled eggs or seared tofu.
Experimenting in the kitchen is fun, but there's one dish we go to time and time again: a simple, one-pan dinner with fragrant, roasted chicken and lots of Misfits Market veggies.
A tart is sort of like a galette, just much tidier. This simple tart calls for nutty yellow squash and lots of herbed cheese. Not in squash season? You can substitute the veg with onions, tomatoes, red potatoes, or thinly sliced beets.
Just ignore the word breakfast. This egg-filled, potato-packed burrito is what's for dinner. What toppings are you going to use? Tomato? Red onion? Cilantro? All of the above? Good thinking.
If you're looking for a way to seriously impress with a plant-based main, this is it. Thick cuts of grilled eggplant topped with roasted radishes and served with a leek sauce. Fire up a few extras for leftovers because you'll want this in a sandwich tomorrow.
Like eggplant and portobello mushroom caps, cauliflower can handle the heat. We like to grill cauliflower "steaks" and top them with a simple salsa using cherry tomatoes and crunchy corn. The next day we'll toss it with pasta and sprinkle with parmesan cheese.
This dish offers maximum deliciousness for next to no effort. The juice from the tomatoes works as a light sauce, so that saves you a whole step.