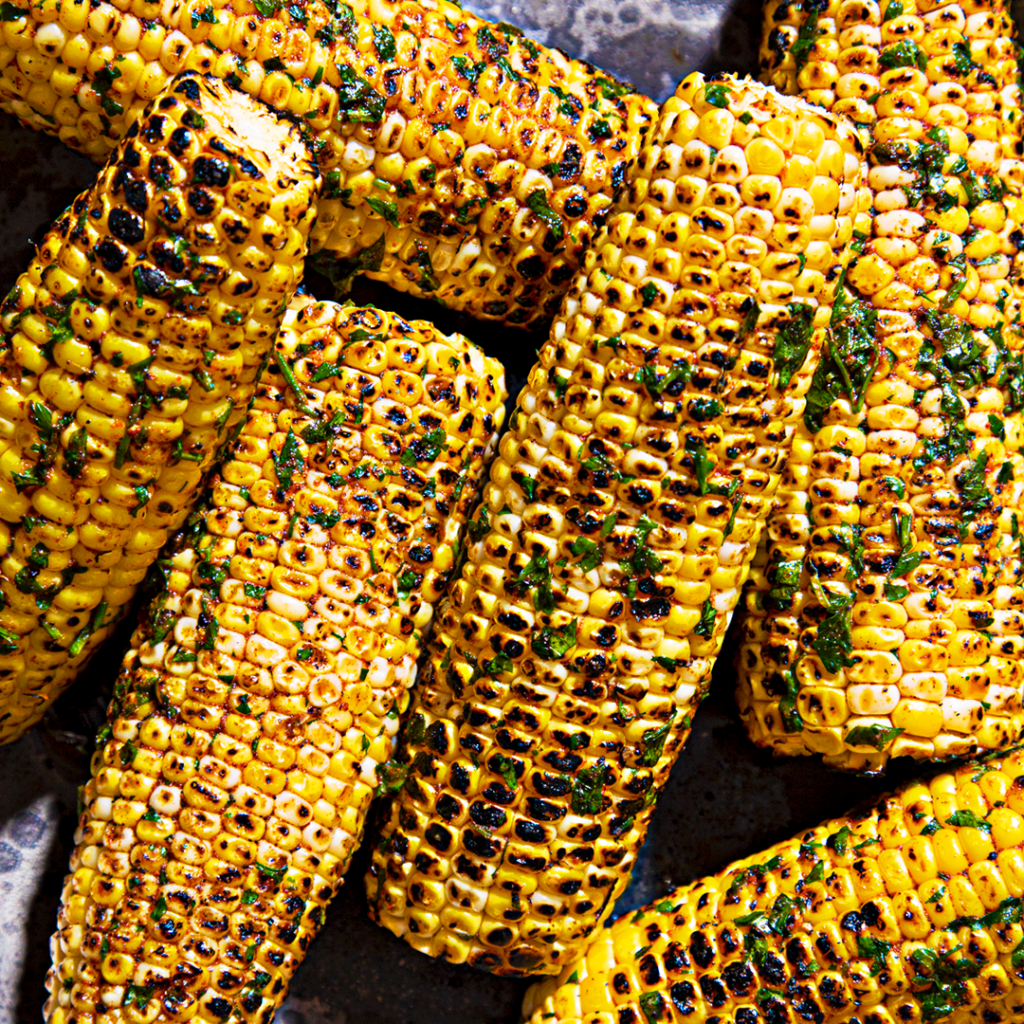 It's corn! And we've still got a couple weeks left of its peak season, so keep reading for our must-try recipes.
And while you're cooking, don't toss those corn scraps! There are plenty of ways to breathe new life into corn husks, silks, and cobs otherwise destined for landfills (or the occasional compost pile). Learn how here.
Classic Corn on the Cob with Herbs
Give your platter of grilled corn a heavy sprinkling of salt, pepper, and (most importantly) chopped fresh herbs. We're partial to parsley, but go with your gut!
Corn on the Cob with Spicy Sambal Butter
We can't imagine a more beautiful thing than sambal butter-covered corn. The spiced butter perfectly complements sweet summer corn for a juicy, flavorful bite every time.
Mexican-Inspired Street Corn
There are too many things to name that we love about Mexico, but one thing we're especially obsessed with is their street food. We may be just a little bit partial to one of Mexico's most recognizable street dish: elotes. And you don't need a street corner to make this dish at home.
Pasta with Zesty Jalapeño Pesto and Corn
One corn-centric dish we'll be serving up all season is this filling pasta dish with another one of our favorite summer veggies: zucchini. We pair it all with a zesty jalapeño pesto for a pleasant kick of heat, but ditch the jalapeños if you aren't a big fan of spice. (That's the beauty of pesto, isn't it? You can customize it however you want.)
Corn Cacio e Pepe
Even chef Bobby Flay admits you shouldn't mess with the classics. But when you've got sweet summer corn on hand, he can't think of a tastier dish to add it to than peppery Cacio e Pepe.
Corn Salsa Tacos
When we can get our hands on fresh, late-summer corn, we like to whip up these veggie tacos. They're no-frills and easy to throw together when we're strapped for time. The red onion and spicy jalapeño garnish provide a punchy contrast to the sweetness from the corn, too.
Seafood Boil Foil Packets with Corn and Potatoes
An all-out seafood boil doesn't require fancy equipment. All you really need is a couple pieces of foil and a grill. The key to a truly delicious rendition is making sure every bit of our buttery Old Bay spice mixture gets rubbed into your seafood, sausage, and veggies before the packets hit the flames. We went with classic potatoes and corn for this version, but these seafood boil packets are totally customizable based on whatever you have at home.
Summer Veggie Scrap Focaccia
Before this recipe, we always kept our focaccia bread simple. Flaky salt, rosemary, some olive oil. Then, we experimented with using up all the odds and ends left over from our box. All those veggie scraps we didn't know what to do with suddenly had a purpose. A very delicious one.
Street Corn Guacamole
With so many ways to enjoy the avocado, one rises above them all: classic guacamole. But there's nothing classic about what we've put together: a seasonal version chock-full of corn, spice, and cheese.