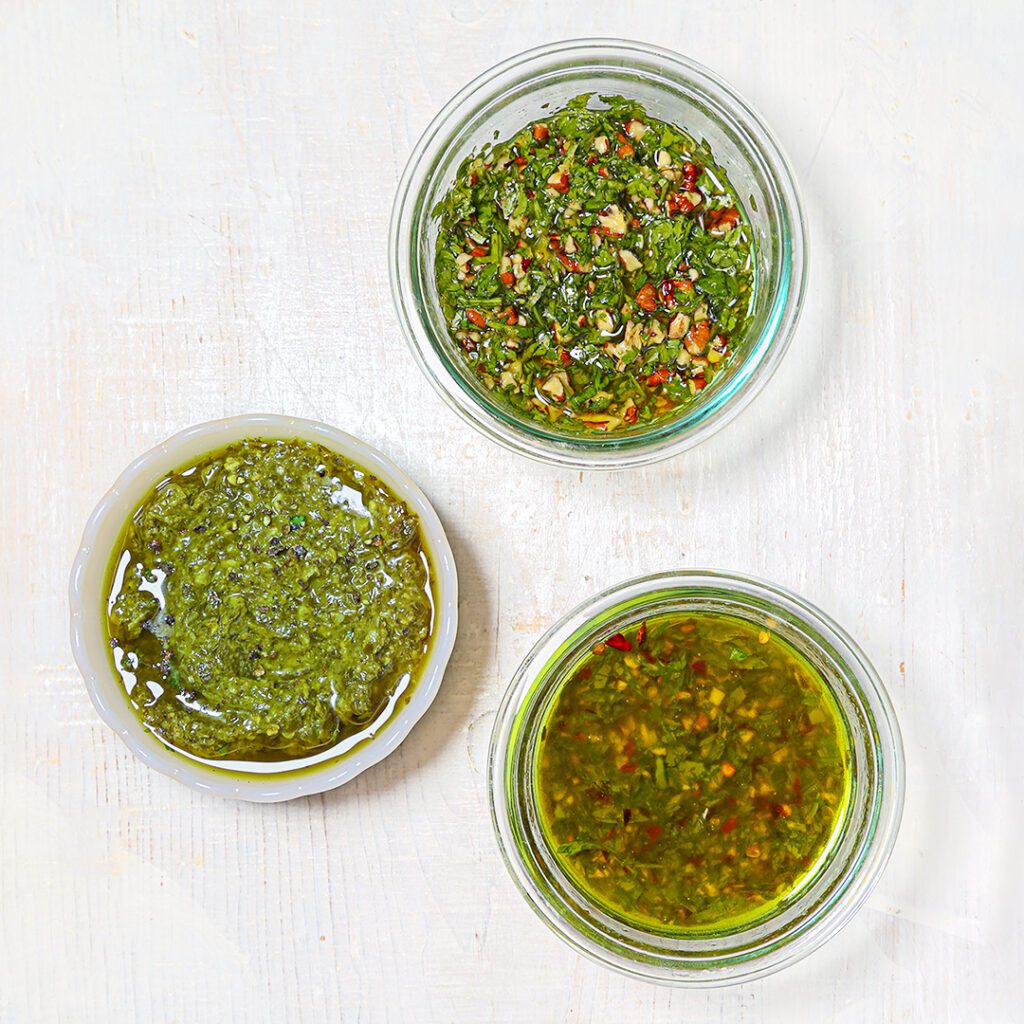 It's our firmly held belief that pretty much all savory recipes benefit from an herbaceous dollop of something. We tend to favor condiments that offer some crunch, garlicky flavor, and fresh herb flexibility (so we can use up whatever we happen to have!). That leaves us with three main categories to choose from: pesto, chimichurri, and gremolata. But how do you know which is the right match?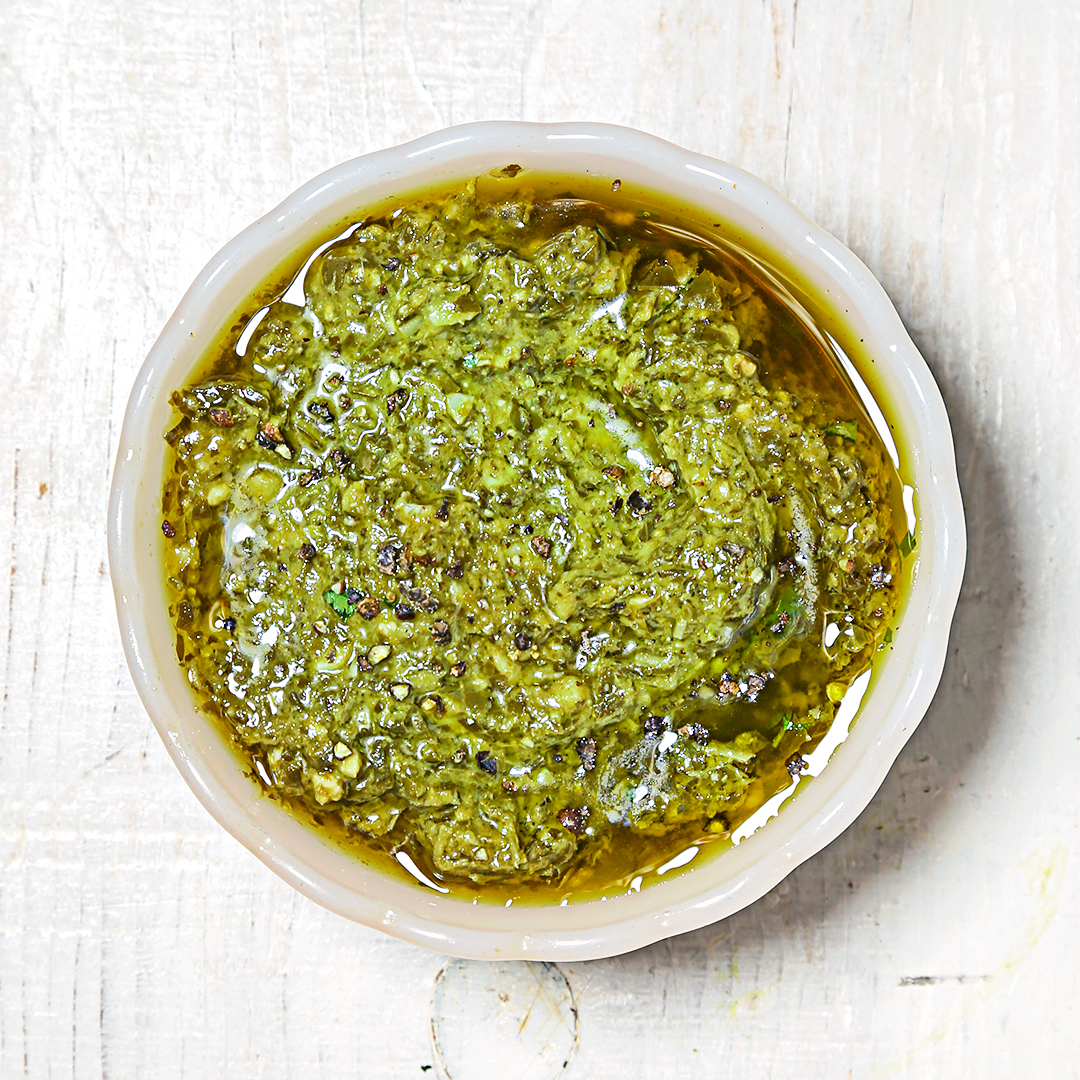 What is pesto?
Classic pesto involves just a few ingredients: fresh basil, olive oil, pine nuts, Parmesan cheese, fresh garlic, and a splash of lemon juice, plus salt and pepper. But the best part of pesto is that it's totally customizable and can adapt to whatever you already have in your fridge and pantry. Swap in other herbs in place—or in addition to—basil, like mint, parsley, or even scallions and other leafy greens. Use other nuts like walnuts or almonds, and play around with the quantities of the other ingredients to make your pesto just to your liking. Just be sure to grind or blitz your pesto into a smooth, creamy texture for a dreamy pasta sauce, and cut down on the oil if you'd prefer it as a sandwich spread.
Get the recipe for classic homemade pesto. Or, try one of these other use-what-you-have pesto recipes:
What is gremolata?
More like a garnish or condiment than a sauce, a gremolata calls for garlic, lemon zest, and fresh parsley. You'll want all ingredients to be finely chopped, and then you'll mix 'em all together for a fluffy, fragrant, herbaceous topping. It's bright, fresh, and delicious on soups, roasted veggies, and roasted meat and seafood.
To make gremolata more like a sauce (or even like a pesto!), just add a healthy glug of olive oil and finely chopped nuts. We've tried gremolata with hazelnuts and walnuts, but really any nut will do. Unlike pesto, which should be smoother in texture, gremolata is best a little bit on the chunkier side.
Get the recipe for gremolata with hazelnuts, or try this version with walnuts.
What is chimichurri?
A bit more liquid-y than the other sauces, chimichurri is an oil-based condiment that—unlike pesto and gremolata—calls for vinegar, which brings both acidity and brightness to the sauce. It originated in Argentinian and Uruguayan cuisines but it's been adapted for cuisines across Latin America. For a traditional chimichurri, you'll need finely chopped fresh herbs, red wine vinegar, garlic, a bit of spice in the form of fresh chiles or pepper flakes, and some salt and pepper. In ours (see below), we added in finely diced shallots, too.
Like the pesto and gremolata, chimichurri is pretty customizable based on what you have on hand—we used carrot tops once—though parsley is the preferred herb of choice. Like gremolata, everything should be finely chopped, so you'll be rewarded with tons of flavor in every bite. Use chimichurri as a garnish for steak, fish, or as a dip for crusty bread. It can also be used in place of dressing for salads, or as the sauce for cold pasta salads, on roasted potatoes and other veggies, but our favorite vessel is grilled steak or kebabs.
Want something a bit creamier? You can add chimichurri to other bases, like yogurt, for a vibrant chimichurri yogurt sauce.
Learn how to make chimichurri:
Print
---
½ cup

cilantro, finely chopped

¼ cup

parsley, finely chopped

3 tablespoons

shallots, finely diced 

4

cloves garlic, finely minced 

2 teaspoons

crushed red pepper flakes 

1 teaspoon

kosher salt

½ cup

red wine vinegar 

¾ cup

extra virgin olive oil
---
Instructions
In a medium bowl combine cilantro, parsley, shallot, garlic, red pepper flakes, salt, and red wine vinegar. Use a fork to whisk mixture while slowly streaming in olive oil. Mix until emulsified. Serve with meats, vegetables, or use as a marinade.
---
Hungry for more? Try this: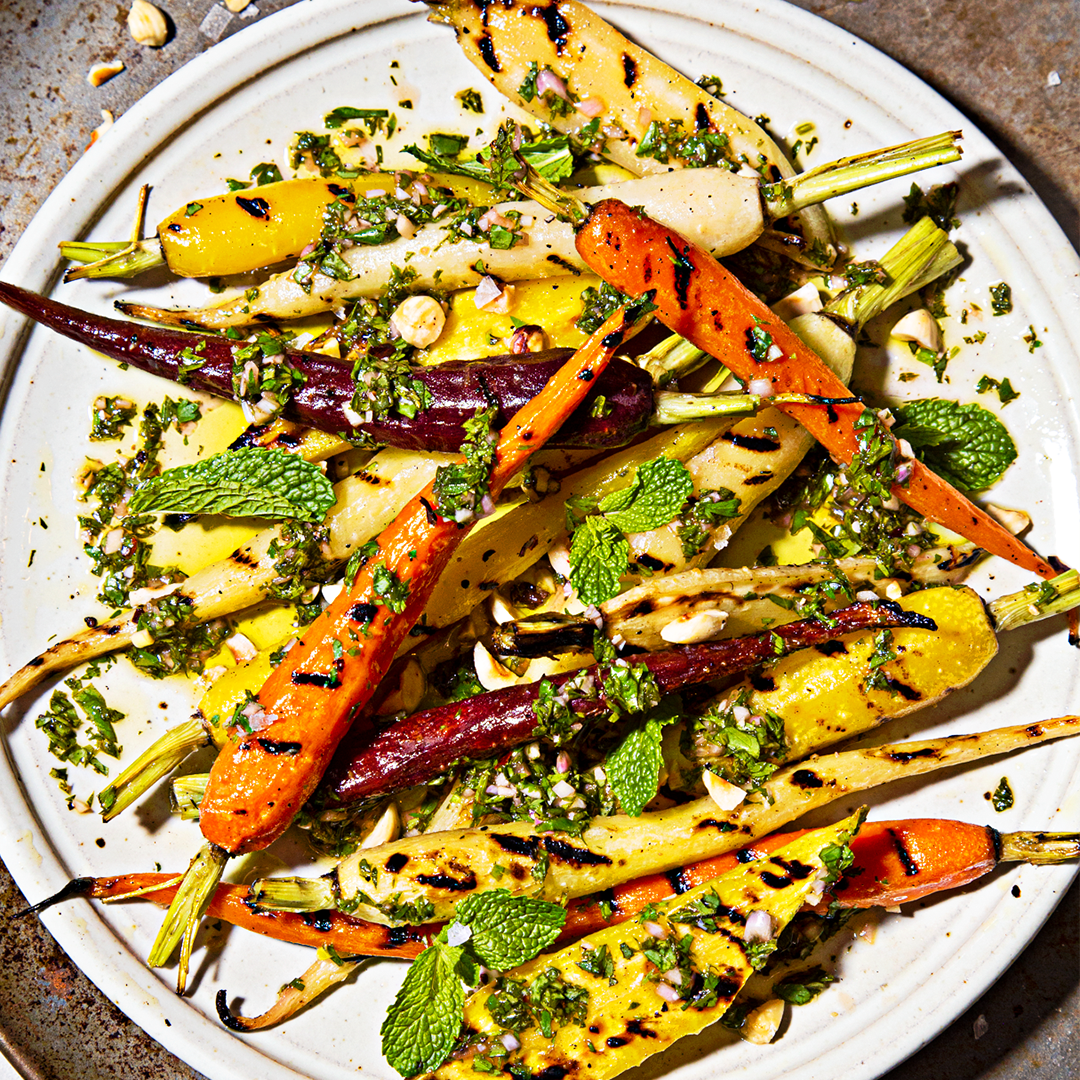 Roasted Carrots with Carrot Top Chimichurri
Zesty Jalapeño Pesto Pasta with Zucchini and Corn