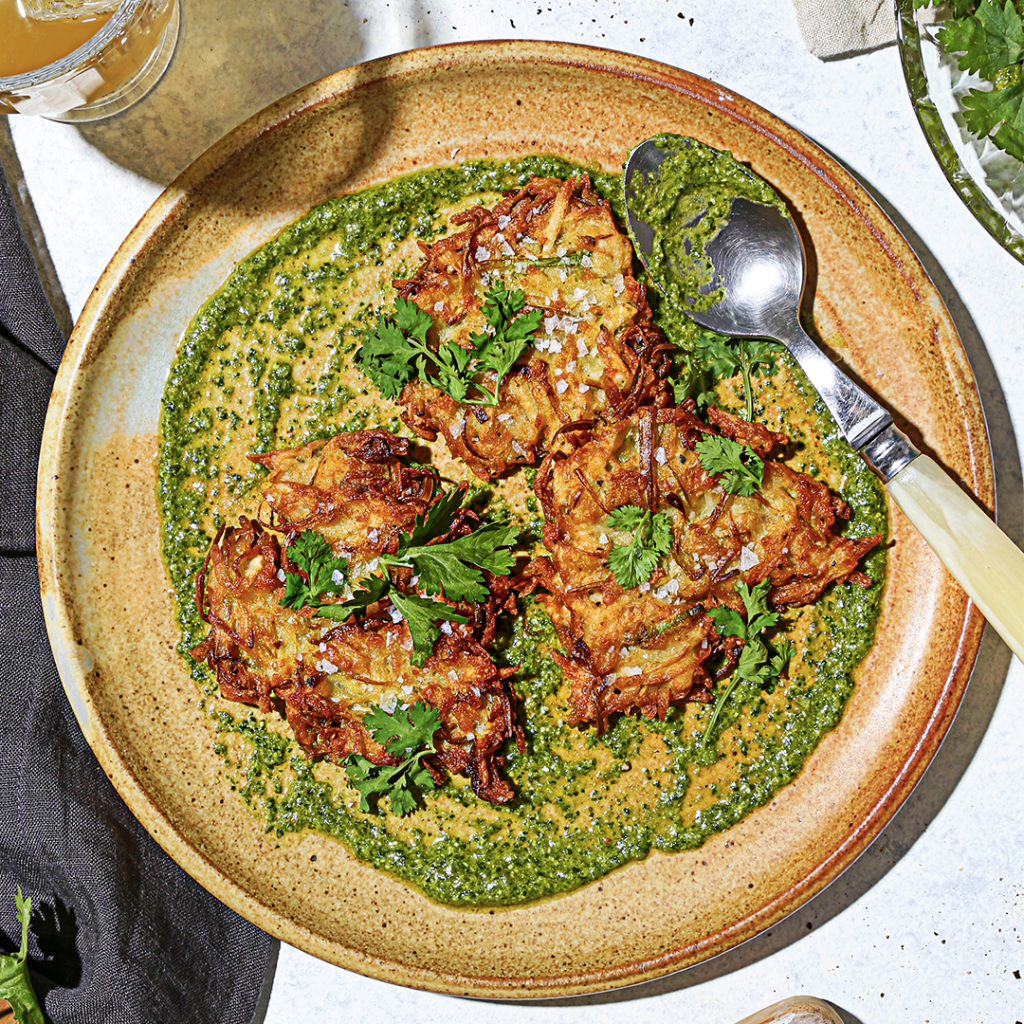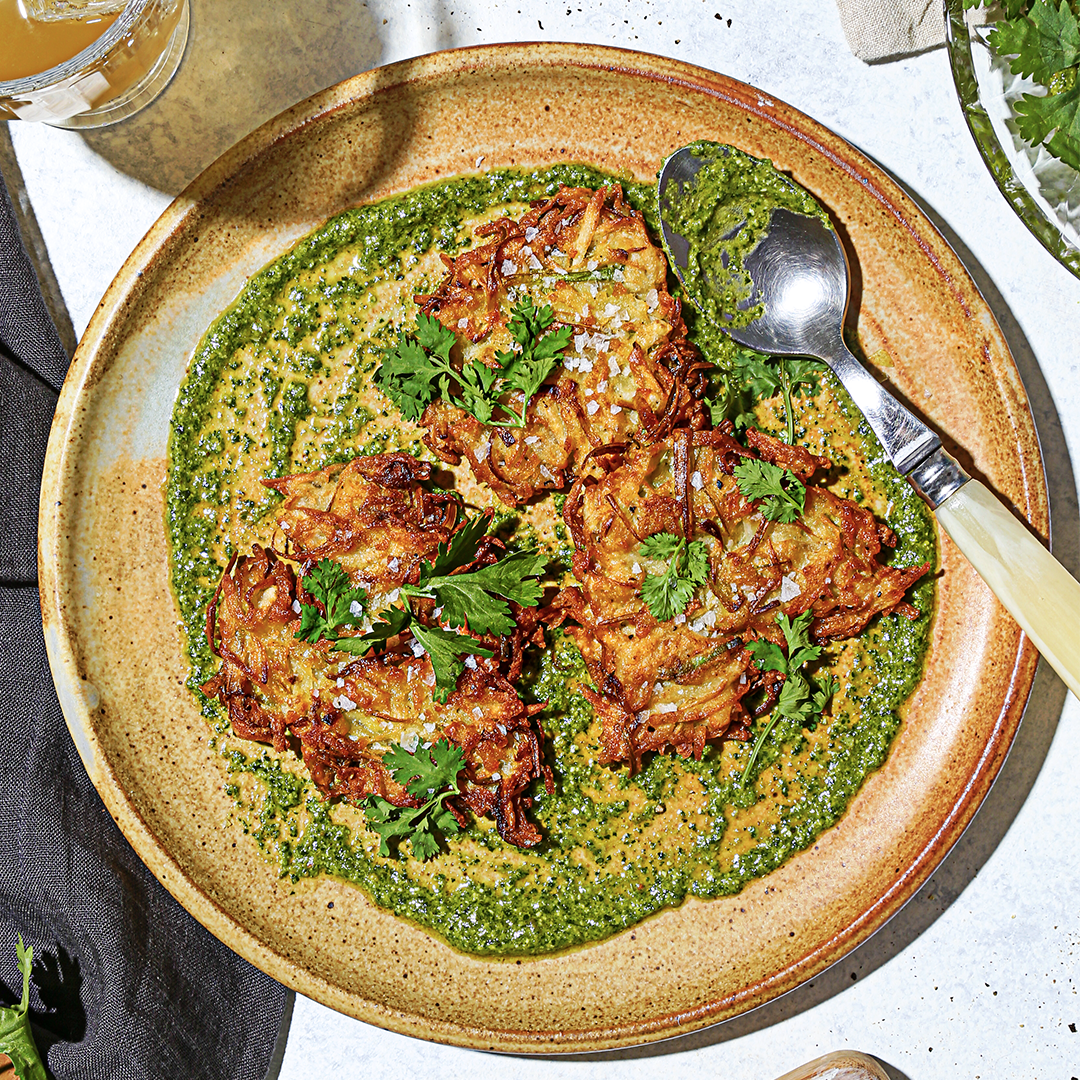 These aren't your typical latkes—they're Bobby Flay latkes. He layers in fragrant leeks with classic russet potatoes, and for extra crispy pancakes, only fries a thin dollop at a time. The result? A crunchy, salty, bite-sized latke. And instead of serving with sour cream or apple sauce, Bobby opts for unexpected spicy pesto (thanks to roasted jalapeños). You just might want to double up on it to serve throughout the week with roasted veggies, meats, and more.
Watch now:
Then, get the full recipe:
Print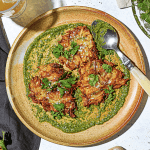 Bobby Flay's Potato and Leek Pancakes with Roasted Jalapeño Pesto
---
For the Roasted Jalapeño Pesto:
2

jalapeños, roasted and seeded
Canola oil
Kosher salt
Freshly ground black pepper

1 cup

cilantro leaves

1

small garlic clove, chopped

2 tablespoons

pine nuts

2 tablespoons

Parmigiano Reggiano, grated

1/4 cup

extra virgin olive oil
For the Potato and Leek Pancakes: 
Canola oil

1

small leek, halved lengthwise, rinsed, and thinly sliced
Kosher salt
Freshly ground black pepper

2

small russet potatoes, peeled

1

egg, lightly beaten

1/4 cup

Wondra flour or all-purpose flour
Pinch of baking powder
---
Instructions
To roast jalapeños: Preheat the oven to 400 degrees. Toss jalapeños in a few tablespoons of canola oil and season with salt and pepper. Roast in an even layer on a baking sheet until soft and skin is blistered. Remove jalapeños to a bowl, cover bowl with plastic wrap, and let sit for 15 minutes. Remove stems, seeds, and skin.
Combine the roasted jalapeños, cilantro, garlic, pine nut,s and cheese in a food processor and process until coarsely chopped. With the motor running, slowly add the oil through the feed tube until smooth. Season with salt and pepper and pulse a few times just to combine. If the mixture is too thick, add a few more teaspoons of oil and pulse. Transfer to a bowl. The pesto will keep, covered in the refrigerator, for up to 24 hours. Serve at room temperature.
For the potato pancakes: Heat 1 tablespoon of oil in a medium sauté pan over medium-high heat until it begins to shimmer. Add the leeks, season with salt and pepper, and cook until the leeks begin to soften, about 4 minutes.
On a box grater, coarsely shred the potato. Transfer to a colander or wrap in a cheesecloth or dish towel, and squeeze until the potato shreds are as dry as possible. Let stand for 2 minutes, then squeeze dry again.
Put the potato in a large bowl, add the cooked leeks, egg, flour, baking powder, salt, and pepper and gently fold to combine.
Add 2 tablespoons of canola oil in a nonstick skillet over medium-high heat until it begins to shimmer. Drop heaping tablespoons of the potato mixture into the skillet and flatten them with the back of the spoon. Cook the pancakes over moderately high heat until the edges are golden, about 1½-2 minutes. Turn down the heat to medium, flip the pancakes and cook until golden on the bottom, about 2 minutes.
Transfer the potato pancakes to a plate lined with paper towels. Sprinkle the potato pancakes with a pinch salt while they are still warm. Repeat with the remaining potato leek mixture, adding more oil to the skillet as needed.
To serve, place three teaspoons of pesto on to the bottom of a large plate, spaced a few inches apart. Add the potato pancakes on top of the pesto. Dollop a spoonful of pesto onto each pancake. Garnish with cilantro leaves and serve immediately.
---