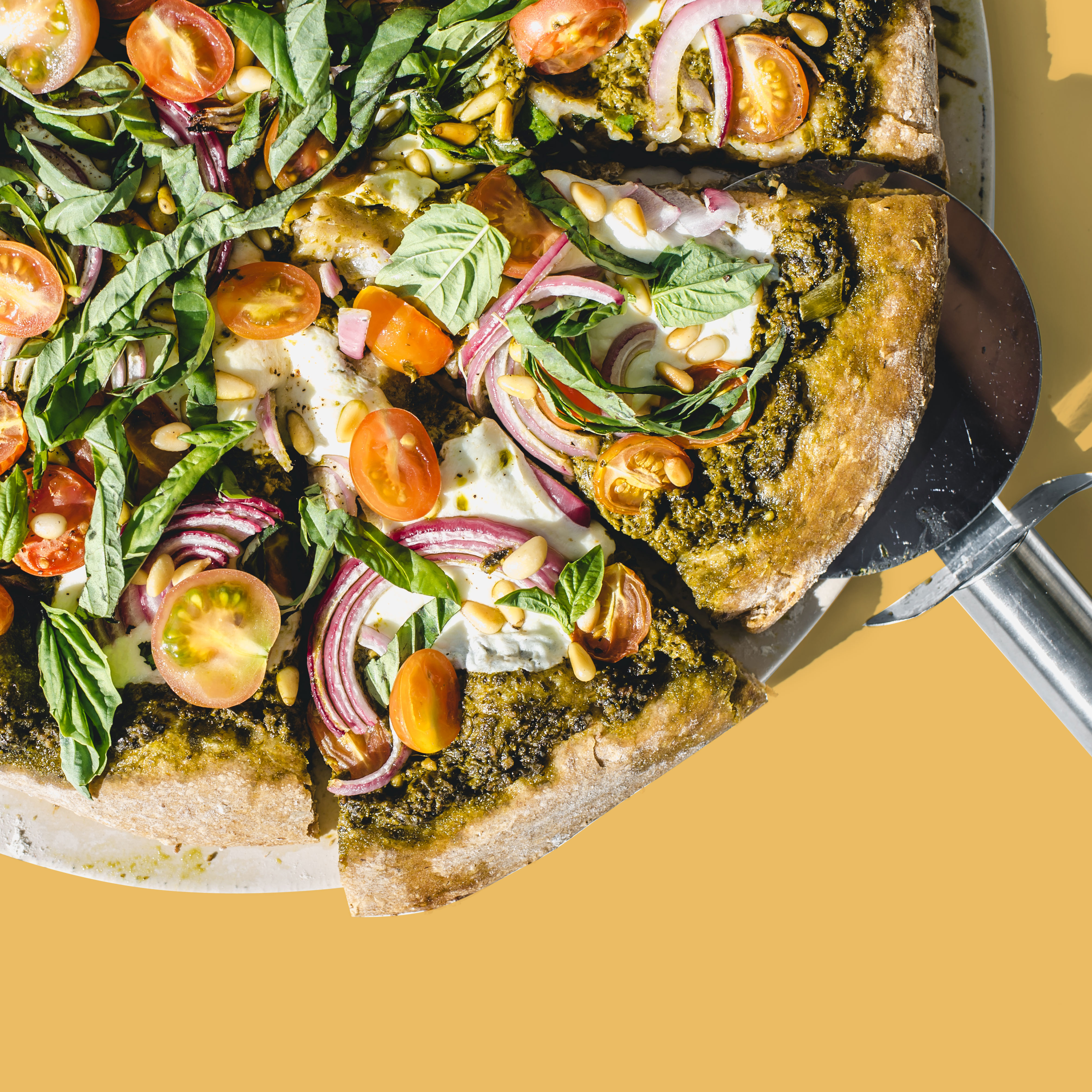 Any day can be a pizza day if you believe in yourself and you have a tasty, easy-to-follow recipe and lots of cheese on hand. But, there's only one National Pizza Day, which requires a super special pie that utilizes lots of Misfits veggies. Enter: a green pizza with homemade carrot top pesto—yes, carrot tops are edible!—and yes, lots and lots of cheese.
Get the recipe below and let us know in the comments how you would customize your own homemade pizza for National Pizza Day.
Print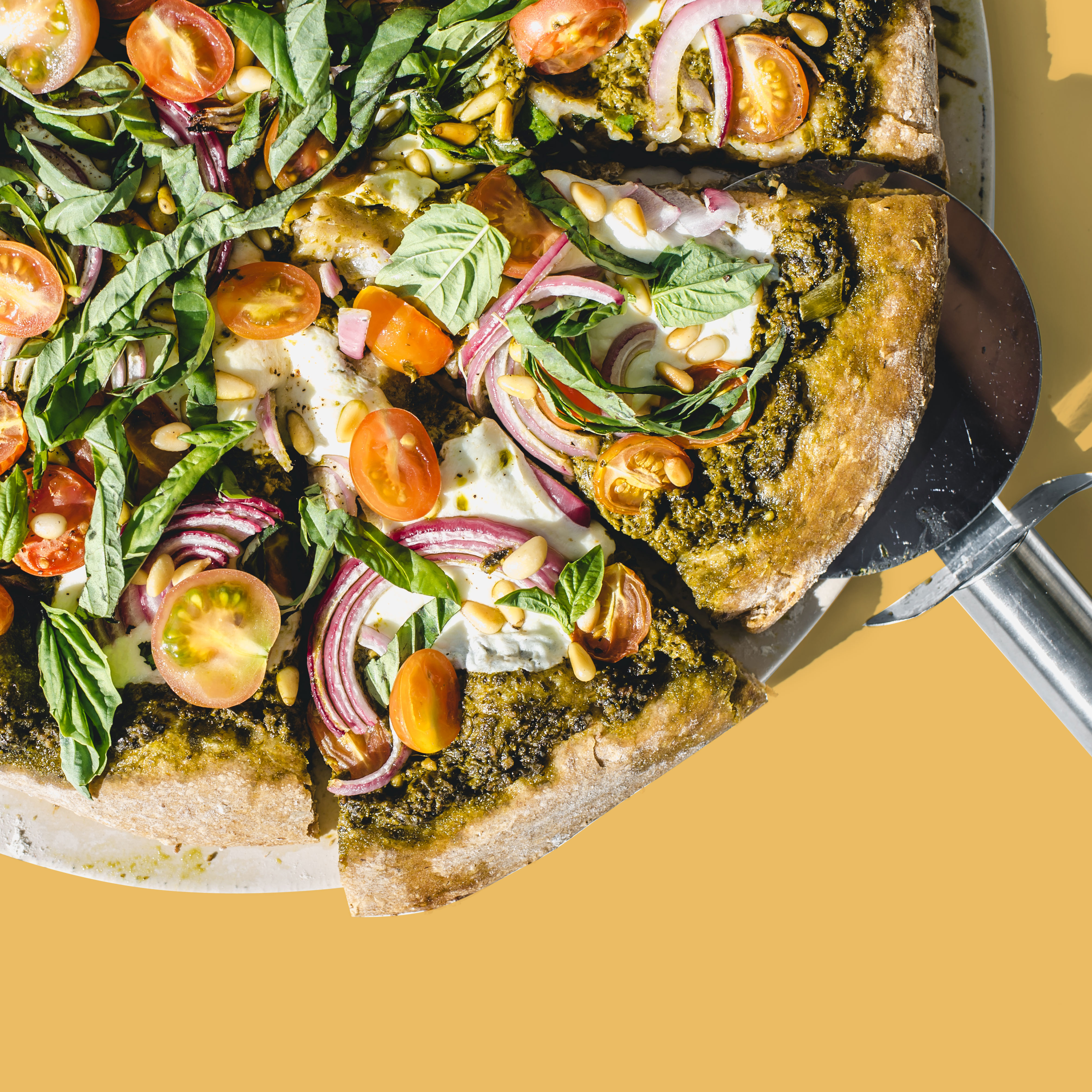 ---
Description
Yes, carrot tops are edible! Use them in an easy homemade pesto that can be used for pastas or even as a dip. Then, use any leftover pesto as a base for a veggie-filled pizza.
---
Carrot Top Pesto
2 cups

carrot tops, chopped

1/4 cup

basil, chopped

4 tablespoons

pine nuts or nut of choice, toasted

1/4 cup

Parmesan, grated

3

cloves garlic, peeled

1/2 cup

olive oil

1 teaspoon

salt

1 teaspoon

black pepper
Veggie Pesto Pizza
Raw pizza dough

1/4 cup

flour

1 cup

Carrot Top Pesto

2 cups

shredded mozzarella or equivalent in fresh mozzarella slices

1 cup

cherry tomatoes, halved, or small Roma tomatoes, quartered

1/2

red onion, sliced

1 cup

basil leaves, sliced into ribbons (optional)

4 tablespoons

pine nuts, toasted (optional)
---
Instructions
For the pesto, add pine nuts to a small saucepan over low heat. Toast for 2-3 minutes, stirring occasionally, keeping a close eye on the nuts to make sure they don't burn. As soon as they begin to brown, turn off and remove from heat. (The heat from the pan will continue to cook the nuts.)
In a blender or food processor, add the chopped carrot tops, basil, Parmesan, garlic cloves, olive oil, salt, pepper, and toasted pine nuts.
Blend on high speed about 3 minutes until you reach a smooth, blended consistency. Add more oil in this step if your pesto is too thick for your liking.
Use immediately on your pizza, pasta, or as a dip. Or, transfer to an airtight glass jar but add an extra drizzle of olive oil on top to prevent browning. Refrigerate for up to a week.
For the pizza, preheat oven as per dough instructions.
Roll out your pizza dough with flour until you reach the desired thickness. Transfer to a pizza stone or a prepared sheet pan.
Scoop the pesto sauce and spread it along the dough using the backside of a spoon.
Layer the mozzarella over the pesto. Then, generously sprinkle the onions and tomatoes on top.
Transfer to oven and bake according to the instructions of the dough, or until the edges are browned and dough is thoroughly cooked.
When ready, remove from the oven and garnish with optional pine nuts and basil leaves. Share, serve, and enjoy!
---