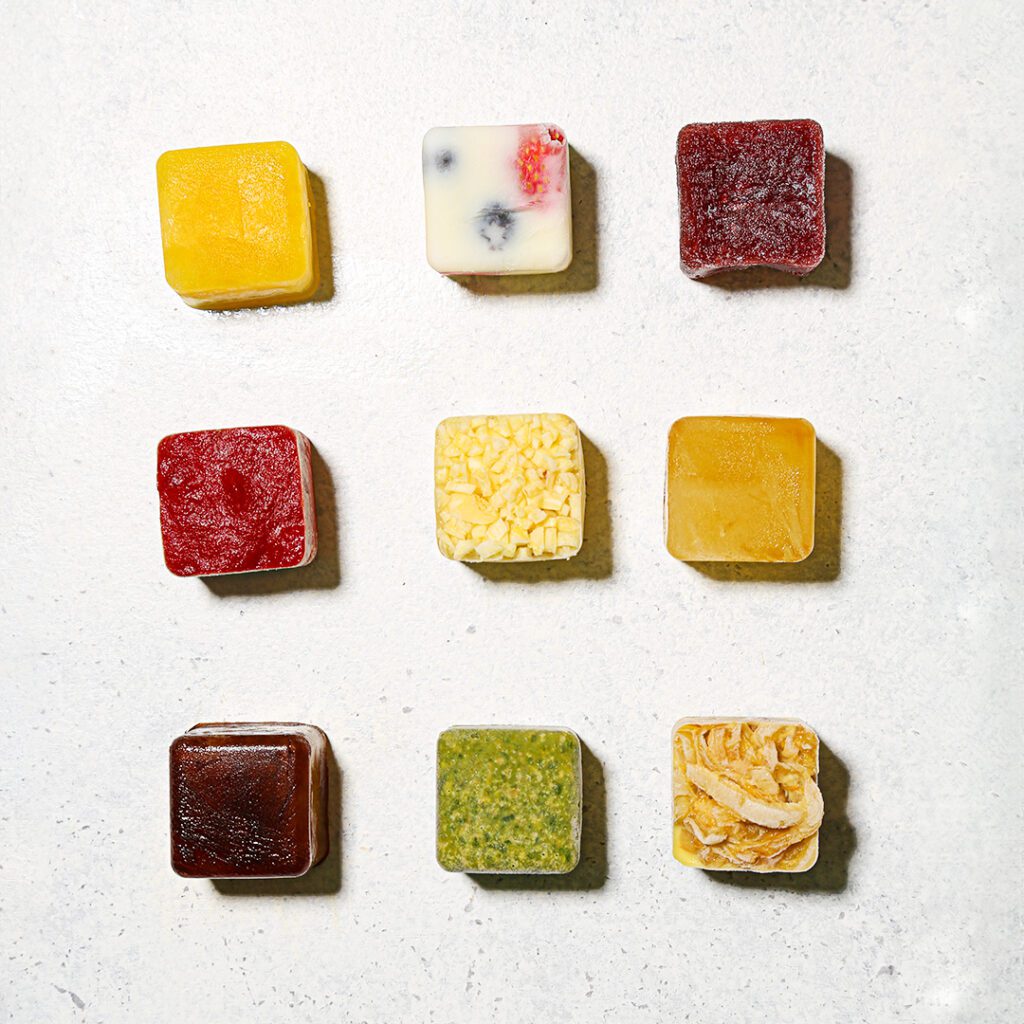 The ice cube tray is a kitchen staple in more ways than you'd think. Though we'll never ditch them for their O.G. purpose—ice keeps cocktails (and mocktails) cold, after all!—ice cube trays can be used for so much more: to minimize food waste, to save cooking prep time, or to add an air of elegance to various beverages.
Keep reading for our favorite things to freeze in ice cube trays (and let us know of any we've missed in the comments so we can update this list)…
How to freeze food, wine, coffee, and more in ice cube trays:
Freezing Broth and Stock (Chicken, beef, or veggie)
If that half-carton of chicken, beef, or veggie stock is nearing its expiration date, or you made a big batch of the stuff from scratch, pour the remaining broth into an ice cube tray. Frozen, the cubes can last for up to a year and make it easy to thaw the exact amount of broth you need without wasting any precious stock.
Freezing Fresh Herbs in Oil
We love fresh herbs but they often teeter between perfectly fresh and perfectly…not-so-fresh. Among the ways to make freshly-chopped herbs last longer, none is as quick and easy as freezing them in an ice cube tray along with olive oil to preserve the freshness and flavor of the herbs. First, finely chop your favorite herb—tougher herbs like rosemary, thyme, sage, and oregano work best here—and cover with your oil of choice or melted butter. Once frozen, pop the cubes out of the tray and into an airtight container, which can be stored in the freezer for 6 to 9 months. When you're ready to cook, melting a cube or two makes for an easy starter whenever a dish calls for oil and herbs.
Freezing Caramelized Onions
The best part about caramelized onions? Loads of sweet umami flavor that's the perfect addition to soups and stews and topping for sandwiches, burgers, and sausages. The worst part about caramelized onions? Because they're cooked low and slow, it's…slow! That's why we like to make a big batch of caramelized onions, and freeze half of it. Using the same method as you do for fresh herbs, pack your ice cube trays full of caramelized onions, top 'em with a glug of olive oil or melted butter, and freeze for up to 6 to 9 months.
Freezing Minced Garlic, Chopped Garlic, and Garlic Paste
Garlic's versatility carries over to the freezer, too, especially when it's minced, chopped, or made into a paste. Freeze minced garlic, chopped garlic, and garlic paste as you would herbs or caramelized onions, aka topped with your oil of choice or melted butter—be sure to add more if the garlic is chopped or minced, as garlic paste already contains oil. A cube or two makes an at-the-ready starter for a whole slew of dishes, from sauces and sautés to soups and stir fries.
Freezing Lemon Juice
Have a favorite recipe that calls for the juice of half of a lemon (or lime)? Juice the remaining half, too. Freezing lemon juice is a matter of pouring it into an ice cube tray so you have a perfect portion of juice for using the next time around.
Freezing Lemon Zest
The juice isn't the only thing that can be salvaged from those lingering lemon (or citrus) wedges. Think outside—to the rind, that is! Like with herbs or minced garlic, freeze lemon zest by sprinkling it evenly across the cavities of an ice cube tray, then top with a generous drizzle of olive oil. A cube makes a great starter for sautéing vegetables, pan-searing chicken, and more.
Sign up for online grocery delivery with Misfits Market!
Freezing Wine
That glass or bottle you can't bring yourself to finish? It's liquid gold when stashed away for a later use, not for sipping but rather for cooking. Freezing wine is as simple as it sounds: Just pour the dregs into an ice cube tray and once frozen, transfer the cubes into an airtight, freezer-proof container or bag. (Store it towards the back center of your freezer where it's coldest, since the alcohol in wine makes it sensitive to thawing.) That way, you don't need to pop open a fresh bottle every time a recipe calls for a splash of red or white wine…unless you want to, that is.
Freezing Tomato Paste, Marinara Sauce, and Pesto
If you can call it a sauce, you can likely freeze it, too. Simply pour tomato paste, marinara sauce, pesto, and more into ice cube trays (be sure it's cooled first) and freeze for up to 6 months. A couple of cubes saves you from having to open a new jar or make a fresh batch—just reheat in the microwave or on the stovetop.
Freezing Yogurt for Smoothie Meal Prep
Freezing yogurt, with or without fruit, is both a time-saver and flavor-enhancer for when it comes to smoothie-making. Divide your favorite yogurt—flavored or plain, Greek or non-dairy—across the compartments of an ice cube tray and give it a gentle tap or two so it settles evenly. You can pop in the freezer as-is, or with an added garnish of diced fruit, like berries or mango. Once they're frozen, put the cubes in an airtight container so you can ditch the added ice altogether for a more flavorful smoothie.
Freezing Chocolate
Dessert on demand? We vote yes. Freezing chocolate couldn't be easier when you put a spin on one of our favorite hassle-free, highly customizable sweets. Swapping parchment paper for an ice cube tray and the fridge for the freezer means you have a treat at the ready whenever a craving hits.
Freezing Coffee Ice Cubes
If you're feeling fancy—or shudder at the thought of watered-down coffee—brew an extra batch. After it has cooled fully, pour it into an ice cube tray. Once frozen, pop the cubes into a freezer-friendly container. Iced coffee lovers, rejoice!
Keep reading: Learn How to Freeze Fresh Produce