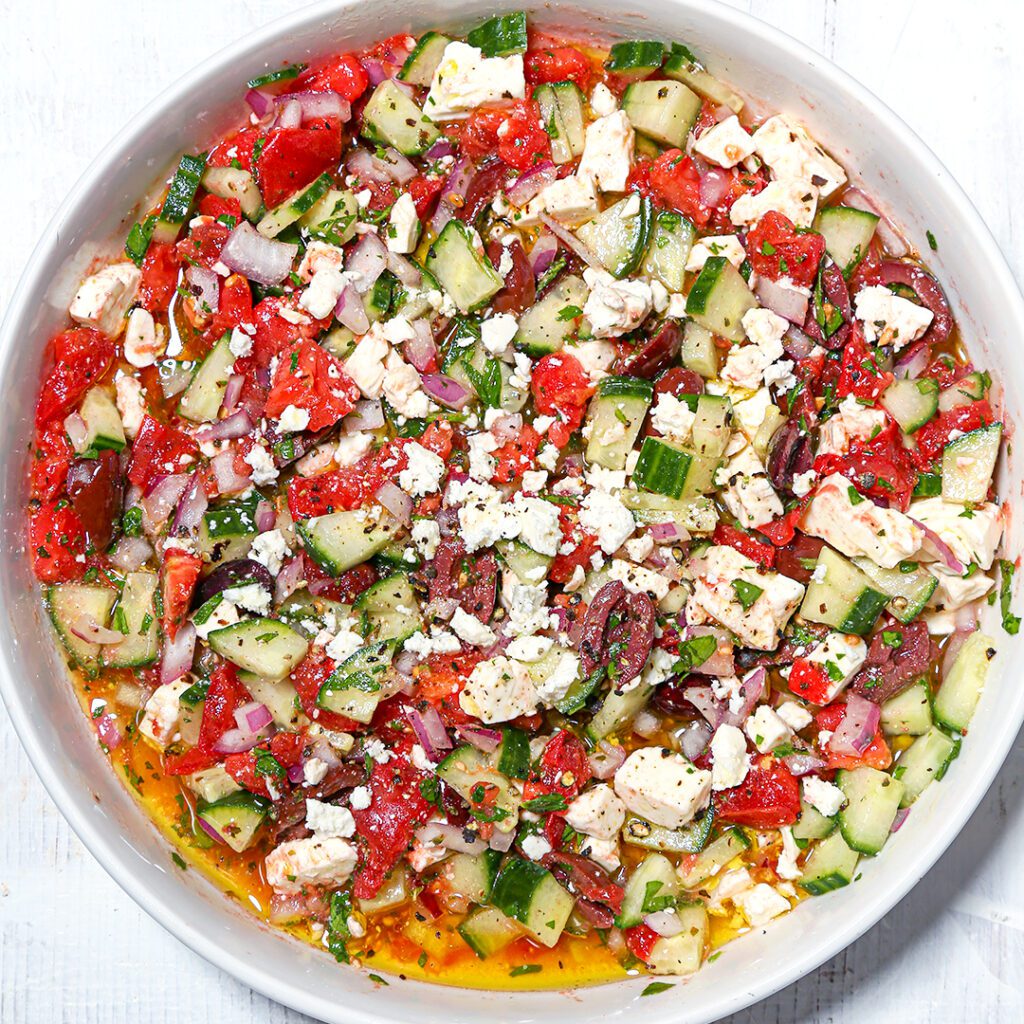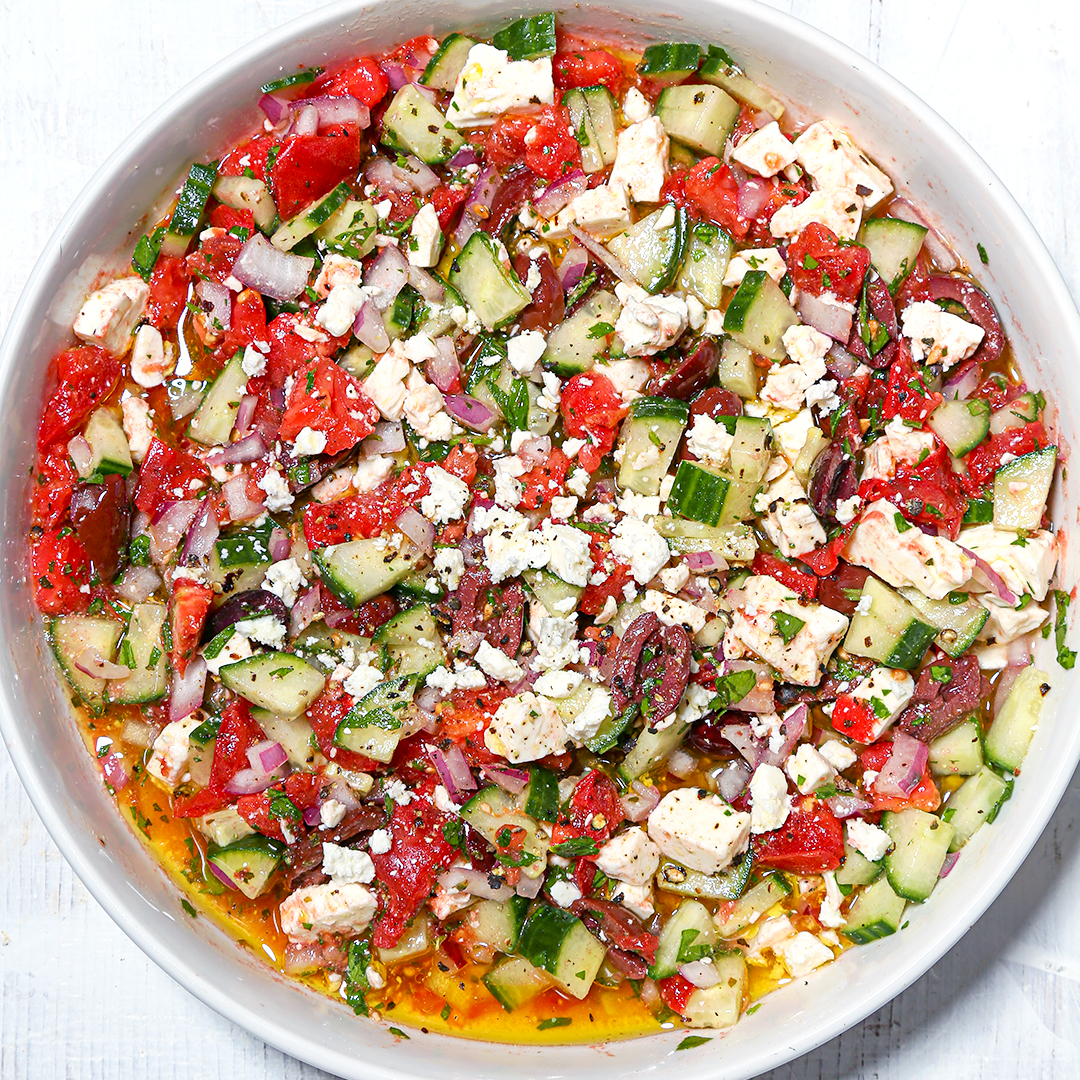 The Fourth of July is something like the warm weather version of Thanksgiving when it comes to food. Not only is a cookout spread a requirement—you're also left with a bunch of random bits and bobs, from actual leftovers to pickle brine and the crumbled dregs of the potato chip bag. And while you could just repeat the same plate until you've eaten through your stock of leftovers, we prefer to use the opportunity to get creative. To help you save tasty food from going to waste, we've gathered some inspo to get you started based on what you still have on hand:
If you have leftover burger fixings…
Coincidentally, your classic burger toppings also serve as the building blocks for many a great meal (and drink!).
After a quick chop, sliced onions and tomatoes can serve as the base for a savory shakshuka breakfast or a breezy Mediterranean tabbouleh.
As it happens, much of the toppings station—tomatoes, onions, pickles, mustard, and mayo—makes up one of our favorite formulas for a cold salad. Just mix in canned tuna, hard-boiled eggs, macaroni pasta, or the chicken you grilled up a few nights ago.
If you've eaten through your pickle jar, don't toss that brine! Shake it up for a pickle juice martini or swirl it into a bloody mary.
If you have leftover veggies…
Pair stray baby carrots and celery sticks from the dipping platter with any kind of grilled meat (we especially love sausage) in a Thai noodle salad. And that leftover dip? It makes a stellar base for salad dressings and marinades.
With ears of grilled or steamed corn, cut the kernels off of the cobs for incorporating into corn fritters, cornbread, and salads.
Those remaining grilled peppers, zucchini, and onions make great additions to a low-lift sheet pan frittata bake.
Try using leftover tomatoes, onions, and cucumbers in this refreshing (and refreshingly easy) Mediterranean Salad:
Print
---
3 tablespoons

extra virgin olive oil 

1½ tablespoons

red wine vinegar 

1 teaspoon

dried oregano 

½ teaspoon

kosher salt 

10

cracks freshly ground black pepper 

1

large tomato, diced, 

½

red onion, diced 

¾ cup

cucumber, diced

¼ cup

kalamata olives, halved 

¼ cup

feta cheese, crumbled 

2 tablespoons

parsley, roughly chopped
---
Instructions
In a small bowl, whisk together olive oil, vinegar, oregano, salt, and pepper until combined. 
In a medium bowl, add tomato, onion, cucumber, olives, feta, and parsley. Pour dressing over top and mix until well coated. Enjoy cold.
---
If you have leftover meat…
A quick sauté with spices and the optional hot sauce transforms steak strips, grilled chicken, or pork into a soft taco staple. Top however you'd like—our universal go-to is pickled onions and cilantro.
Slice your sausages and hot dogs into thin coins to use as pizza toppings. Add cubed grilled chicken to make it a meat lovers' combo, or sprinkle 'em on a separate pie along with a drizzle of BBQ sauce for a classic variation.
If you have leftover bread and snacks…
Whether you've already toasted them or not, hamburger and hot dog buns bake up to croutons in a pinch when cubed, spread out on a sheet pan, and tossed with olive oil, dried herbs, garlic powder, and a sprinkle of parm. (Even if they're on the stale side!)
Those last few potato chip crumbles at the bottom of the bag do have a time and a place in an assorted snack mix, sprinkled over salad, or—trust us—stirred into chocolate chip cookie batter.
Keep reading:
Grilled Flatbread with Summer Squash
How to Pack for Your Picnic Like a Pro