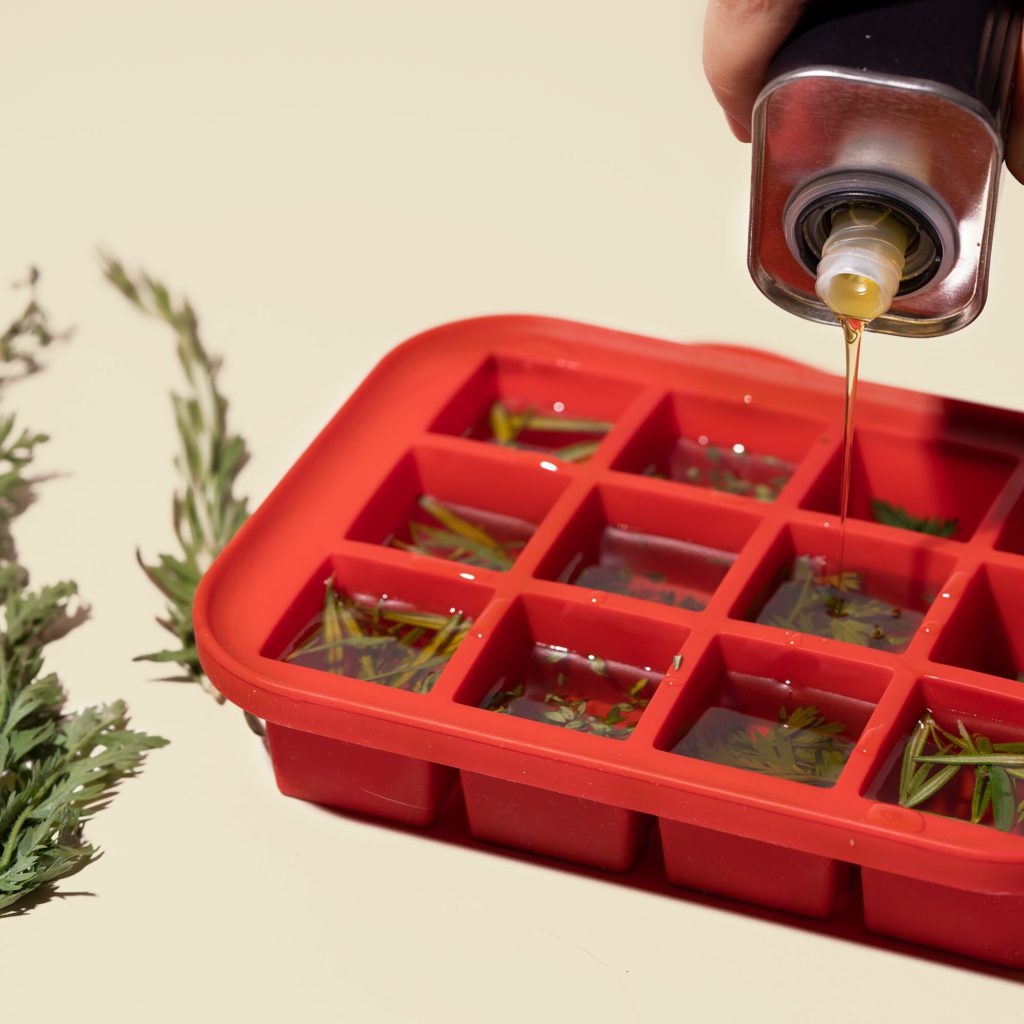 The ice cube tray is a kitchen staple but not in the way you might think. Though we'll never ditch them for their original use—ice will always keep our cocktails cold, after all!—ice cube trays can be used for so much more when it comes to food, storage, and cooking. Keep reading for our 10 favorite hacks and let us know in the comments your favorite way to use ice cube trays and we'll update this list.
(Love these hacks but don't have enough trays? In our Marketplace for two weeks only, we're selling Peak's silicone Everyday Ice Cube Tray in vibrant red. Shop our Marketplace starting Thursday at 4 p.m. EST through Saturday at 8 p.m. EST.)
Freeze Oil and Fresh Herbs
We love fresh herbs but they often teeter between perfectly fresh and perfectly not-so-fresh. There are a few ways to make freshly-chopped herbs last longer but none as quick and easy as freezing them in an ice cube tray full of olive oil. It preserves the freshness of the herbs and makes for an easy cooking starter whenever you need oil and herbs for a dish. Finely chop your favorite herb—this hack works best with tougher ones like rosemary, thyme, sage, and oregano—and cover with your go-to oil or melted butter of choice. Once frozen, pop herb cubes out of the tray and store them in an airtight container in the freezer for 6 to 9 months. When you're ready to cook, drop frozen herb cubes into a hot pan and have fragrant oil in seconds.
Freeze Caramelized Onions
The best part about caramelized onions? Because you cook them low and slow, you're rewarded with lots of sweet umami flavor that's the perfect base for soups, stews, and to top sandwiches, burgers, and hot dogs. The worst part about caramelized onions? It's slow! That's why we like to make a big batch of the caramelized allium and freeze half of them. Following the same method as fresh herbs, pack your ice cube trays full of caramelized onions, drizzle olive oil or melted butter on top of them, and freeze for up to 6 to 9 months. Later, you can reheat frozen onion cubes as a flavor starter.
Freeze Fruit and Chocolate
Fresh fruit and chocolate is a classic combo made that much better in the form of frozen candy bites. Fill ice cube trays with melted chocolate—milk, dark, or white will work!—and add Misfits Market fruit like orange segments, blueberries, strawberries, and even cubes of mango. Cover with more chocolate chopped nuts if you have them, and freeze overnight. Just try not to eat these bite-sized homemade candies in a single sitting.
Freeze Dessert
Chocolate-covered fruit not enough? You can also freeze a slew of other homemade frozen delights like:
Freeze Coffee
Do you know what makes coffee better? Even more coffee. Get an added caffeine boost with frozen coffee ice cubes. Once your freshly-brewed pot of coffee has cooled, pour coffee into your ice cube tray. Play around with flavor combinations by adding a splash of flavored milks, chocolate syrup, or sweetened condensed milk. In the morning, pop those cubes into either iced coffee or a small glass of milk. Once the coffee cubes start to melt, you'll be able to enjoy a chilled coffee drink. This trick works just as well for espresso, too.
Freeze Fruit-Infused Cubes
Hydration is necessary but sometimes water is downright boring. Place your favorite fruit in ice cube trays—think chopped grapes, berries, and citrus—and cover them with water. Freeze overnight and add fruit-infused ice cubes to your water or seltzer for a fruity or zesty kick.
Freeze Breakfast Parfaits
Make breakfast feel like dessert with frozen parfait pops. Whether you have flavored or plain Greek, you can freeze yogurt overnight to make yogurt "pops." Before they go into the freezer, top dollops of yogurt with granola and chopped mixed berries. In the morning, you can snack on frozen parfait bites instead of using a spoon.
Freeze Smoothie Starters
Purée and freeze mango, bananas, spinach, kale—whatever you normally add to your favorite smoothies—and pour it straight into your ice cube tray. Once they're frozen, put cubes in reusable containers so when it's time to enjoy a smoothie, you can ditch the added ice altogether and simply use frozen fruit and veggie purees.
Freeze Stock
If you're nearing the expiration date of your chicken, beef, or veggie stock, or made a big batch of the stuff at home, pour any remaining broth into an ice cube tray. Frozen, the cubes can last for up to a year and allow you to use exactly the amount of broth that you need without wasting any precious stock.
Freeze Sauces
Tomato sauce, pizza sauce, pesto, you name it! Simply pour (cooled) sauce into ice cube trays and freeze. As long as you use them within the next 6 months, you'll have the perfect amount of homemade sauce on hand when you just don't feel like settling on jarred sauce again. Just pop sauce cubes in the microwave or in a pot on the stovetop to reheat and cook as normal.
For even more ways to enjoy Misfits Market and to help make your produce last, learn how to freeze your produce here.