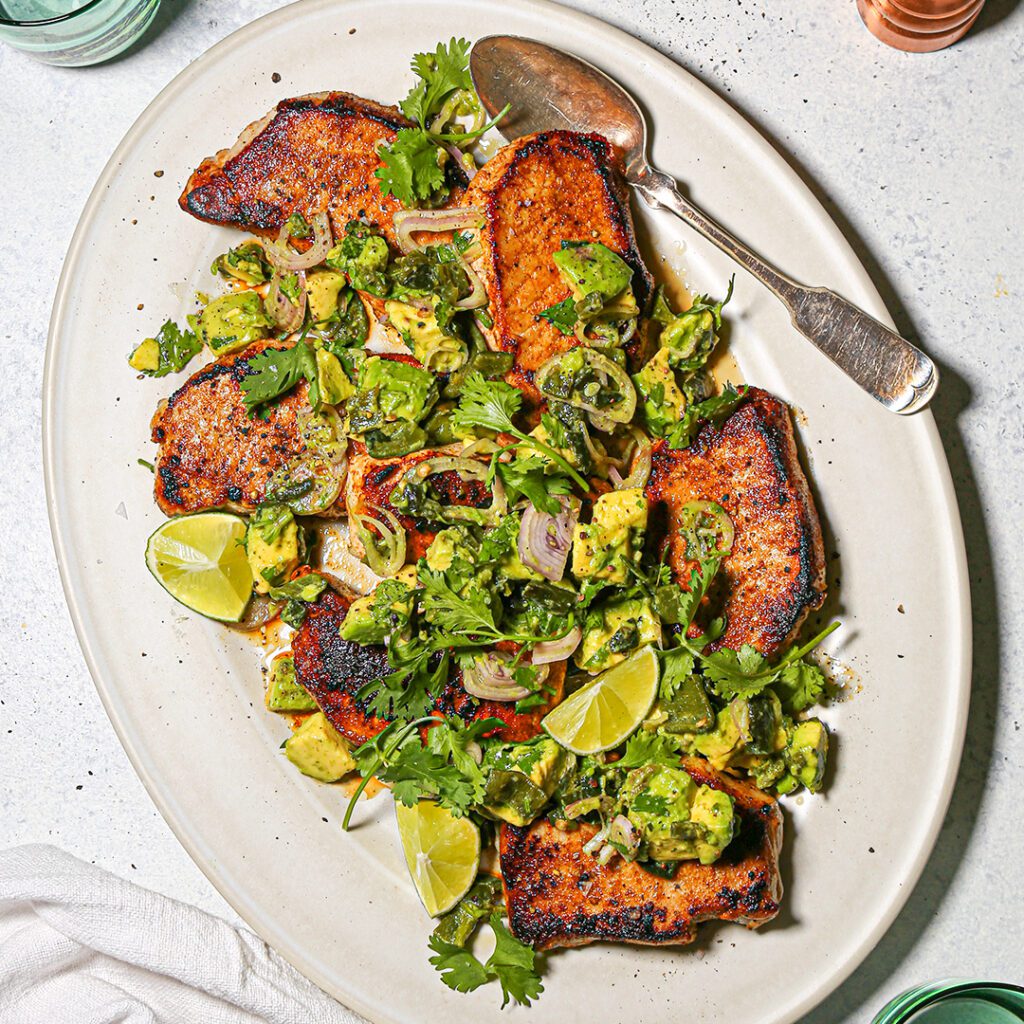 Turns out spice-rubbed pork chops and roasted poblanos are a match made in food heaven (aka, chef-in-resident Bobby Flay's kitchen). With avocados, cilantro, and lime juice in the mix, this family-style dish brings plenty of bright and fresh flavor to the table, too.
Related: Make Bobby Flay's Ultimate 7-Spice Rub
Get the recipe for Bobby Flay's Pork Chops with Roasted Poblano and Avocado Relish:
Print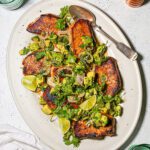 Bobby Flay's Pork Chops with Roasted Poblano Relish
---
6

boneless pork chops, approximately 1-inch thick
Kosher salt and freshly ground black pepper

2 tablespoons

7-spice spice rub

¼ cup

avocado oil, divided, plus more for garnish

3

poblano peppers, roasted and coarsely chopped

2

avocados, diced

1

shallot, thinly sliced

¼ cup

cilantro, loosely packed and coarsely chopped
Juice of

1

lime, plus more for garnish
---
Instructions
Preheat the oven to 400 degrees F.
For the roasted poblano peppers: Brush the peppers with some avocado or other neutral oil and season with salt and pepper. Arrange the peppers on a baking sheet and roast, turning occasionally, until the skins are charred and blistered and the flesh is soft and pliable, about 20 minutes or so. Transfer the peppers to a bowl and cover the bowl tightly with plastic wrap, allowing them to steam for about 15 minutes. Once cool enough to handle, remove and discard both the peel and seeds and then use the peppers according to your recipe.
For the pork: Season pork chops on one side with salt and pepper and the 7-spice spice rub. Heat a few tablespoons of avocado oil in a cast-iron skillet over medium high heat until it shimmers. Working in batches, place pork chops, spice-rub-side-down into the pan. Season the second side of the pork chops with salt and pepper, allowing the chops to cook until golden brown and crusty, about 4 minutes. Using tongs, carefully flip the pork chops and cook for another minute or so.
Transfer the seared pork chops to a baking sheet and repeat the cooking process with the remaining pork chops. Place the baking sheet of pork in the oven and continue to cook for an additional 5 to 6 minutes, until the pork chops are cooked through to medium doneness. Remove pork chops from the oven and allow them to rest for 10 minutes.
For the relish: Add the roasted poblanos, avocado, shallot, cilantro, and lime juice to a medium sized bowl. Season with salt and pepper, avocado oil, toss to combine and set aside.
To serve family style, transfer the pork chops to a platter and top with the relish. Garnish with more avocado oil and lime, if so desired.
---
Hungry for more? Try this:
Pair Your Pork Chops with Pink Lady Apples
Bobby Flay's Pan-Seared Pork Loin Chops and Nectarine Salad with Blue Cheese