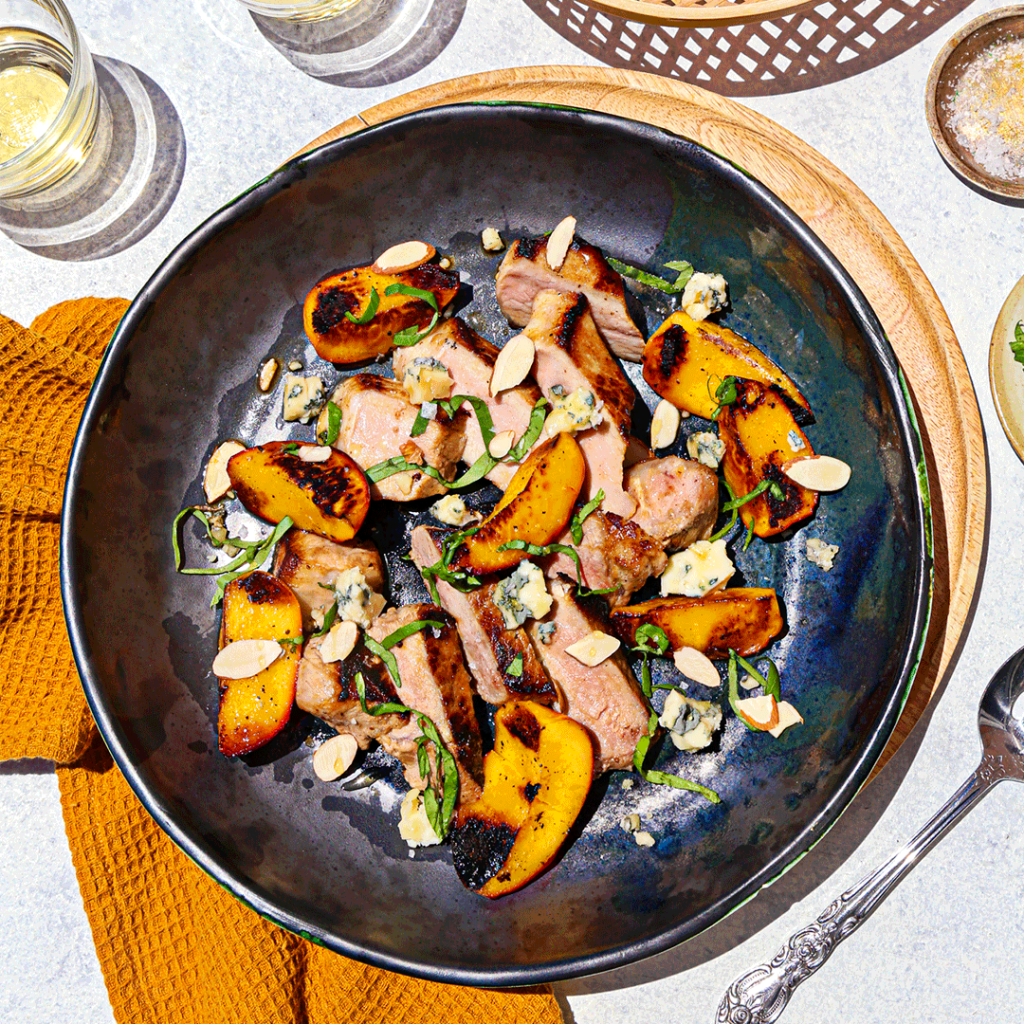 Pork doesn't get enough love—especially in the summer when our plates are piled with kebabs and burgers. According to chef-in-residence Bobby Flay, pork loin chops need plenty of added flavors and a nice crust to make a dinner-worthy dish. Luckily, he knows just how to make the most out of them with a quick citrus and herb marinade, pan-seared stone fruit, blue cheese, and a tangy balsamic glaze. 
Watch Bobby build this savory-meets-sweet dish, then get the full recipe below. Plus, Bobby lets us in on a little secret on what really separates a professional cook from a home cook. It's easy: season. Liberally.
Print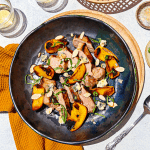 Bobby Flay's Pan-Seared Pork Loin Chops and Nectarine Salad with Blue Cheese
---
For the pork chops:
Juice of

1

orange

¼ cup

olive oil

8

basil leaves, roughly chopped
Kosher salt
Freshly ground black pepper

2

boneless pork chops

1 tablespoon

canola oil
For the nectarine salad:
2

nectarines, pits removed, cut into quarters

2 tablespoons

olive oil, divided
Kosher salt
Freshly ground black pepper

2 tablespoons

blue cheese, crumbled

1 tablespoon

honey

4

basil leaves, sliced into thin ribbons

2 tablespoons

sliced almonds, toasted 

1 tablespoon

balsamic glaze (optional)
---
Instructions
Preheat the oven to 375 degrees.
For the marinade, in a medium bowl whisk together the orange juice, ¼ cup olive oil, and basil. 
Place the pork chops into the marinade for at least 30 minutes and up to 2 hours prior to cooking. Remove pork from marinade and drain off any excess liquid. Blot on paper towel if necessary.
In a large skillet or cast iron pan, heat 1 tablespoon canola oil over high heat until it begins to shimmer. Season the pork chops on both sides with salt and pepper.
Sear the pork chops until golden brown on both sides, about 2 minutes per side. Transfer the pork to a sheet pan lined with parchment and place them in the oven to continue to cook until done, about 5 minutes, depending upon thickness. Remove to a plate and tent loosely with foil and let rest.
Drizzle 1 tablespoon olive oil over the nectarines and season with salt and pepper.
In the same skillet as the pork chops, heat remaining olive oil over medium high heat until it begins to shimmer. 
Add the nectarines cut side down to the pan and cook until seared and golden brown, about 2 minutes. Turn fruit and continue the cooking process, searing all sides of the nectarines until golden on all sides. Remove to a plate and top each half with some blue cheese, a drizzle of honey, basil, almonds and black pepper. Serve alongside pork chops.
---