It's stone fruit season and there's no time to waste. Our guide to enjoying every juice-dripping-down-your-chin bite while you still can.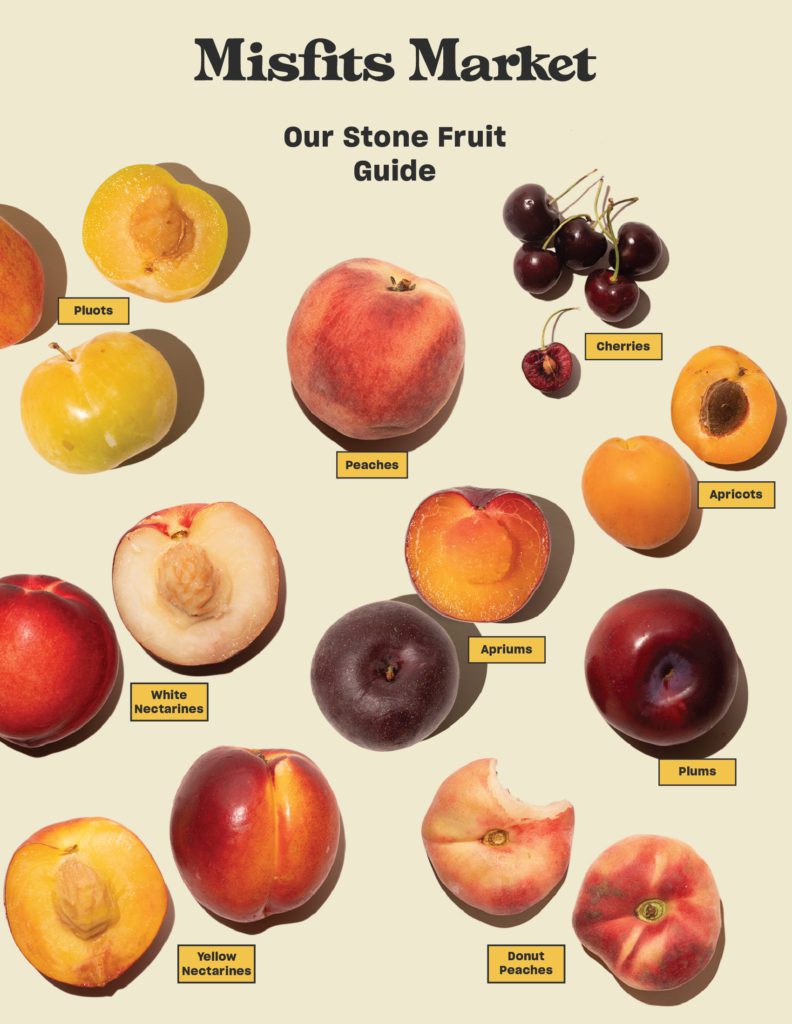 Let's start with the heart of the matter. What makes a stone fruit a stone fruit is the pit in the center. There are two types of pits: freestone or clingstone. Freestone pits pull away cleanly, whereas clingstones are harder to separate. 
When it comes to storage, follow the room temp rule. Store on your countertop away from the sun. Stone fruit is ready to eat when it's slightly soft to the touch and smells fruity and fragrant. A little too ripe? Preserving it for a couple days in the fridge is okay, too.
Apricots
You might be used to the syrupiness of dried apricots, but when fresh, they're sweet, juicy, and a little tart. The mild tartness comes from the skin, which you can peel off if you want to make jam or dessert.
Cherries
There are so many types of cherries—red Rainiers, yellowish Bings, black and sour varieties—so we're endlessly experimenting in the kitchen. Invest in a pitter to easily whip up savory pan sauces and sweet compotes or crumbles.
Plums
Plums are usually a rich red or dark purple color. The inside, however, can be golden yellow. The tartness of plums lends itself to savory dishes. Grilled and paired with pork chops, tossed with bitter greens, or served with salty cheese.
Peaches & Nectarines
These two get mixed up because they share similar flavors, but fuzzy peaches are often tangier than sweet and sharp nectarines. (Yellow varieties are usually higher in acidity, so we tend to use those for baking.)
Donut Peaches
We've got a soft spot for donut peaches. Squat, lumpy, and even the "perfect" ones are a little funny-looking. But what makes them different, flavor-wise? They're softer, sweeter, and almost candy-like. Less fuzzy, too.
Pluots
Pluots are a plum-apricot hybrid, but they're more plum than apricot in taste, and more apricot than plum in mouthfeel. Flavorosa, Dapple Dandy, and Flavor Grenade are just a few varieties of pluot you might come across.
Apriums
Sort of like a pluot but flipped around: more apricot in taste with a hint of plum. Apriums are also sweeter than regular apricots!
Still can't get enough stone fruit? Read more: