Oh. My. Gourd. Our squash guide is here to help you enjoy every single squash: hardy and summer, how to tell the difference between them, and how to make the most out of each variety.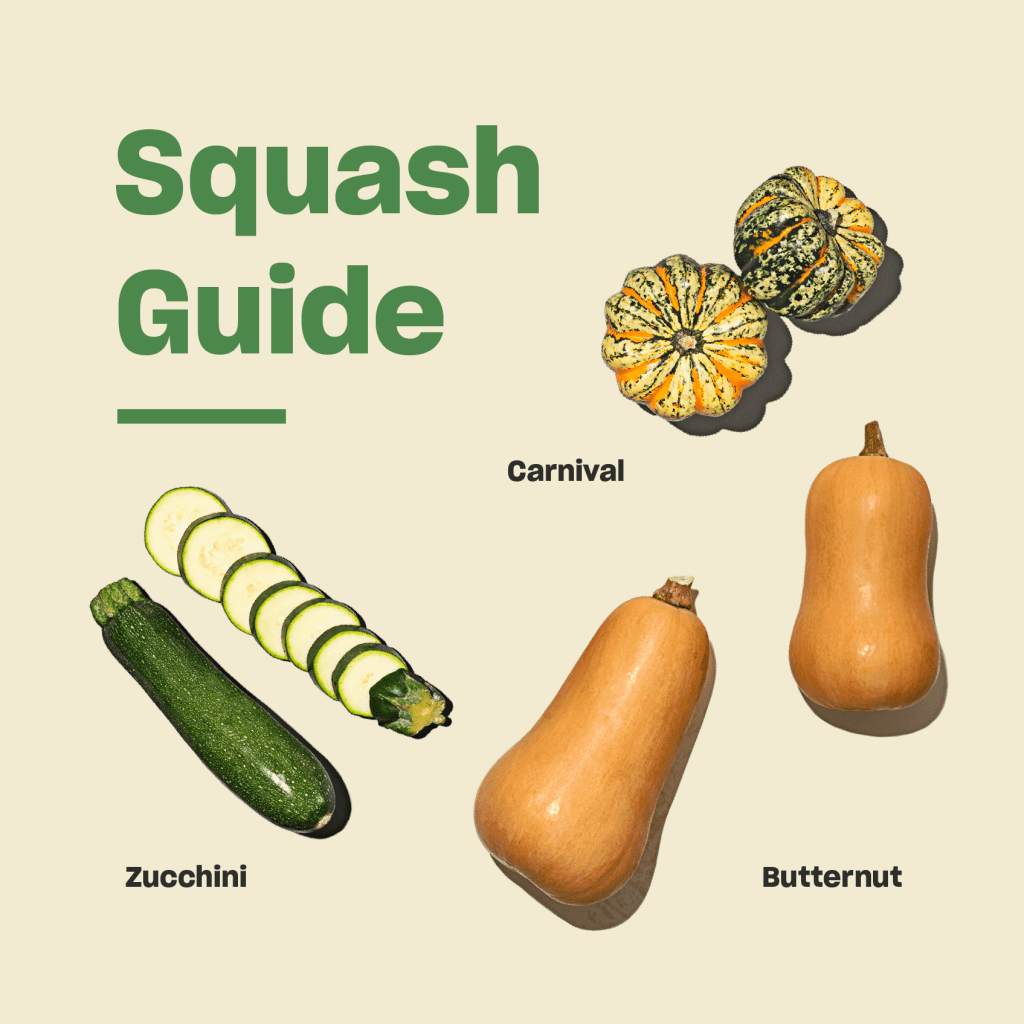 Butternut
This fall favorite has a sweet, nutty flavor and is often spiralized into noodles or baked and blended into soups. Looking to try something new? Give it the hasselback treatment, stuffed with sage, butter, and prosciutto.
Carnival
A cross between acorn and sweet dumpling squash, carnival is distinct for its festive multicolored skin. It's nutty, with a hint of maple, and perfect for roasting or baking. It can also be eaten raw—thinly sliced and tossed in a citrusy vinaigrette.
Zucchini
Zucchini and yellow summer squash are related. Despite their differences—color and shape—they can be used interchangeably. This fruit has a high water content, so let shredded zucchini sit and drain before using in baked goods like quick breads.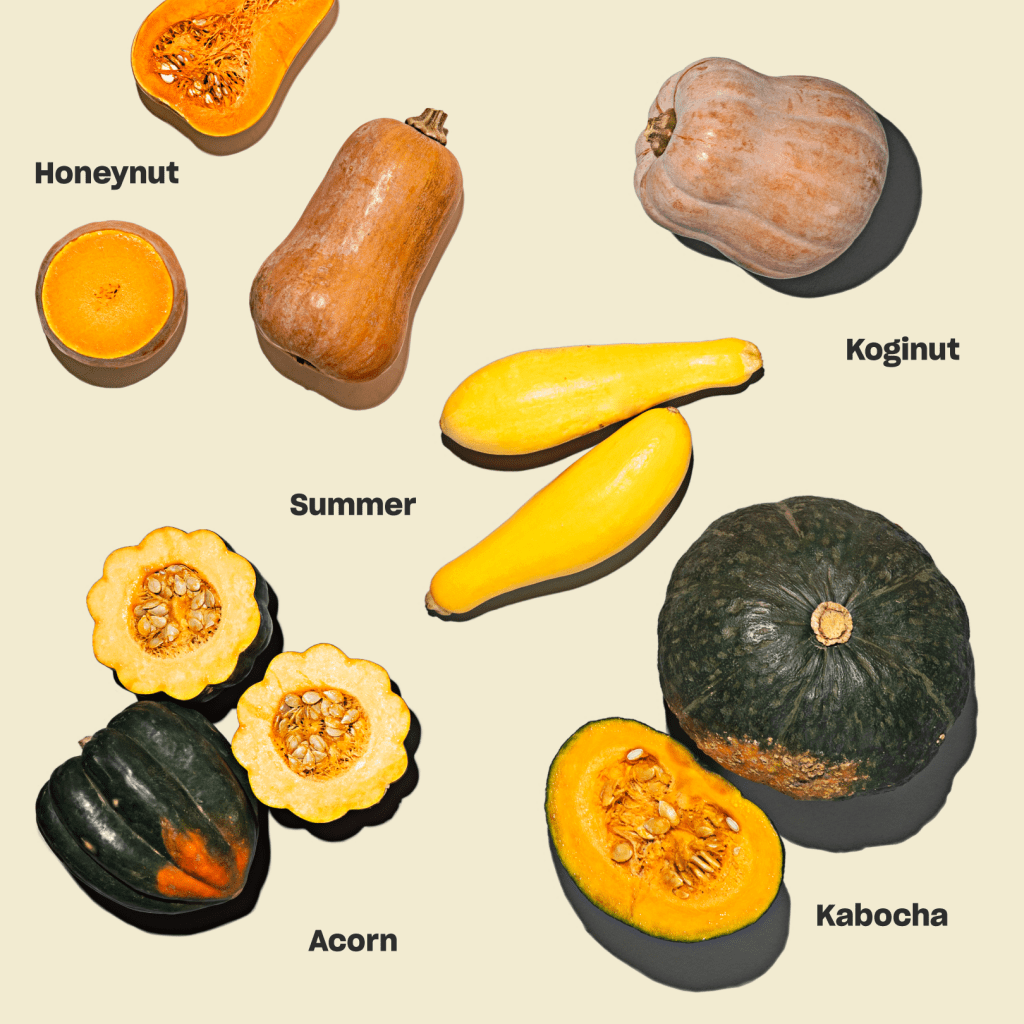 Acorn
Thanks to its mild and creamy flesh, acorn squash complements sweet and savory flavors alike. When sliced in half and roasted, it makes a fantastic vessel for fillings like grains, dried fruit, and sausage. PS: The skin is also edible!
Honeynut
Honeynut squash isn't just a misfit, undersized butternut. It's naturally squatter with a deeper orange color inside and out. Plus, the flesh of the honeynut has a rich, caramelized flavor that's slightly more concentrated because of its compact size. Both can be cooked the same way, though. Cubed and roasted, added to stews, blended into soups or sauces.
Kabocha
This squat Japanese squash is sweeter than other winter varieties, with bright yellow flesh and thick green skin. Before cutting, pop it in the microwave for 3-5 minutes. Then, slice and roast with fresh ginger and sprigs of thyme.
Yellow summer squash
A little curvy, slender, and tender all over, summer squash needs little to no cooking to be worked into a salad or simple side dish. Slice it, add it raw to arugula and tangy goat cheese, or sauté with a bit of oil, salt, pepper, and garlic.
Koginut squash
The cube-shaped Koginut has a silky and creamy texture. Cook as you would a butternut squash—cubed and roasted, blended into soup, or even in baked goods—but expect an even sweeter flavor.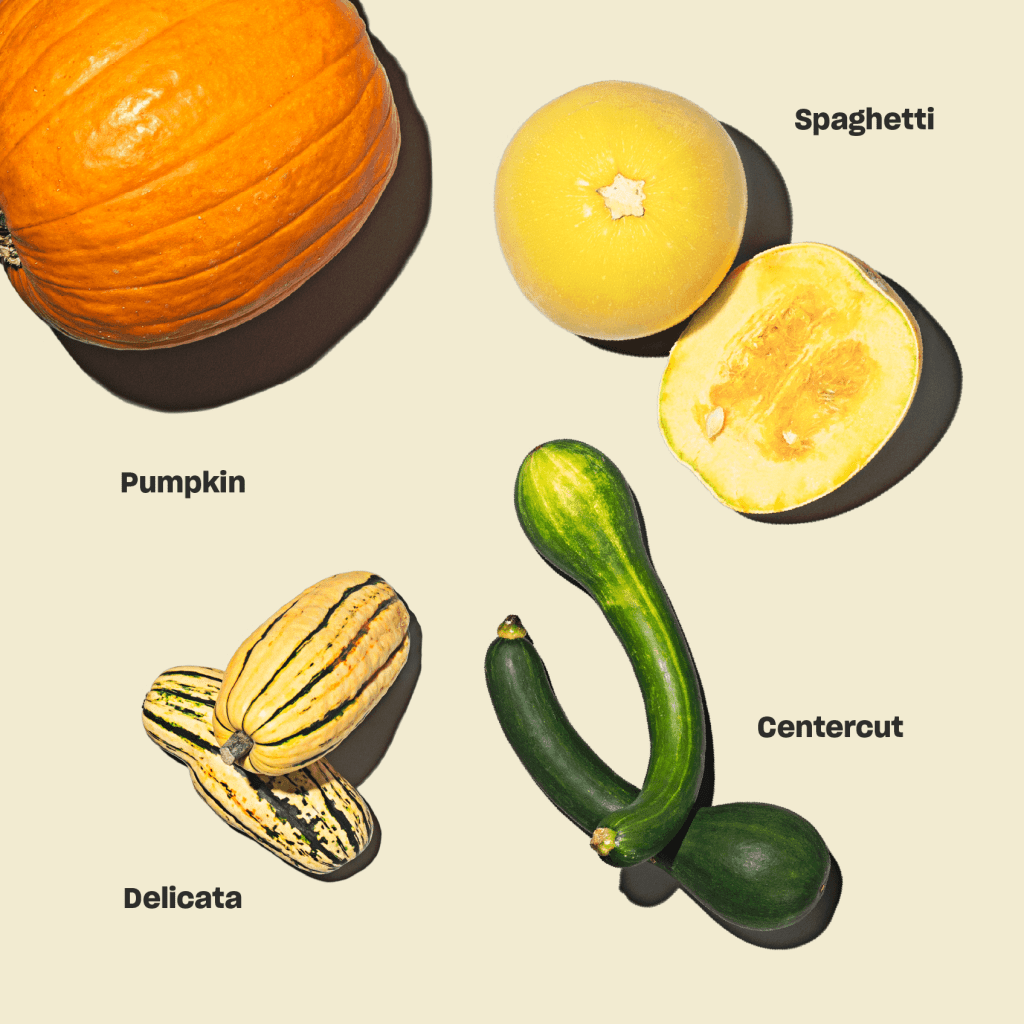 Delicata
Unlike most hard squash, delicata has an edible skin and tender flesh. The easiest prep is to slice it into half moons and roast with olive oil, salt, and pepper. Pair it with hearty greens, pomegranate seeds, and walnuts for a flavorful fall salad.
Pumpkin
Cut pumpkin like you would any other hard squash, roast the seeds, and use the flesh blended in pancake batter, gnocchi, and of course, pies.
Spaghetti
Spaghetti squash is easily recognizable by its yellow color and oval shape. Its noodle-like strands and mild flavor match well with marinara sauce and curries, or they can be simply tossed with garlic, salt, and olive oil.
Centercut squash
Centercuts are a long-necked squash with bulbs at the bottom, which taste and cook like zucchini. They're especially great for grilling, which brings out their nutty flavor texture. Try them topped with fresh pesto or a sweet balsamic glaze.
Sweet dumpling
This squash has the coloring of a delicata and the shape of a pumpkin. A true Misfits Market veg! Make the most of its light texture and sweet flavor by roasting with maple syrup and butter, then sprinkle toasted pepitas and walnuts on top.
Storage
Store summer squash in a plastic or produce bag, in the crisper drawer, for up to a week. Hard winter squash can be left on the counter or stored in a cool, dry, and dark place for 1-2 months.