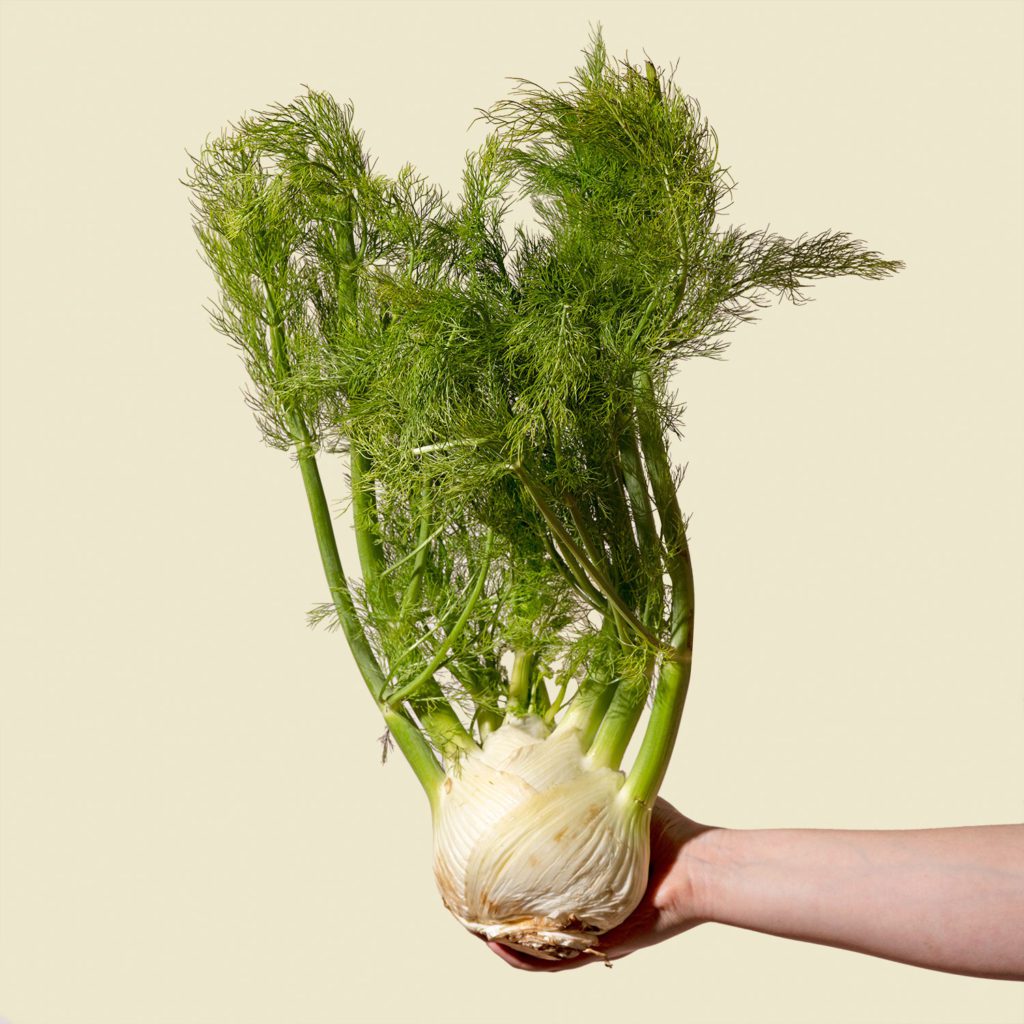 Meet fennel. It's one of our favorite veggies due to its fragrant licorice-like anise flavor and versatility. The bulb, the stalks, and the fronds can be roasted, eaten raw, or added to soups and salads. However, we empathize if you aren't a fennel convert—yet. It's tricky for sure, with a large bulb, long stalks, and fluffy fronds. Plus, a core that's hard to find and even harder to cut. But once you master the fantastic fennel, it'll open the door to loads of anise flavor and crunch.
Watch now to learn how to cut, store, and use fennel.
Then, try one of these deliciously fragrant recipes that incorporates it.
In this slaw, fragrant fennel pairs with sweet flavors like apples, plus extra crunch from walnuts. It's a simple side when you need to use up fennel and that last apple in your box. Plus, some celery for good measure.
This one pan dish encompasses everything you need for a filling dinner. Protein-rich salmon. Delicious roasted leeks and fennel. And a touch of brightness from fresh citrus.
There's nothing we love more than a one pan dish. If you aren't a fan of salmon or are looking for a new way to spice up chicken, look no further than this one pan bake with oranges, rosemary, and lots of fennel.
Like onions, fennel becomes fragrant and soft when caramelized. Added with cream and other goodies, what's not to love about this veggie-filled gratin? This recipe calls for vegan cream sauce, but you could add in coconut cream (for sweetness) or regular full fat cream. Your choice.
If you don't want to turn on the oven to roast fennel, you can turn to the stovetop instead. Plus, searing adds a nice char for even more layers of flavor.
Salty olives and briny capers are the perfect addition to fennel bulbs. This recipe does call for a somewhat shocking amount of garlic—15 bulbs to be exact. But the amount of peeling will be worth the effort. We promise.
Strong fennel is offset by the creamy, mild flavor of the potato. Add in some fragrant herbs like rosemary and thyme, and you'll have a simple, minimal prep, 6-ingredient side dish in under an hour. (No worries. Most of the time is dedicated to roasting.)
Fennel and delicata squash are both abundant around the same time, so why not pair them together? The mild, delicately sweet flavor of delicata pairs perfectly with the robust flavor of fennel.
We appreciate a dish that combines a lot of what we already have in our pantries and fridges. Enter: a filling grain bowl that does just that. Beans. Rice. Mushrooms. Fennel. There's a lot going on—and a lot of flavor—that just works.