We know it's not always easy to use up everything that arrives in your box of misfit produce, so what better way to use the rest of your box than to add a bow and gift it to your friends and family? That's why we compiled this list of our favorite giftable homemade recipes that are so tasty you might just keep them for yourself. What's more, use your leftover Misfits boxes to ship gifts to faraway folk or to carry bulk items to your local pantry to give back during the holidays.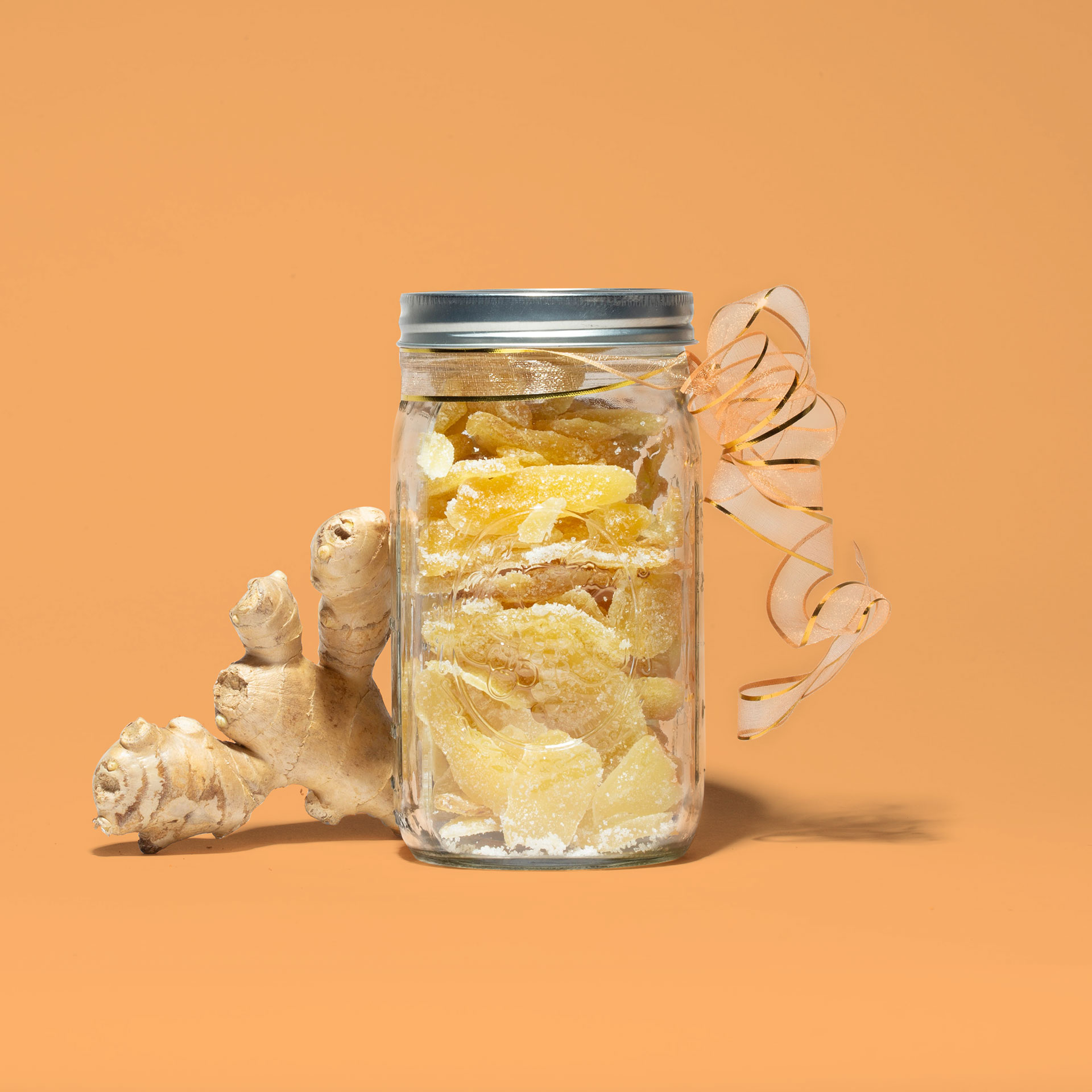 The benefits are two-fold: Not only is candied ginger a chewy, candy-like treat to snack on any time, but ginger is also full of good-for-you health benefits like combating nausea. We think it's possibly the perfect gift for friends or family partaking on cross-country road trips this holiday. It's sweet and spicy and an easy way to use a lot of that ginger you might get this time of year. Get the recipe.
Candied Citrus Peels
Not only is candied citrus a chewy, sweet, candy-like treat to snack on any time, but it's one way to take food scraps to the next (delicious) level. Get the recipe.
Chocolate-Dipped Candied Orange Peels
Use the entire orange in this easy homemade candy. After you candy your orange peels—thin orange slices are covered with a simple syrup and left to dry—dip them in rich dark chocolate and a sprinkle of your favorite sea salt for a tangy, sweet, and salty treat. It's a gourmet snack your friend will be shocked to hear you made yourself! Get the recipe below.
Homemade hot pepper jelly combines sweet and grassy bell peppers with spicy jalapeños to make a colorful and versatile spread. Give it to friends and tell them to use it as a way to spice up their classic PB&J sandwiches, combine it with cream cheese to make a spicy spread for bagels, or even blend it into homemade margaritas for a surprising layer of flavor. Get the recipe.
There's a reason alcohol is one of the easiest and most-commonly gifted items at the holidays. However, there's something that just feels impersonal about a generic bottle of wine. Enter: homemade infused gin. Take leftover citrus, like lemons, limes, and even oranges, to make an infused liquor that feels more sentimental than your average bottle of booze. Get the recipe.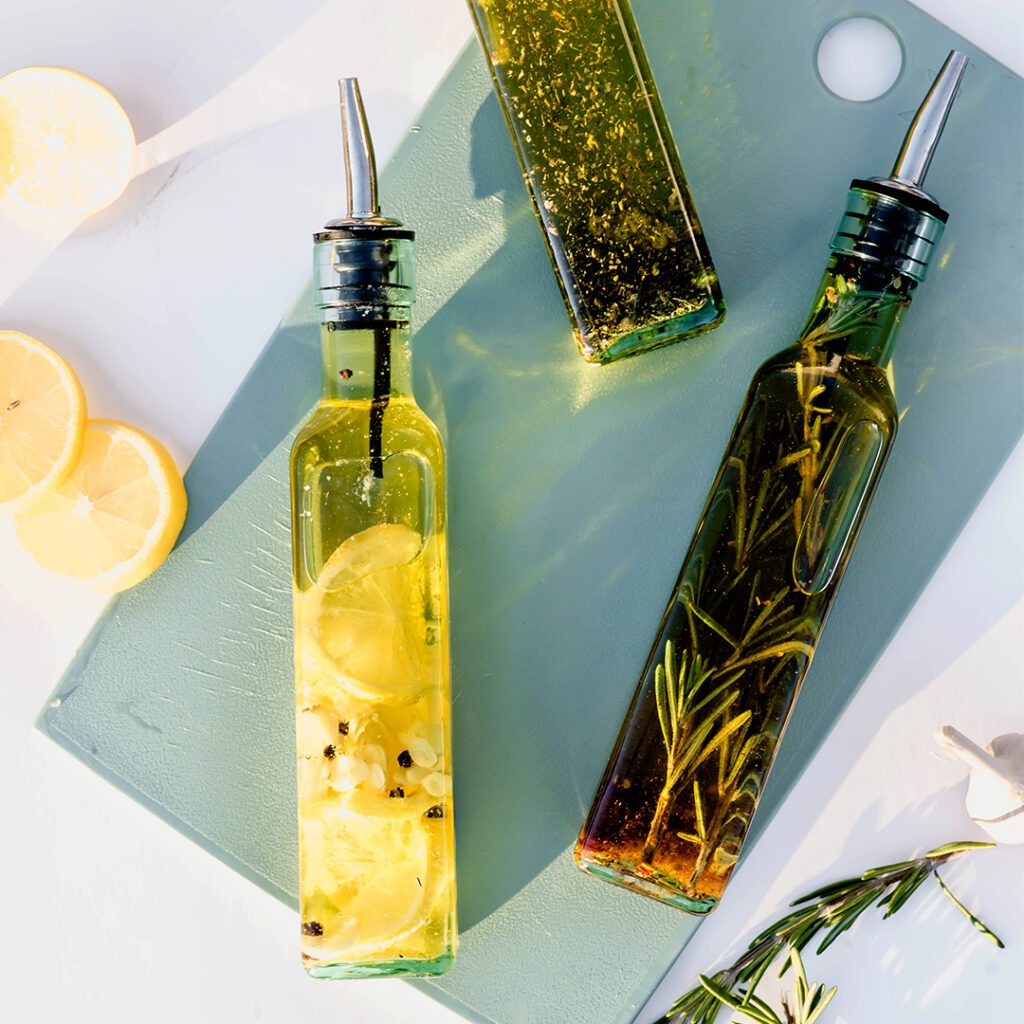 Herb-Infused Olive Oil
A nice bottle of olive oil goes a long way—it's one edible gift you know will actually be used over and over again!—but there's something extra special about a custom bottle that comes from your kitchen. If you recently grabbed fresh herbs from our Marketplace, like rosemary, thyme, or sage, you can use those herbs in a fragrant and flavorful infused oil. Simply combine 1 cup of packed fresh herbs with 2 cups of olive oil, let it steep over heat for about an hour, and then strain into a pretty bottle. Get the recipes below.
Note: Homemade infused oils should always be refrigerated and enjoyed within 2-4 days. In order to enjoy homemade oils at room temperature, fresh garlic and fresh herbs should first soak in a citric acid solution to avoid any contamination. Dry herbs are the best for at-home infused oils. Learn more.
Caramelized Onion and Tomato Jam
If you had the foresight to save those peak-season tomatoes, use them up in a fragrant jam that tastes delicious on top of sandwiches, burgers, or on its own. Make this gift even more drool-worthy by pairing it with a loaf of crusty bread and a tub of ricotta cheese or fancy butter. Get the recipe for caramelized onion and tomato jam.
Though peak-season cucumbers are few and far between these months, sour pickles are a delicious addition to holiday cheese platters and they add much-needed crunch to those hefty leftovers sandwiches. The best part is this gift is 100% customizable, so you can add cloves of garlic, chopped onion, and/or your favorite spices to make custom pickles for all of your friends and family. Get the recipe.
Not all jams are created equal and not all jams are sweet! Though, due to this one being jam-packed (get it?) with sweet caramelized onions, you'll get a nice sweetness with a savory-salty hit of bacon. Tell your gifted pal to top it on burgers and crackers with soft cheese, serve it with eggs, and even toss it with pasta and nutty Parmesan cheese. Get the recipe.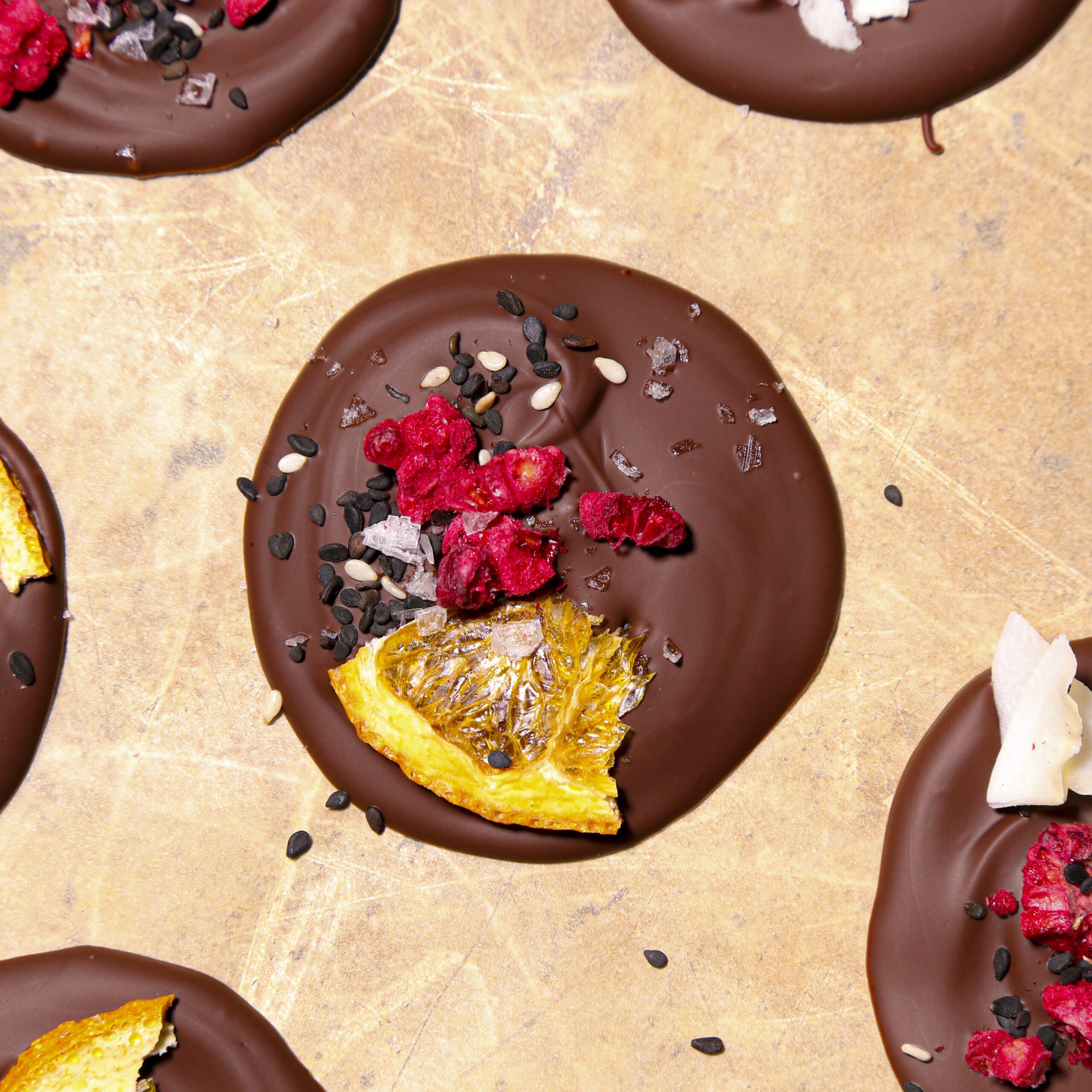 Choose-Your-Own-Adventure Chocolate Coins
Whipping up these endlessly customizable (and super giftable!) chocolate coins is almost as easy as melting chocolate in the microwave. All you have to do is melt, plop, and top with whatever dried fruit, nuts, or seeds you have in your pantry. Get the recipe.
Spiced Nuts, Two Ways
We've got two spiced nut versions—one smoky, one sweet and cinnamon-y—to cover all of your sweet and savory snacking bases this cocktail party season. The best part? These mixes work no matter the nut, and our Odds & Ends brand offers plenty to experiment with: almonds, cashews, peanuts, and more. Get the recipes.
Chili-Garlic Crisp
Our homemade chili crisp is hot, garlicky, and just a little sweet—aka, it goes with pretty much everything. Gift it with the suggestion to drizzled over stir-fries, grain bowls, scrambled eggs, and sliced mango. Get the recipe.
Lemons are one of the biggest reasons we are asked "what the heck am I supposed to do with all of this food?" If you're not a big cocktail drinker or you use the zest of a lemon and not the rest of the pulp, you might be left scratching your head at how employ this sour citrus. Luckily, there's one brilliant idea that allows you to use a lot of lemons at once and it's one of those "set it and forget it" deals. The recipe? Preserved lemons, or lemons that have been pickled in salt and their own juices. Once you gift them, chopped preserved lemons can be added to salads, Moroccan-inspired dishes, homemade salad dressings, and even dips. Get the recipe.
Another way to use those pesky lemons? By adding them to fancy salt and fragrant rosemary. Use a food processor to finely chop rosemary and lemon zest and combine it with flaky sea salt. Put it in a jar and tell friends to save it for times they want to enhance the flavor of their favorite dish—it can literally be added to everything—though we're fans of using it to top freshly baked cookies and baked fish dishes. Get the recipe.
Print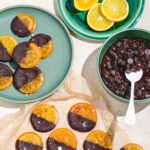 Chocolate-Dipped Candied Orange Slices
---
3

medium oranges, gently scrubbed and thinly sliced into

1/4

-inch slices

2 cups

granulated sugar

1 cup

filtered water

1

vanilla bean, sliced lengthwise

1 cup

semi-sweet melting chocolate

2

–

3

teaspoons flaky sea salt
---
Instructions
In a large bowl prepare an ice bath with water and ice. Then, fill a large sauce pan with about 2 cups of water—just enough to cover your orange slices. Bring to a boil, then add the oranges slices and cook for about one minute. Immediately remove orange slices and place into the ice bath immediately until cooled.
Dump the water and using the same saucepan, add the sugar, 1 cup filtered water, and vanilla bean. Bring to a boil, stirring occasionally, until the sugar dissolves. Lower the heat to medium-low, then add the orange slices from the ice bath, gently shaking off the water before adding them the saucepan.  Repeat with remaining slices, but aim to create a single layer of oranges—you might need to do this in a few batches.
Set a timer for 45 minutes. Flip the slices every 15 minutes. Repeat until time is done and all orange slices have been coated in sugar.
Use tongs to remove the orange slices and transfer to a parchment-lined cooling tray.  Allow to dry overnight or for at least 24 hours.

When ready, melt chocolate according to instructions. Gently stir, then dip orange slices halfway into the chocolate, and then immediately place onto a wax paper or parchment paper lined tray. Finish with a sprinkling of flaky salt over the chocolate and allow to cool before storing. Enjoy within 2 weeks! 
---
Print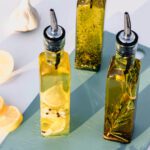 ---
Herbes de Provence
6 ounces

extra virgin olive oil

1 teaspoon

Herbes de Provence, dried

1/2 teaspoon

sea salt

4

cloves fresh garlic, sliced
Rosemary Chile
6 ounces

extra virgin olive oil

2

sprigs rosemary, dried

1 teaspoon

chile flakes

1/2 teaspoon

sea salt
Lemon Pepper
6 ounces

extra virgin olive oil

1/2

small lemon, thinly sliced

1/4 teaspoon

black peppercorns

4

cloves fresh garlic

1/2 teaspoon

sea salt
---
Instructions
For all variations, select a glass bottle that can hold approximately 8 ounces of liquid.
Next, add the solid ingredients into the bottle, like the garlic, lemon, etc. Then, carefully funnel the olive oil on top. (You may need more or less depending on how large the other ingredients are.)
Tilt the bottle back and forth to gently "stir" the mixture.
Keep refrigerated until ready to gift. Infused oils should always be refrigerated and enjoyed within 2-4 days. Enjoy!
---
Notes
Infused oils should be enjoyed within 2-4 days and be refrigerated.
Fresh herbs and fresh garlic must be acidified first before adding to oil, which is why dried herbs is the safest ingredient for infusing oil.
What's your favorite homemade edible gift? Let us know in the comments and we'll give it a try!