Welcome back to What The Heck Do I Do With This? In this series, we help you put a single ingredient from your Misfits Market box to delicious use. This week's spotlight: Tuscan kale!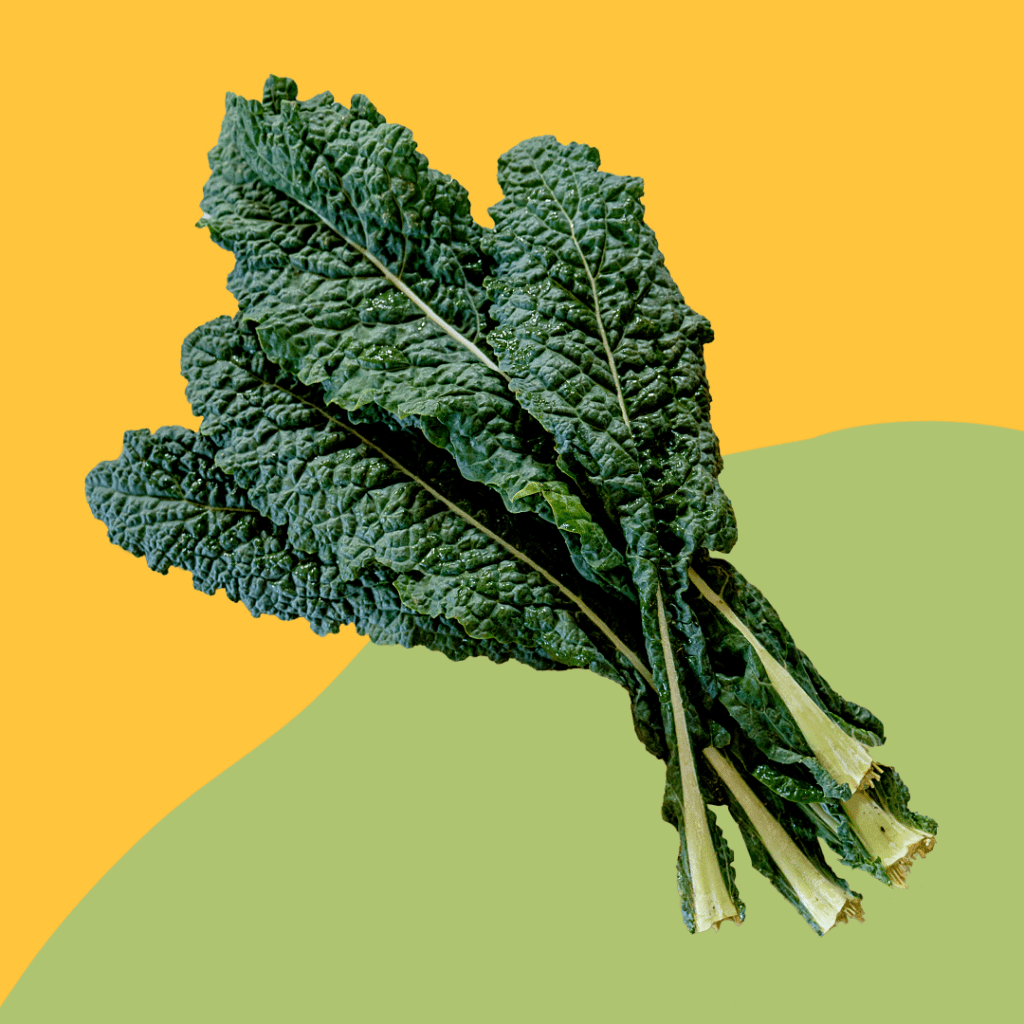 Tuscan kale is known by many names: dinosaur kale, black kale, black cabbage, cavolo nero, lacinato kale. And unlike the hardier curly kale, Tuscan kale is tender with a slightly sweet flavor, which makes it great for cooked dishes and raw in salads alike. (We especially love it in salads since the textured leaves are the perfect vessel for sauces and dressings.)
While cooking Tuscan kale brings out even more of its sweetness, if you're hoping to add it raw in a recipe and find it a tad bitter, try blanching it first. Or, if the slightly tough leaves are a little, well, tough, cover the leaves with olive oil and massage them for a few minutes to make the leaves even easier to eat.
Still not sure how to prep kale? Watch our helpful video to learn how to prep and store Tuscan kale:
Then, we have you covered with cooking inspiration and delicious Tuscan kale recipes.
A bowl of this Tuscan Kale and Sausage Stew with Cannellini Beans is like a soothing dinnertime lullaby. We used kale for this, you can use collard greens. We used pork sausage for this, you can use chicken sausage. You see where we're going with this: Use what you have. The no-stress is the most important part.
These kale chips are crunchy, salty, and nutty. So flavorful that you won't even care that you're eating kale instead of classic potato chips. Plus, since you're in charge of the baking, you can add whatever you want. Maybe a bit of nutty Parmesan or nutritional yeast.
The best part about homemade pesto is you can use whatever you have hanging out in your fridge. Spinach, carrot tops, and of course, Tuscan kale. Pine nuts, pistachios, almonds. Parmesan or Romano cheese. A bit of olive oil, salt, pepper, garlic, and lemon, and there you go. An easy weeknight meal is only a few blitzes in the food processor away.
Have a box of quinoa hanging in the back of your pantry? Then you're only a few steps away from a filling, warming salad chock-full of nutty cheese, hardy kale, and sweet red bell peppers.
The standard Caesar we know and love includes romaine lettuce, croutons, and Parmesan cheese. But if you're looking to shake things up, this recipe introduces earthy Tuscan kale and jumbo ciabatta croutons. Time to take this classic salad to the next level.
You know what they say: you eat with your eyes first. No problem here. This salad is beautiful, with vibrant slices of watermelon radish that pop against the deep green of Tuscan kale. Top it off with a homemade creamy avocado dressing to marry all of the nutty and peppery flavors together.
When all else fails, throw everything together with some eggs and bake it. But this isn't your average baked egg frittata. Ciabatta bread acts as a de facto crust that covers eggs, mushrooms, cheese, and lots of Tuscan kale. It's hearty, filling, and a new way to use up that kale.
In order to make Tuscan kale a bit more tender, it often requires a light massage in olive oil. Here, kale is soaked in a delicious marinade to make it even softer and tastier. Then, it's added with toasted walnuts and fruity grapes for a surprisingly flavorful and filling salad.
This soup stars Tuscan kale, sweet Italian sausage, and potatoes. It's also easy to convert into a tasty vegetarian-friendly dinner, which gives this recipe bonus points in our book!
If you have some extra Tuscan kale lingering in the fridge and are craving an Italian supper, this recipe is sure to satisfy. Kale is sautéed with garlic, red lentils, and then tossed with bowtie pasta. It's deliciously simple and pairs beautifully with an Italian white wine.
we challenged our chef-in-residence, Bobby Flay to help us fight food waste and make something delicious from those random bits and pieces of produce you might have lingering in the fridge. He came up with a genius use for kale's hardy stem, which tends to go straight into the compost bin or trash in most households. Not anymore!
Extend the life of any veggie with this easy-to-follow pickling recipe. We used Rainbow Swiss chard here, but this recipe works for any hardy stem. Kale stems, collard green stems. And any veggie, like blanched green beans, jalapeños, and of course, onions.
Fried always mean something good. Crispy, satisfying, delicious, usually. But these pakoras, Indian-style fritters, offer so much more. Filled with fresh veggies including corn and kale; delicately spiced with cumin, turmeric, and ginger; and extra light and crispy thanks to a combo of rice and chickpea flour. We like to serve these as an appetizer with lots of condiment options: a cucumber yogurt dip, a sweet mango chutney, and something spicy, like harissa, or even just sriracha.
Because it can be bitter and a little tough, kale needs a simple sauté in garlic and oil to help to cut some the sharp taste and soften the leaves. You'll be left with garlic-infused kale, the perfect flavorful base for any autumn salad. We like this one with thinly-sliced beets and onions.