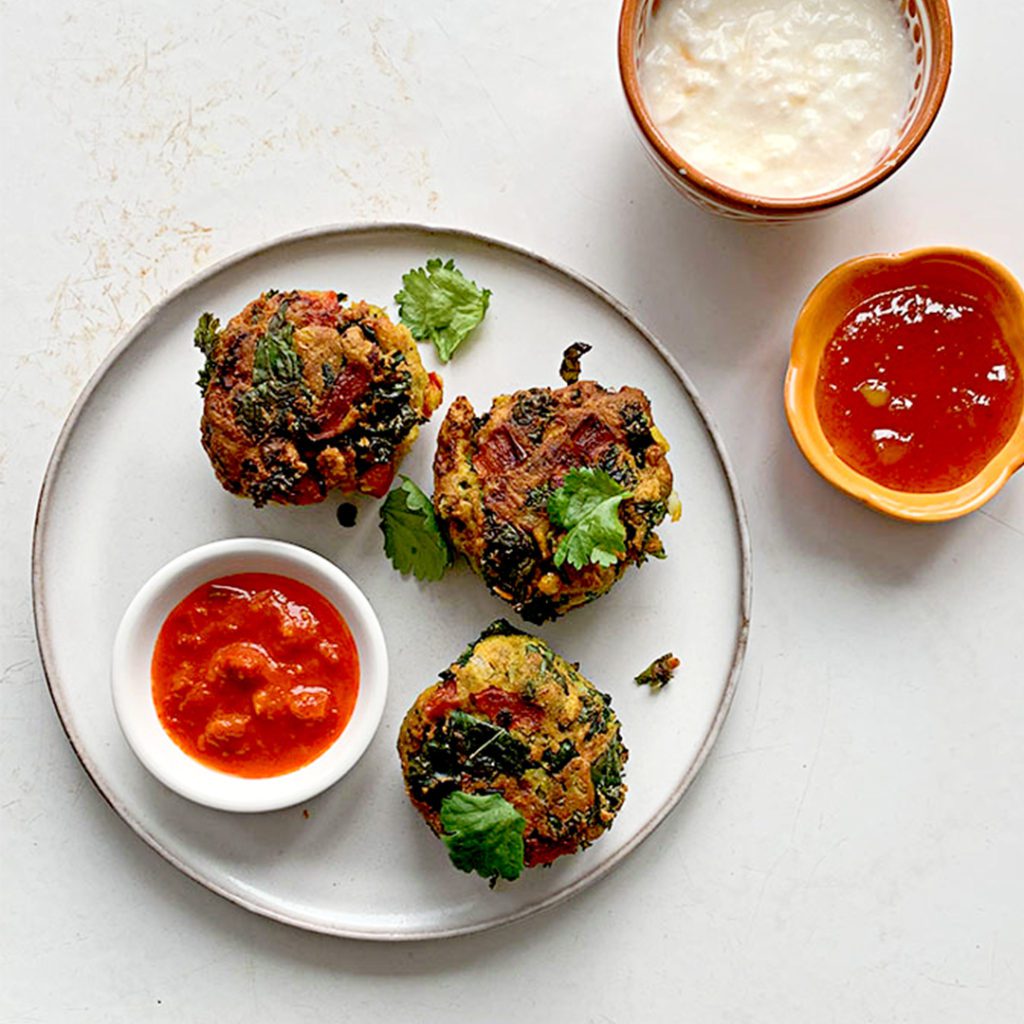 Fried always means something good. Crispy, satisfying, delicious, usually. But these pakoras, Indian-style fritters, offer so much more. Filled with fresh veggies including corn and kale; delicately spiced with cumin, turmeric, and ginger; and extra light and crispy thanks to a combo of rice and chickpea flour. We like to serve these as an appetizer with lots of condiment options: a cucumber yogurt dip, a sweet mango chutney, and something spicy, like harissa, or even just sriracha.
Print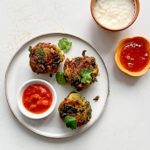 ---
A neutral oil for frying, such as grapeseed, avocado, or canola oil

1 1/3 cup

chickpea flour

2/3 cup

rice flour

2 teaspoons

salt

1 teaspoon

ground cumin

1 teaspoon

garam masala

1 teaspoon

ground ginger

1 teaspoon

garlic powder

1 teaspoon

sugar

1 teaspoon

ground turmeric

1 teaspoon

baking powder

3

packed cups packed kale, de-stemmed and chopped

1/2 cup

fresh corn kernels

1/2 cup

chopped bell pepper

1/2 cup

chopped onion

1/2

fresh Serrano pepper, seeded and thinly sliced (or

1/4 teaspoon

ground cayenne pepper)

1/4 cup

water

1 tablespoon

of fresh lemon juice
---
Instructions
Preheat oven to 350 degrees.
In a large mixing bowl, whisk together chickpea flour, white rice flour, salt, cumin, garam masala, ginger, garlic powder, sugar, turmeric, and baking powder until thoroughly blended.
Add kale, corn, bell pepper, onion, and Serrano pepper. Massage vegetable mixture well until incorporated.
Add lemon juice and 1/8 cup of water to mixture. Using your hands, form mixture into a large ball. If you can't without it crumbling, add more water, 1 tablespoon at a time. Then, mold into large golf ball-sized balls, and press down to flatten slightly so they are disc-like.
Over medium heat, heat a Dutch oven with enough oil to come up about 1/4 of an inch. Fry 3 or 4 pakoras at a time until browned on both sides. (Do not cook on high as the delicate kale leaves can burn easily.)
Put the pakoras on a baking sheet covered in parchment paper. Bake for 3-5 minutes to ensure they are warmed through and cooked in the middle. But keep a close eye on them and if the outsides are burning, lower the temperature 300 degrees.
Remove from oven and serve immediately with your condiment of choice. We like mango chutney, plain yogurt with cucumber (raita), or yogurt with a squeeze of lemon, fresh cilantro leaves, a mild Moroccan Harissa sauce, or a spicy Sriracha. Enjoy!
---