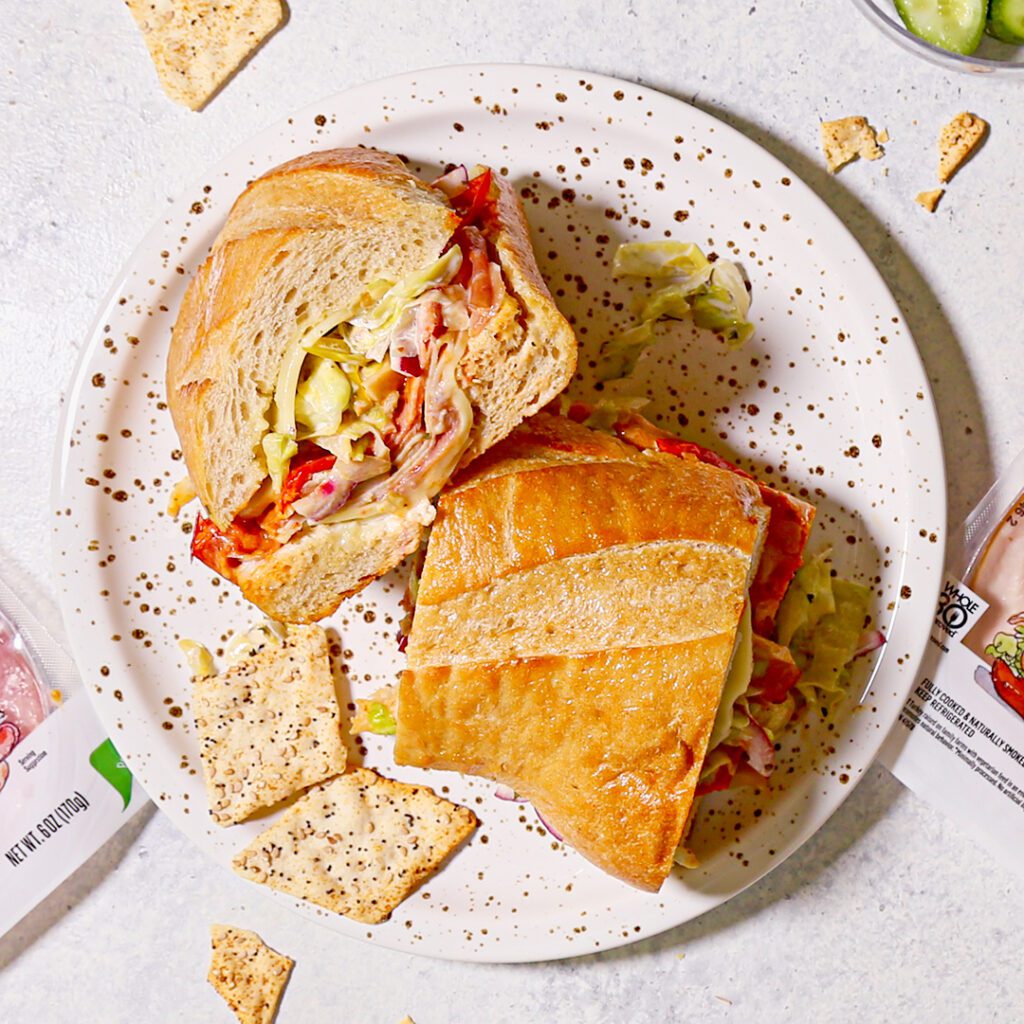 Some sandwiches are so perfect as-is, it's almost impossible to improve upon them. And yet somehow, the addition of a quick homemade tomato jam to this Italian sub provides just the right amount of sweetness to balance out the acidic veggies and savory deli meats.
Get the recipe for the ultimate Italian sub with homemade tomato jam and dressed veggies:
Print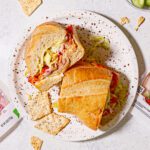 ---
Tomato jam:
2 tablespoons

olive oil

3

cloves garlic

½ teaspoon

red pepper flakes

2 pints

cherry tomatoes

1 teaspoon

kosher salt

1½ tablespoons

balsamic vinegar
Dressed veggies:
¼ cup

mayonnaise

1 tablespoon

olive oil

1 tablespoon

red wine vinegar

½ teaspoon

oregano

¼ teaspoon

red pepper flakes
Kosher salt and freshly ground black pepper

2 cups

iceberg lettuce, thinly sliced

¼ cup

red onion, thinly sliced

¼ cup

pepperoncini, roughly chopped
Sub:
16 ounces

Italian loaf, sliced in half lengthwise
Provolone cheese, sliced
True Story Prosciutto
True Story Uncured Applewood Smoked Ham
True Story Smoked Turkey Breast
---
Instructions
For the tomato spread, heat olive oil in a medium skillet over medium heat. Add garlic and chili flakes and cook, stirring occasionally until fragrant, 1 to 2 minutes. Add in tomatoes and cook until they begin to burst, 4 to 5 minutes. Use a wooden spoon to help break up the tomatoes, then season with salt. Turn heat up to medium-high and continue to cook, stirring occasionally until sauce becomes jammy and thickens up, 3 to 4 minutes. Remove from heat and stir in balsamic vinegar. Let cool and transfer to an airtight container. Can be stored in the fridge for up to one week
For the sub salad, add mayonnaise, olive oil, vinegar, oregano, red pepper flakes, a pinch of salt, and a few cracks of freshly ground black pepper to a small bowl and whisk to combine. In a large bowl toss together lettuce, red onion, pepperoncini, and dressing.
To assemble the sandwich, add a few slices of provolone to each side of bread. Layer on the prosciutto, ham, and turkey (I like a hefty sandwich, so I left out measurements for this part cause I like to measure this part with my heart). Spread a generous amount of tomato spread on top of the deli meats, then pile on the salad. Add the top to your sandwich, slice in half with a serrated knife, and enjoy.
---
Hungry for more? Try this:
Better-Than-the-Classic Egg Salad Sandwiches
Veggie-Filled Green Goddess Sandwich