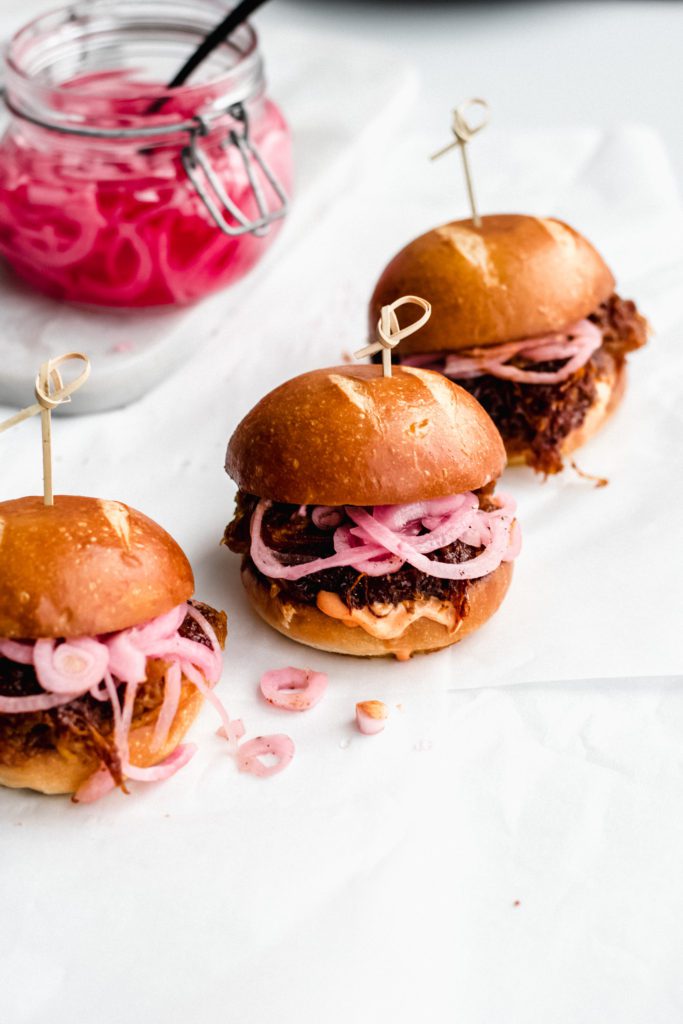 We know what you're thinking: Spaghetti squash? On a slider? Get out.
Bear with us here. No, it's not the same as the pulled pork from your favorite smokehouse. But it's not trying to be either. The beauty of spaghetti squash is that it plays nice with others, from sauces to condiments. It won't hog (pardon the pun) the spotlight from piquant pickled onions yet its toothsome texture will make you stop and wonder where this magical veggie has been all your life. Don't take them to your next potluck or game day spread unless you're prepared to be inundated with requests for the recipe—yes, even from the die-hard carnivores.
Print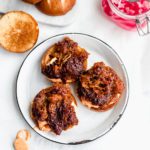 Smoky Squash Sliders with Pickled Onions & Sriracha Mayo
---
Description
The ultimate plant-based BBQ sliders to win over any meat lover.
---
Pulled Squash:
1

spaghetti squash

4 teaspoons

applewood smoked seasoning

1 cup

BBQ sauce of choice (preferably smoked)
Sriracha Mayo:
1/2 cup

mayo (can use vegan mayo)

1 tablespoon

Sriracha hot sauce (more or less depending on heat preferences)
Pickled Onions:
1

red onion (sliced thin)

1 cup

rice vinegar

1 cup

of sugar

1/4 cup

of water
---
Instructions
Pickled Onions: Slice onions, and place inside an airtight jar.
In a bowl, stir together remaining ingredients until sugar dissolves.
Pour the mixture into the jar, making sure it covers all of the onions and set in the fridge overnight, or up to 1 week.
Pulled Squash: Preheat oven to 425°F.
 Slice squash lengthwise and remove seeds with a fork.
Coat the inside of the squash halves with the dry seasoning. Place halves skin side up on a baking sheet filled with 1/4 inch of water and bake for 35-45 minutes, or until tender.
Leave oven on. Allow squash to cool enough to comfortably "pull apart" the strands using a fork to create stringy pieces, then use a spoon to scoop and remove all the flesh from the skin
In a bowl, mix together the BBQ sauce and squash until squash is evenly coated with sauce.
Return the squash to the baking sheet (pour out any excess water) and spread in an even thin layer. Bake for 18-21 minutes to dry it out a bit and add more texture.
In the meantime, stir together Sriracha and mayo.
Toast buns by buttering and setting on a pan preheated to medium high. Toast until golden (about 3 minutes or so)
Assemble away, spreading the Sriracha mayo on the buns, layering the squash, then pickled onions.
---
We want to thank Monique Sourinho for creating the recipe for this post. Make sure you check out her website https://www.beethelove.net for more drool-worthy content!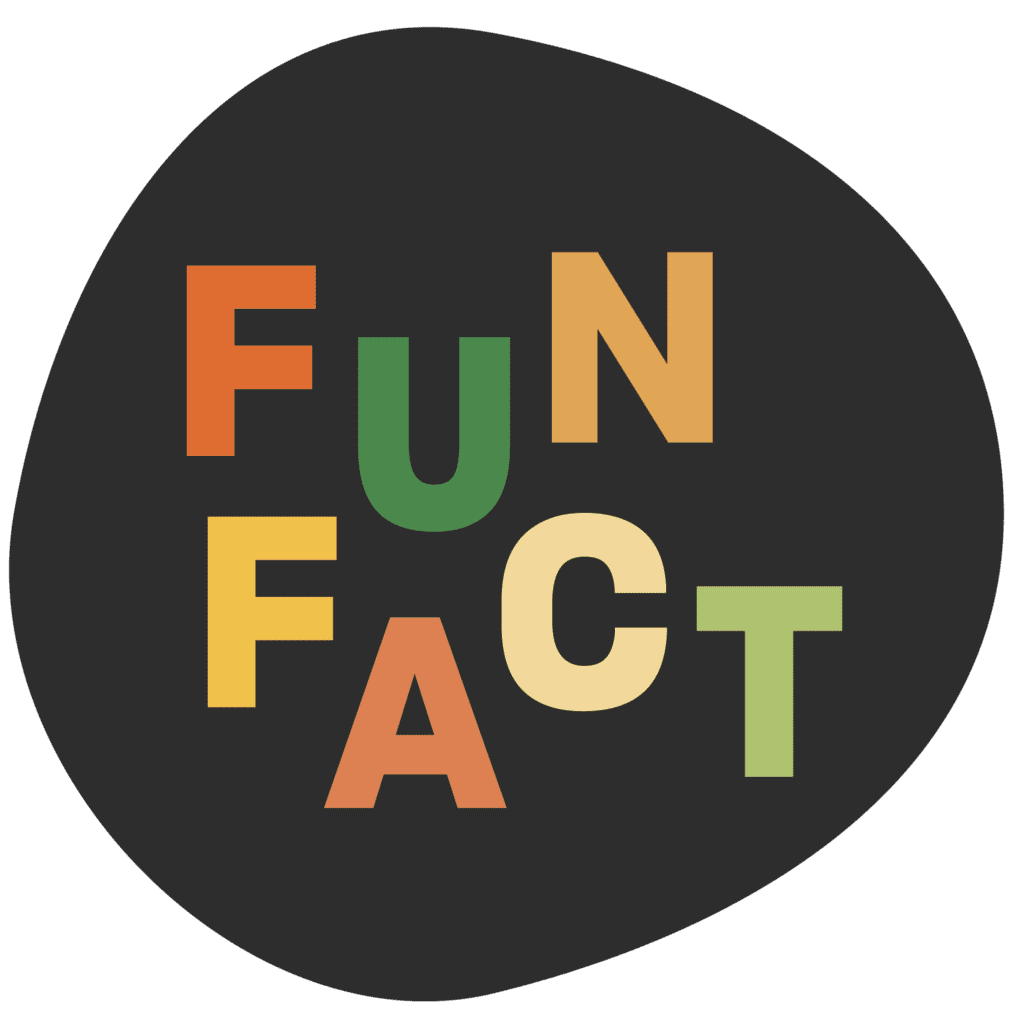 Why are eggs added to mayonnaise?
When making mayonnaise, eggs are added for a flavor difference and as an emulsifier. An emulsifier is simply a way to combine two liquids that usually separate from each other like oil and water. When mayonnaise is prepared, egg yolks are slowly added to the water and oil while stirring rapidly. This technique allows the small droplets of the ingredients to combine so they won't separate.