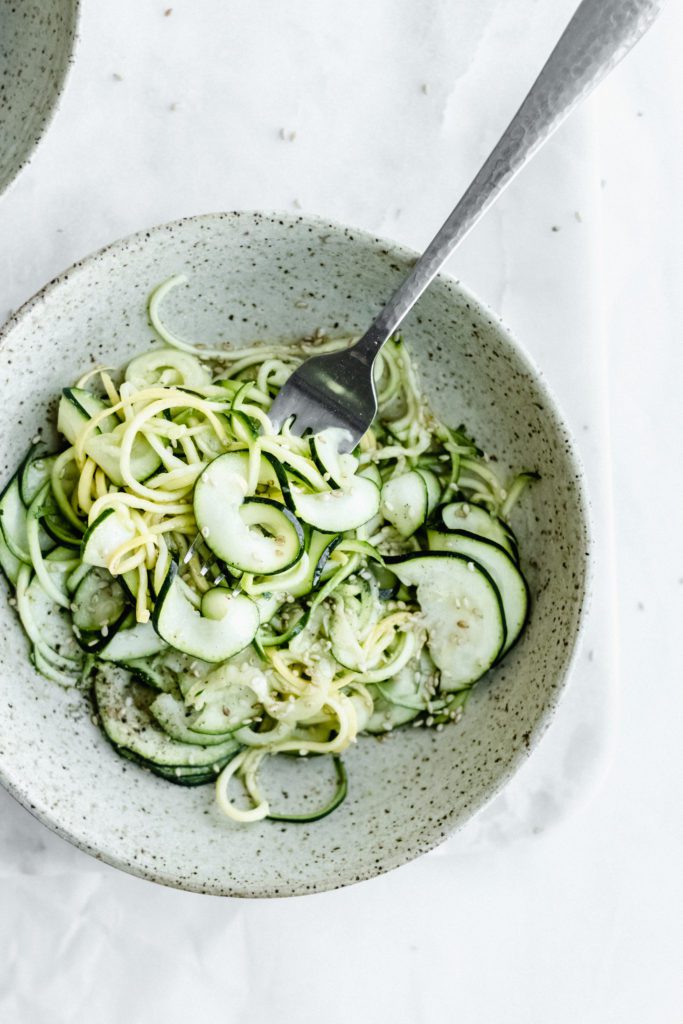 The zucchini noodle, aka zoodle, is one of those foods that may have been created as a substitute for a beloved item (pasta), but has since taken on an entire life of its own. Whether you peel, slice, or Spiralize your squash into luscious strands, zoodles are a great low-carb alternative when you want to pack more veggies on your plate. But, let's be honest: A plate of zoodles is only as good as the sauce it's tossed in. Half the time, it's just a delivery vehicle for something more exciting.
Which is why this recipe from Monique Sorinho is such a revelation. First, the sweet, slightly smoky Asian-inspired dressing itself is soooo good. Like, you-might-be-tempted-to-drink-it good. But it's also light enough that it won't mask the flavor of the base veggie—so key when you've got the hookup to farm-fresh stuff through Misfits. It gives mellow squash a whole new fresh dimension, and it really couldn't be easier to pull together. Do yourself a favor and make extra dressing for the rest of the week for marinating, topping salads, dipping veggies—or maybe even sneaking a sip. (We won't tell!)
Print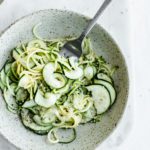 Zucchini Noodles with Toasted Sesame Dressing
---
Description
A fresh take on Asian-inspired noodles, you can also sub yellow summer squash or cucumber for the zucchini—basically any veggie shines in this dressing. 
---
Base:
Two medium-sized zucchini
Dressing:
1/4 cup

of garlic extra virgin olive oil (if it's not available at a store near you, you can crush a couple of cloves in a bowl and pour oil around it; let sit for an hour or two, then strain liquid)

1 tablespoon

toasted sesame oil
Juice from

1/4

lemon

1 tablespoon

of rice vinegar or apple cider vinegar

2 tablespoons

of freshly grated ginger

1 tablespoon

of tamari or soy sauce

1 tablespoon

of organic honey

1 tablespoon

of toasted sesame seeds
---
Instructions
Whisk all dressing ingredients together in a bowl until emulsified.
Spiralize the zucchini into a combination of thin and wide noodles or peel into wide ribbons. You can leave it raw or sauté it in a pan over medium-low heat with olive oil and cook until the zucchini just starts to shrinks in size, then dress with the sauce. 
---
Notes
Dressing keeps covered in the refrigerator for one week. 
We want to thank Monique Sourinho for creating the recipe for this post. Make sure you check out her website https://www.beethelove.net for more drool-worthy content!