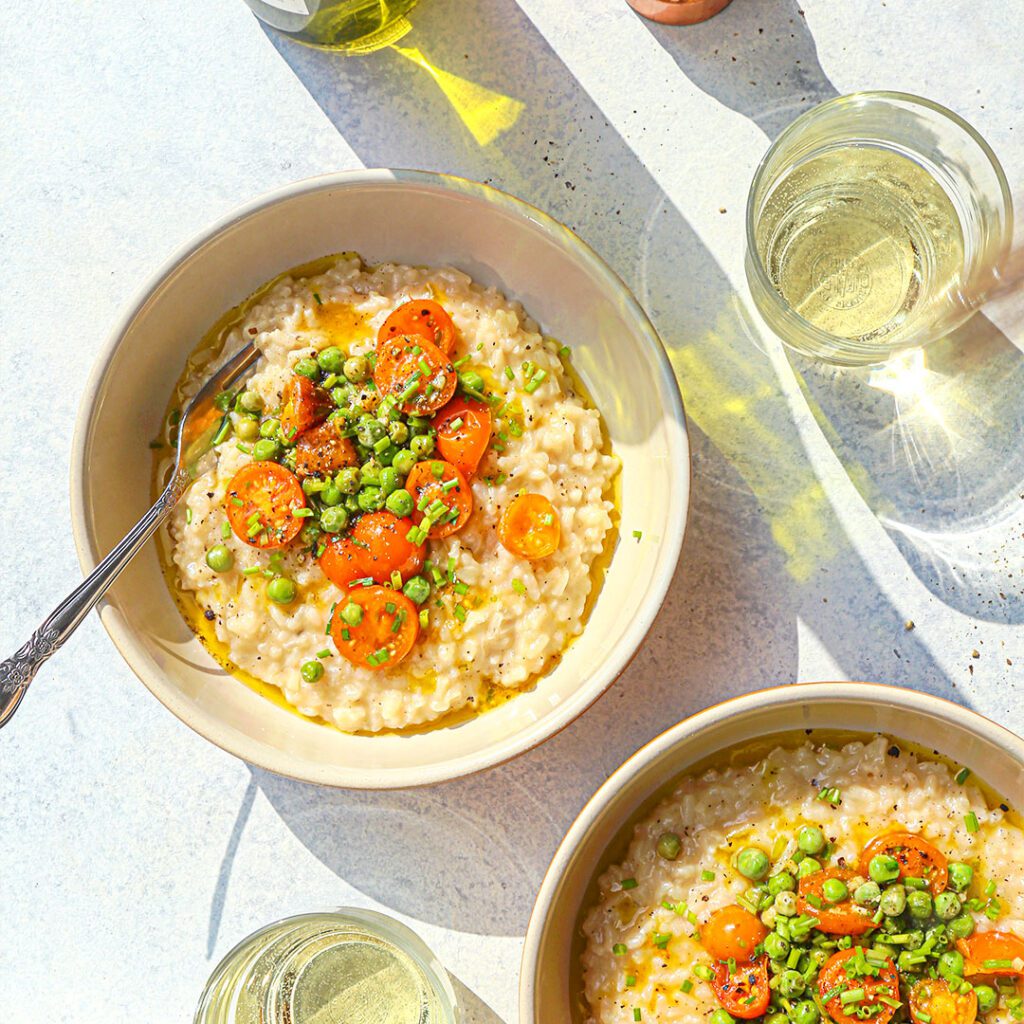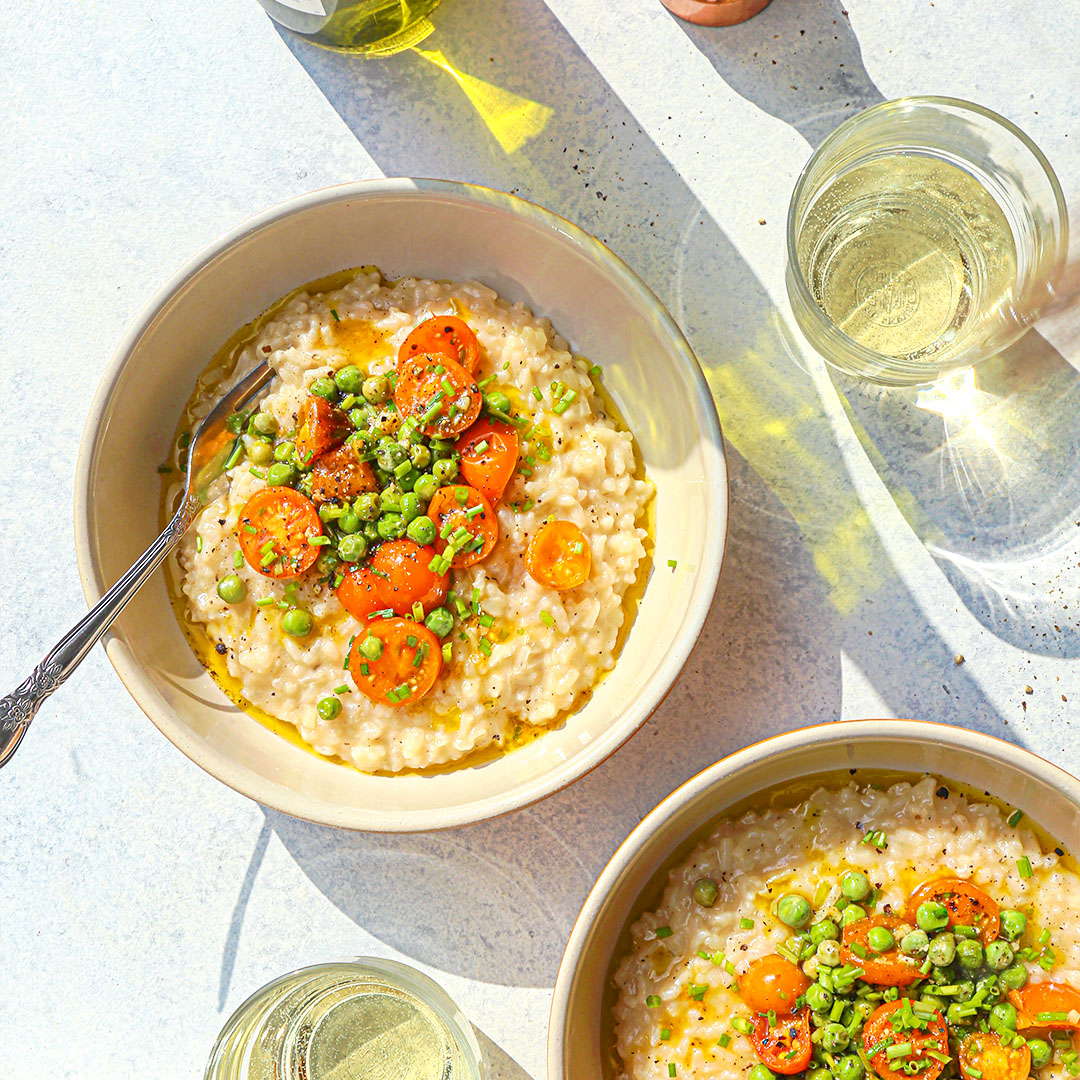 Cacio e pepe is like the best version of grown-up mac 'n' cheese—and it's even easier to prep than a bechamel sauce! Follow Bobby's recipe to the cheesy, peppery risotto of your dreams, then top it with bright veggies for seasonal flair.
Watch Bobby prep his cacio e pepe risotto now:
And get the recipe for Bobby Flay's cacio e pepe risotto:
Do your online grocery shopping with Misfits Market. Sign up now!
Get wine delivered with Misfits Market
Print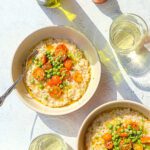 Cacio e Pepe Risotto with Peas, Tomatoes, and Herbs
---
10 cups

water or broth, like chicken or vegetable

5 tablespoons

  extra-virgin olive oil, plus more for serving

1

medium yellow onion, finely diced

1 cup

dry white wine, such as Sauvignon Blanc

2 cups

Arborio rice
Kosher salt and freshly ground black pepper

5 tablespoons

unsalted butter, divided

1 cup

Parmigiano-Reggiano, freshly grated, plus more for serving

2

garlic cloves, finely chopped

1 cup

frozen peas, thawed, or fresh green beans, cut into similar-sized pieces

1 cup

cherry tomatoes, cut in half

1 tablespoon

fresh basil leaves, coarsely chopped

2 tablespoons

fresh chives, chopped
---
Instructions
In a medium saucepan, bring the liquid/broth to a boil over medium-high heat. Reduce the heat to low and keep at a simmer.
In a large deep sauté pan, heat the olive oil over medium heat until it begins to shimmer. Add the onion and cook until the onion is softened (but no browning), about 4 minutes.
Add the rice to the pan and stir to coat. Make sure to coat each grain of rice with the oil and onion mixture, as this will help cook the rice evenly. Continue to stir the rice in the pan to prevent scorching or over-toasting.
Add the white wine to the pan, scraping any bits from the bottom of the pan. Continue to stir, and cook until the wine is reduced to almost dry (there should only be a thin layer at the bottom of the pan), about 4 minutes.
Using a ladle, add about 1 cup of the hot broth to the pan and cook, stirring, until absorbed, 3 or 4 minutes. As the rice becomes dry, continue to add broth, a ladle or so at a time, stirring continuously, until the rice is just tender, about 20 to 25 minutes total. Adjust the heat as needed during the cooking process to maintain an active yet slow simmer. Stir in the black pepper (about 2 teaspoons or so) and mix to combine and allow the pepper to bloom in the hot risotto.
Once all the broth has been used, the texture of the rice is slightly al dente, and the risotto resembles a creamy texture (almost "stew-like", where the rice is suspended in the creamy mixture), turn off the heat, add the cheese and 4 tablespoons of butter, and stir until creamy and combined. Season to taste with salt and set aside.
Meanwhile, in a medium saute pan over medium heat, heat 1 tablespoon of butter until it begins to foam. Add the garlic and peas and cook, about 2 minutes. Add the tomatoes, season with salt and pepper, and cook until warmed through, about 1 minute. Add the basil, chives, toss to combine, and set mixture aside.
To serve, spoon some risotto into a shallow bowl. Top with more cheese, the pea and tomato mixture, a drizzle of olive oil, and a sprinkle of chives.
---
Like this recipe? Try one of these:
Leftover Cacio e Pepe Risotto Arancini