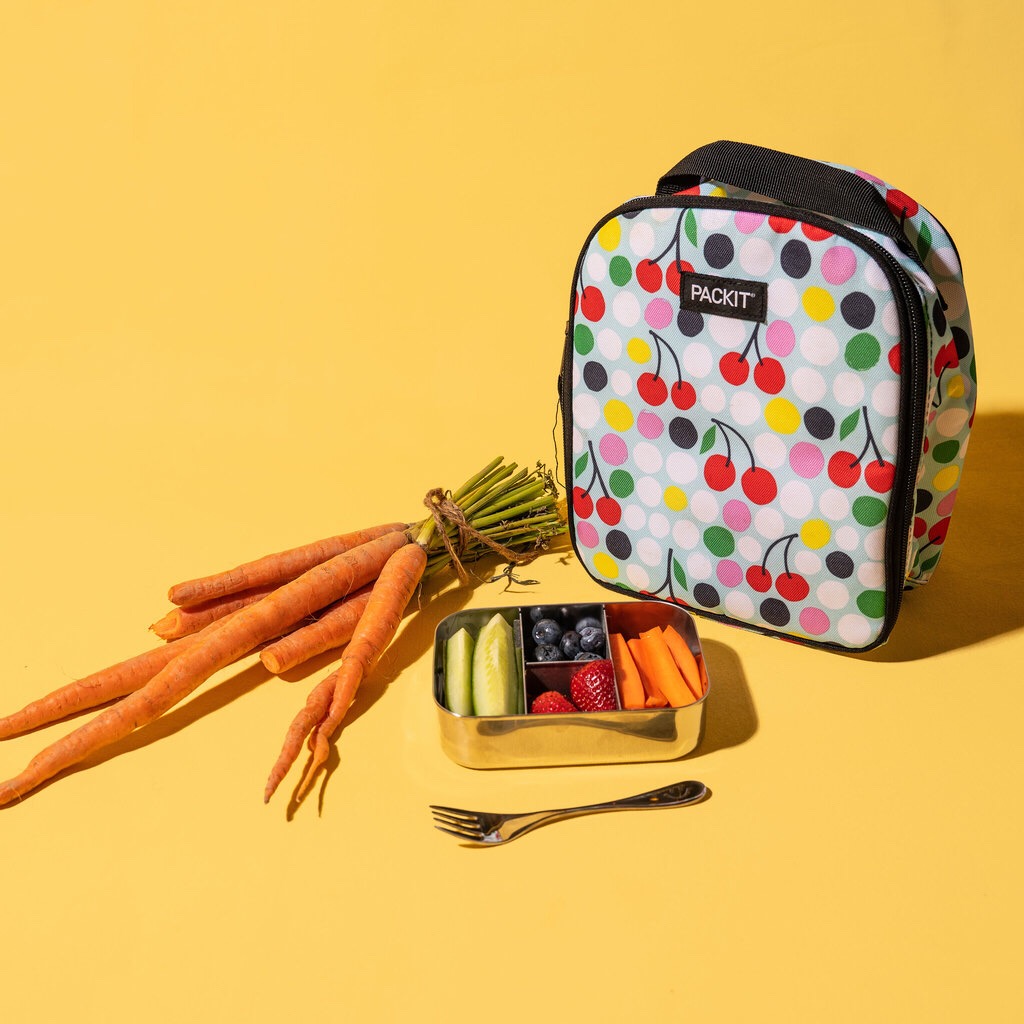 If you're a parent, you've probably resorted to tricks or bribes at some point to get your children to eat healthier. Whether it's adding broccoli to mac and cheese, hiding greens in sauces, or serving baked veggies in lieu of chips, sometimes it's the only way to get fruits and veggies in their bellies. We stand by the "by any means necessary" approach, but if you're sick of the subterfuge, we can help.

These 10 kid-approved snacks are so tasty that you won't need to bother hiding the fact that they contain fruits and veggies. In fact, they'll actually help your little ones learn to love eating whole foods. What's more, all of these snacks are made with produce that peaks in late summer and early fall so they're likely heading your way in Misfits boxes soon.
1. Apple Slice "Cookies"
No peeling required for these apple rings topped with creamy peanut butter and sweet granola. Simply slice seasonal apples, like Gala or Cripps Pink, into thin apple rings and slather on your favorite no-sugar-added nut butter. Top with a healthy amount of granola and serve! Change it up with other toppings like coconut chips, blueberries, or even a few chocolate chips.
2. Reinvented Ants on a Log
Peanut butter and raisins are a classic combo for a reason, but it's time for this retro snack to get a much-needed update. Instead of filling celery stalks with PB and dried fruit, top your celery with:
Guacamole or fresh avocado
Cream cheese with diced cucumbers
Red pepper hummus with pretzels
Almond butter with fresh berries
3. Smoothie Bowls
Kids love smoothies because they're sweet and resemble ice cream, especially when served in a bowl. Parents love smoothies because they're easy to make and an even easier way to use whatever leftover fruit they have stored in the fridge. In a blender, toss in late-season pluots and nectarines, and even sneak in a few greens like curly kale. This is one snack you won't mind finishing if the little one says "I'm full" after a few sips.
4. Peanut Butter and Jelly Apples
Ditch the bread for slices of apples instead! Cut apples into rings, top them with nut butter and your child's favorite fruit spread, and you'll have a healthier twist on classic PB&J in no time.
5. Valencia Orange Popsicles
Yes, popsicles as a snack! Because they're homemade, you can rest assured they aren't packed with artificial ingredients. These popsicles are full of the sweet summer Valencia, which is juicier and has fewer seeds than your traditional winter navel orange. Add a little bit of sugar, freeze, and serve as an after-school surprise while the weather is still warm.
6. Chocolate Zucchini Bread
Although hiding zucchini in chocolate bread is at the top of Parenting Tricks 101, this recipe from Two Peas and Their Pod was too tasty to pass up. The bread is a healthier-for-you alternative for breakfast and snack time alike. Just make sure to remove the excess moisture from your zucchini or you'll be left with soupy chocolate zucchini pudding. (Actually, that sounds pretty good…)
7. Rainbow Veggie Pinwheel Sandwiches
These bite-sized sandwiches bring a whole new meaning to "eat the rainbow." The best part about these pinwheels is that they're totally customizable, too. While this recipe from Dinner at the Zoo calls for a whipped cheese spread, you can use hummus, cream cheese, or any one of your child's favorite dips as the base for your veggies. Then, add thin slices of your favorite colorful veggies like carrots, cucumbers, and bell pepper. You can't go wrong!
8. Tomato Avocado Melt
Consider this is the kid version of avocado toast. Add slices of organic avocado and end-of-season heirloom tomatoes to your child's favorite bread. Add a slice of cheese on top, heat, and serve! This recipe from Tastes Better from Scratch calls for cayenne, but just avoid that if your kiddo doesn't like too much spice.
9. Kale Chips
Whether you use curly kale, red, Lacinato, or baby kale, you can't lose with thin, crispy baked kale chips. Remove the tough stems—save them for pesto or add them to your favorite stir-fry dish—and cover with your favorite cooking oil, salt, and pepper. For a boost, add nutritional yeast and your kids will think they're eating cheesy chips instead of vitamin-packed kale.
10. Baked Sweet Potato Chips
Chips are a kid-fave for a reason and making them at home means you can customize chips to your (healthy) liking. Though this recipe from A Spicy Perspective calls for olive oil, we like to use coconut oil on our sweet potato chips for an added hit of sweetness.
Like this? Read more:
Try This Kid-Friendly Panini with Candy Grapes
The Best Desserts with Sneaky Hidden Veggies