Welcome back to our series, What The Heck Do I Do With This? We know that mystery—and even customized!—Misfits boxes can be overwhelming, so we want to help you put a single ingredient from your Misfits Market box to delicious use. Next up: the pumpkin!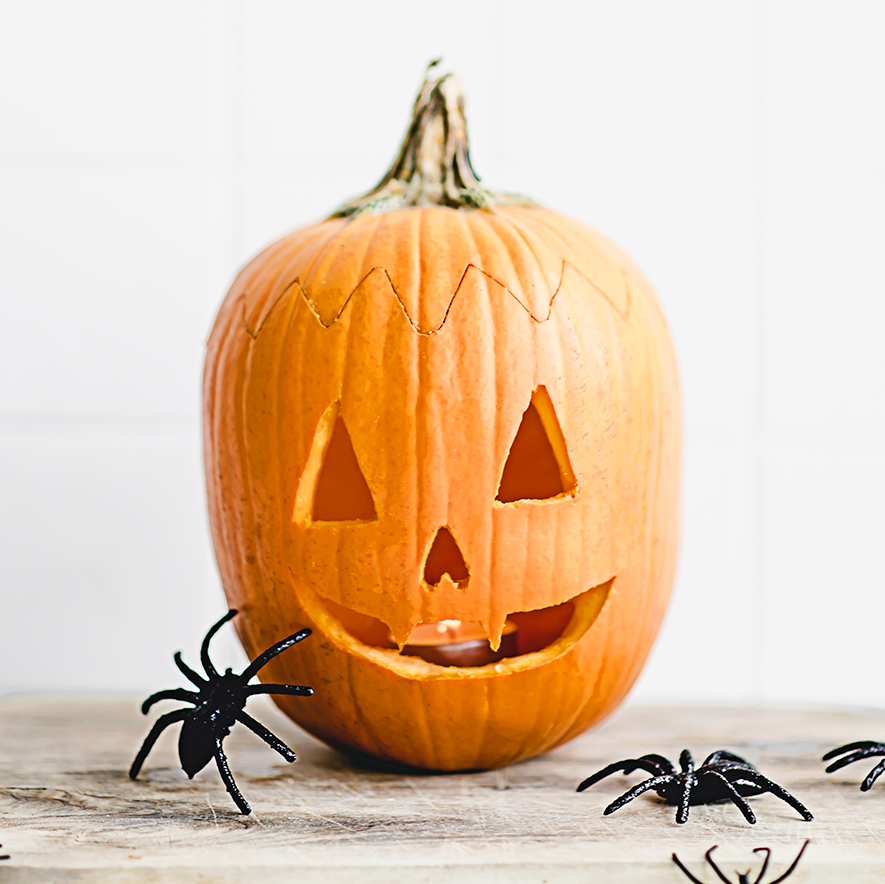 Though commonly used for carving Jack O' Lanterns once per year, whole fresh pumpkins are an edible hardy squash just like delicata, butternut, acorn, and kabocha. Oftentimes it's used for three things: roasted pumpkin seeds, pureed and sweetened for pie, and carved Halloween decoration. But the hearty squash is warm, herbaceous, smooth, and delicious when prepared like other winter squashes.
Here are our 13 favorite recipes using fresh pumpkin: seven recipes with the whole squash and six with those crunchy seeds.
We can't talk about all of the wonderful ways to use pumpkin seeds without first talking about the classic method: roasted. Nothing beats simple roasted pumpkin seeds with flaky sea salt, but we like to customize our roasted seeds based on our mood. Toppings from the sweet—like cocoa, cinnamon sugar, or maple bourbon—to the savory—we like rosemary, ranch, and BBQ flavoring—and even spicy.
The pumpkin seed, also known as the pepita, is wonderfully crunchy and mild on its own, which means it pairs perfectly with dark chocolate and flaky sea salt. The best part? This recipe calls for just three ingredients and you can enjoy a homemade sweet treat in about an hour.
Making homemade granola is a simple matter of combining oats, your favorite nuts or seeds, spices, and maybe some fruit. This version is our go-to with spiced pumpkin seeds and fresh apples.
Roasted seeds of any kind add much-needed crunch and texture to salads. This earthy beet and nutty feta salad calls for hearty pumpkin seeds for a delicious side dish that just tastes like fall.
It's no secret that we're huge fans of a quick pesto. No matter what nut or seed, or what herb or leafy green you have, you can make a pesto. Combine pumpkin seeds with parsley, basil, fresh lemon juice, garlic, and olive oil for a simple pesto that you'll want to slather over pasta, roasted veggies, sandwiches, and more.
Like pesto, hummus is totally customizable based on whatever you have in your fridge—as long as you have beans. This recipe calls for lots of pumpkin seeds and fragrant spices like paprika and chili powder. It's smokey and nutty. Just don't forget the pita chips!
For a lot of these remaining recipes, you need a pumpkin puree. But it's time to ditch the canned version and experiment with your own at home. We can always count on The Pioneer Woman to have an easy-to-follow recipe that quickly becomes a staple in our kitchen. The best part? This puree recipe calls for just one ingredient: pumpkin!
And once you perfect that pumpkin puree, try your hand at homemade pumpkin butter. Slather it on toast, top granola, or use it as a dip for your favorite fall fruits.
We love a refreshing summer salad, but nothing beats a big, hearty salad in the fall, chock full of winter squash, filling grains, and a sweet topping like pomegranate arils.
Though the pumpkin's texture is not quite as sturdy as a potato's, it hasn't stopped up from experimenting with making anything and everything into a fry. The relatively mild flavor of the pumpkin means it can take on other flavors, like garlic and chili powders.
When we just can't think of making dinner—again—nothing beats a baked pasta dish that hits all of the spots. Meaty in the form of bacon and chicken, savory in the form of cheese, and filling in the form of pasta and lots of fresh pumpkin puree.
Pumpkin, butternut, and acorn squash are pretty interchangeable, so you can follow this recipe based on whatever hearty squash you have in your kitchen. Add in protein-rich beef and beans, and you've got a Sunday afternoon chili in less than an hour.
Don't be intimidated by making your own soup at home, which is a lot easier than you might think. Grab your biggest heavy-bottomed pot, add aromatics like garlic, herbs, and onions, and toss in lots of pumpkin. At the end, you'll be rewarded with a creamy soup that's the perfect appetizer to your big Thanksgiving dinner or just a warm dish on a cool night.