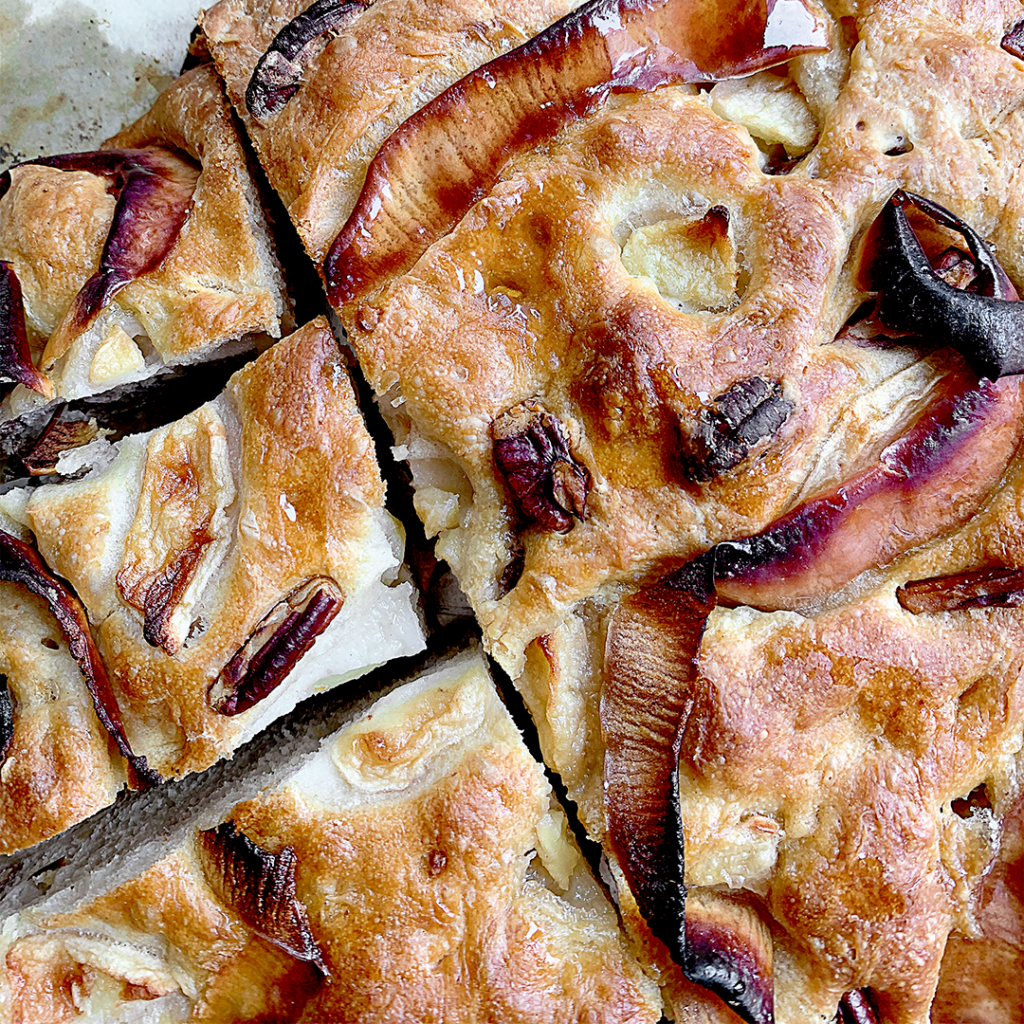 Focaccia is a great starter bread because it only takes a few simple ingredients, plus a little bit of time, to be rewarded with an airy bread. What's more, the simple recipe means it's completely customizable based on whatever you have in your fridge—even discarded apple peels! This time, we used those leftover apple bits, folded in crunchy pecans, and coated everything with maple syrup.
The secret to this heavenly apple bread, though, is the rise. This focaccia has two proofs—where you at, British Baking Show fans?—where you let the dough sit and allow it to gently rise. To let the dough rest, or proof properly, you'll need to identify a warm spot in your house/apartment free from cold air. (Ours happens to be on top of the dryer!) Don't skimp on the proofing time. Seriously. You won't regret it.
Print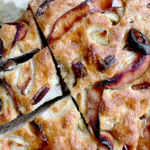 Pecan Apple Scrap Focaccia
---
3 5/8 cups

of all-purpose flour, plus more for kneading

2 teaspoons

dry yeast

1 teaspoon

salt

1 tablespoon

olive oil, plus more for coating

1 tablespoon

sugar

1 1/2 cups

warm water

2

small apples, peeled, cored, and sliced
Discarded apple peels

1/2 cup

pecans, roughly chopped
Maple syrup
---
Instructions
In a large bowl, add flour, yeast, and salt. Whisk thoroughly.
Make a well in the center and add warm water, sugar, and oil. Mix together.
Cover the counter or large cutting board with extra flour. Turn dough onto the board and gently knead for a few minutes. The dough will be sticky and fairly wet, but bring it together the best you can. Form dough into a giant ball and place back in the bowl.
Cover with plastic wrap, then a heavy cloth towel. Place in a warm spot for 1 hour and 15 minutes. Once it has doubled in size, punch down with your fist to relieve some air.
Fold in apples slices and pecans pieces. Spread the dough out onto a large, lined baking sheet so it's about a half-inch thick.
Top the dough with apple peels.
Cover the dough again with plastic wrap and let it sit for another 1 hour and 15 minutes. (This is the second proof.)
Preheat oven to 425 degrees.
Once the dough has expanded to twice its size, press your fingers into it to create large holes. Then, drizzle olive oil over the entire surface of the dough, about 2 tablespoons.
Bake for 35-40 minutes or until golden brown.
Remove bread from the oven and drizzle maple syrup all over the surface, about 1 to 2 tablespoons, and let it soak into the warm bread. Let cool slightly, then slice and eat while warm.
---