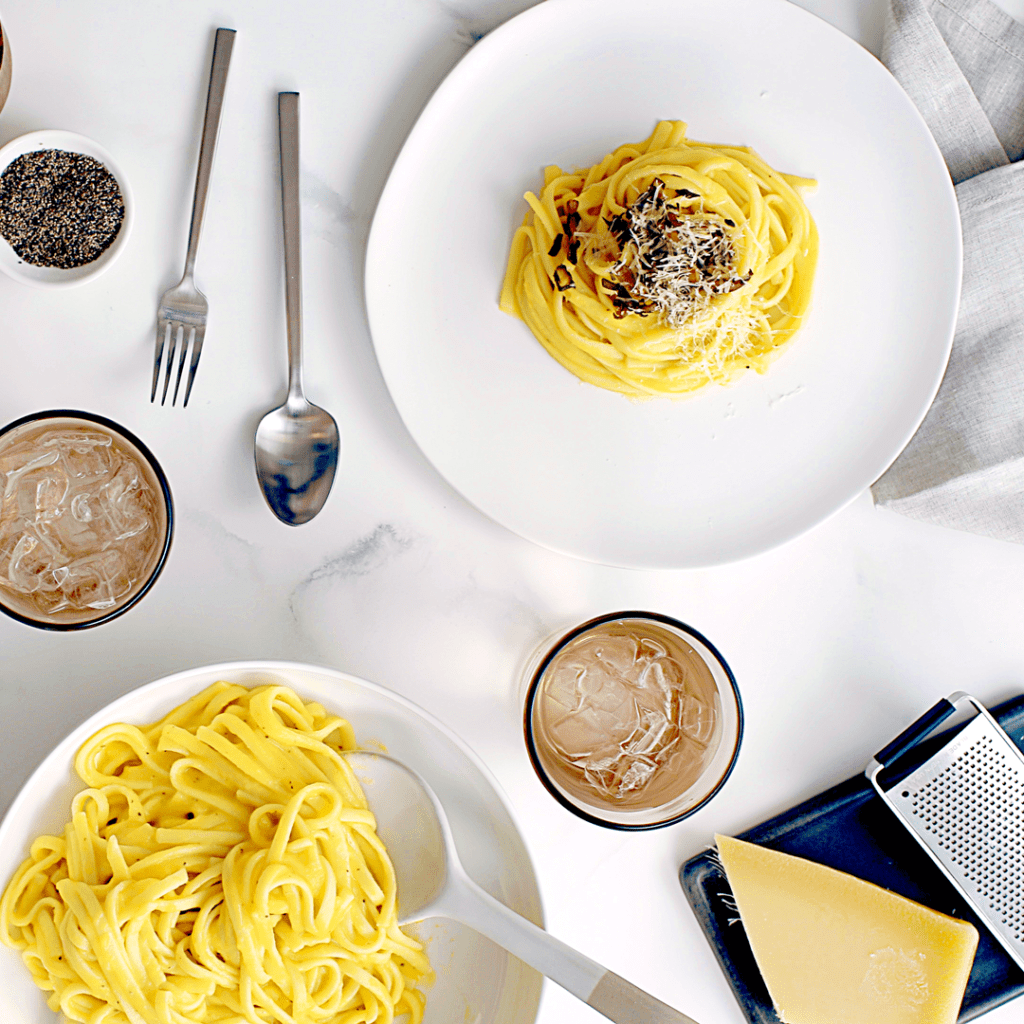 Roasted squash is on the menu once, twice, maybe even three times a week during fall and winter. It never disappoints when you need a no-brainer dinner. But when we were thinking of new (read: not boring) ways to use winter squash, we ended up using it as the base for a "creamy" pasta sauce. Mission accomplished! Presenting a veg-forward take on the traditionally rich, meaty, cheesy carbonara pasta.
Curious about the eye-catching pans we used? Those were courtesy of our friends over at Caraway, who make quality enamel cookware without any of the sketchy chemicals associated with non-stick.
We were lucky enough to get gifted one of the limited-edition Marigold sets before they became available. (They knew that grown-up yellow had our name written all over it!) We've also partnered with them on getting all of you $60 off the collection. All you have to do is spend at least $30 in The Marketplace* to receive a special coupon code after November 5th.
Print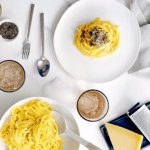 Creamy Squash Carbonara with Crispy Mushrooms
---
2 tablespoons

butter

1 cup

mushrooms, such as oyster, mushroom, or maitake, roughly chopped

2

pounds hard squash (approximately

1

large butternut, kabocha, acorn, or honeynut squash), peeled, seeded, and cut into 1-inch pieces

1

medium onion, roughly chopped

5

cloves garlic, minced, divided

1 tablespoon

fresh sage, minced
Kosher salt
Black pepper

2 cups

chicken or vegetable broth

12 ounces

dried pasta, such as fettuccine, spaghetti, or linguine

12 cups

water

1/2 cup

Pecorino or Parmesan cheese, grated, plus more for serving
---
Instructions
Heat butter in Caraway's sauté pan over medium-high heat. Add mushrooms, season with salt and pepper, and cook, stirring occasionally, until soft, about 5 minutes. Then, add sage and 2 cloves minced garlic. Cook for another 3-5 minutes until mushrooms are crispy and fragrant. Use a slotted spoon to transfer mushrooms, sage, and garlic to a small bowl, allowing excess butter to remain in the sauté pan. Set aside.
Add squash, onion, and remaining 3 cloves minced garlic to sauté pan and season with salt and pepper. Cook for 10 minutes until the onions become translucent and squash softens. Add broth, bring to a boil, then reduce heat to a simmer. Cook for another 20 minutes, until the liquid has reduced by half and squash is fully tender.
Meanwhile, add water and a generous pinch of salt to Caraway's Dutch oven. Bring to a rolling boil, then add pasta. Cook until al dente, usually one minute less than package instructions. Drain pasta, reserving 1/4 cup of pasta water.
Once tender, carefully pour squash mixture in a blender or food processor. Purée until smooth. Then, transfer squash purée back to the sauté pan and turn heat to low.
Transfer cooked pasta to the sauté pan with the squash sauce and toss to cover.
Add cheese in two batches, allowing cheese to incorporate into the sauce before adding the next batch. The sauce should be glossy and smooth—if it's too stiff, add more pasta water, one tablespoon at a time. Season with salt and pepper to taste.
Serve pasta topped with reserved crispy mushrooms, more cheese, and freshly-cracked pepper. Enjoy!
---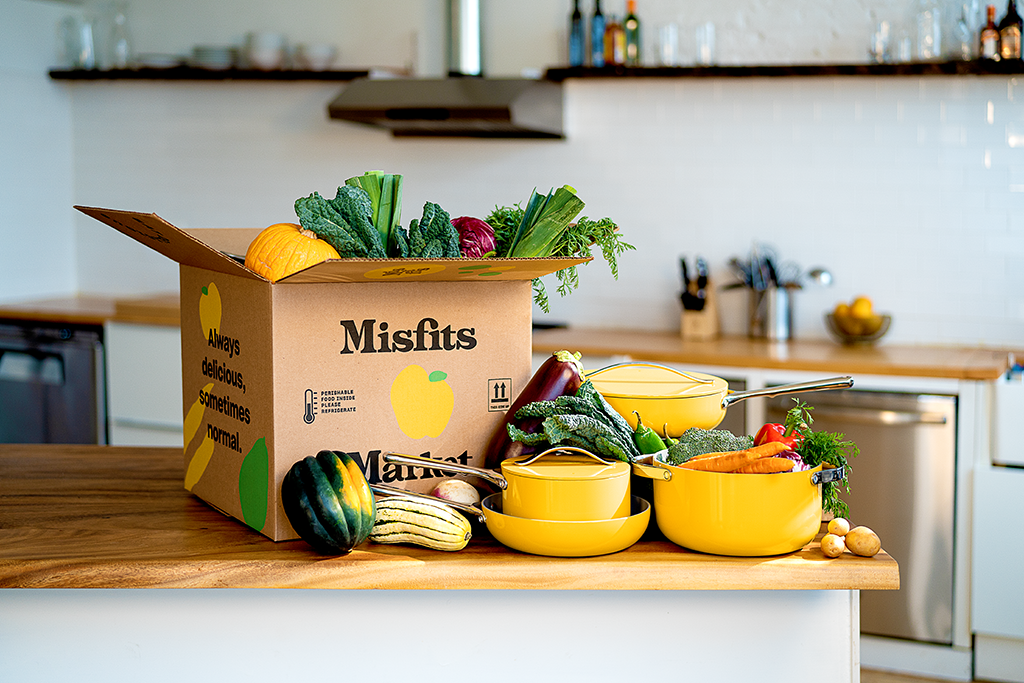 *To qualify for $60 off a Caraway cookware collection, you must spend $30 or more on add-ons (excludes price of base subscription box, shipping, and applicable taxes) from The Marketplace from 10/18-10/31. In order to count towards this promotion, add-ons must be purchased during Marketplace windows that open on or after 10/18 and close on or prior to 11/2. This means that add-on purchases from customers with Marketplace windows 10/16-10/18 and 10/17-10/19 will NOT be counted for this promotion, and add-on purchases from customers with Marketplace windows 10/30-11/1 and 10/31-11/2 WILL be counted for this promotion. Customers who qualify will receive an email from Misfits Market in early November with a unique coupon code for $60 off any Caraway cookware collection. Limit of one code per Misfits Market customer account.