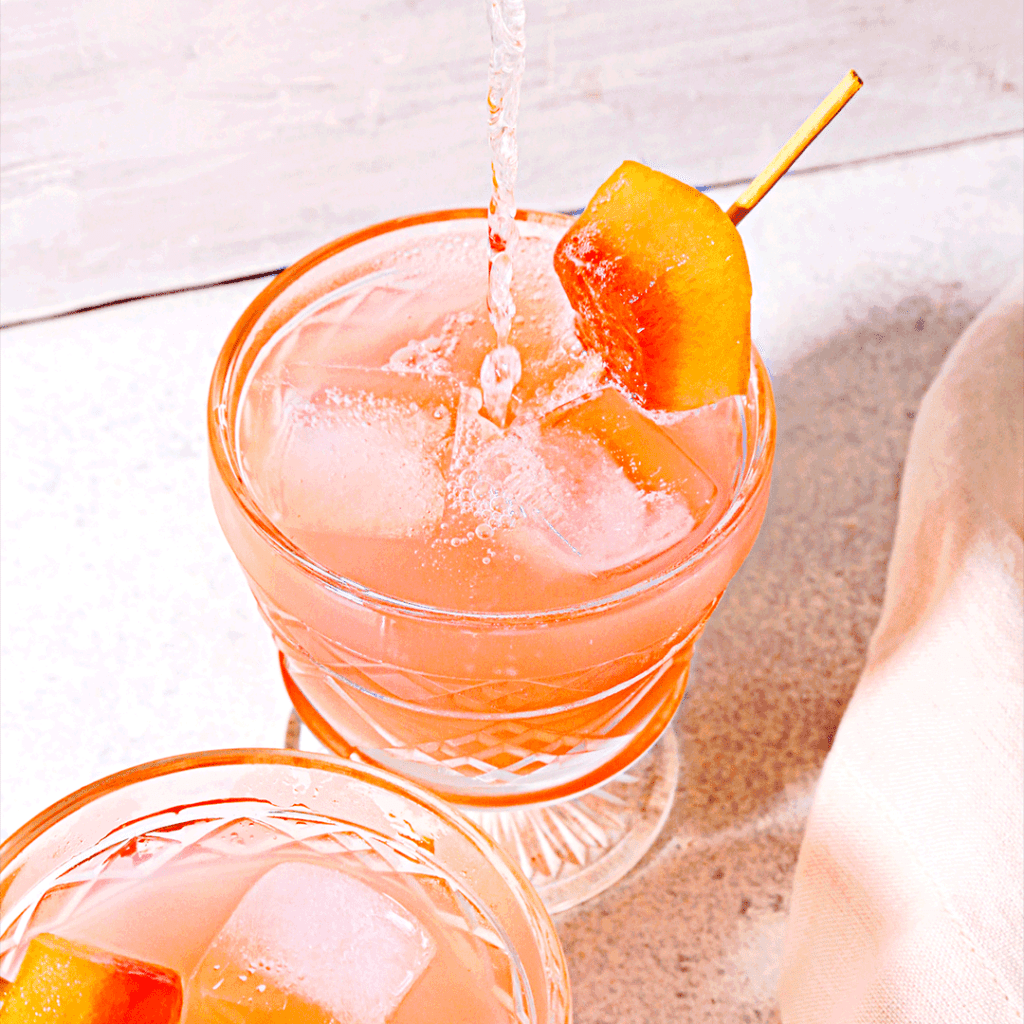 In our opinion, you can never have too much cool, refreshing watermelon on the menu, especially as the outdoor temps reach their peak. One way we're making the most out of our favorite summer fruit is by whipping up this fizzy cocktail. It's a great way to use the whole entire fruit—yep, even the rind! And this one packs a punch, too, thanks to fresh ginger and a splash of ginger beer. Cheers!
Print
---
1½ cups

white wine vinegar 

1½ cups

water

½ cup

sugar 

2 tablespoons

kosher salt 

3

-inch piece of ginger, slightly smashed 

2

cinnamon sticks 

1 teaspoon

black peppercorn 

1 teaspoon

whole cloves 

3½ cups

watermelon rinds, greens of skin peeled, cut into

2

-inch slices 

1

jalapeño, sliced
---
Instructions
In a medium saucepan, combine vinegar, water, and sugar. Heat mixture over medium heat and cook until sugar has dissolved. Add salt, ginger, cinnamon, peppercorns, and cloves to the vinegar mixture and bring to a boil. Bring mixture to a gentle simmer, then add watermelon rinds and cook for 5-7 minutes or until softened. Set aside and let fully cool.
Add sliced jalapeños to two 16-ounce glass jars with lids. Divide pickled watermelon rinds between the jars, cover. Chill for at least 24 hours before serving. These are great for snacking or cocktail garnishes! Note: Pickled watermelon rinds will last refrigerated for up to 2 weeks.
---
Print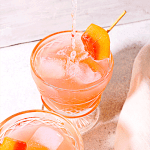 Watermelon Ginger Fizz with Pickled Watermelon Rind
---
For the Pickled Watermelon Rind:
1/2

small watermelon

1½ cups

vinegar, such as apple cider vinegar or white wine vinegar

1 cup

water

3/4 cup

granulated sugar

3 1/2 tablespoons

kosher salt
Fresh ginger, cut into 5 slices

1

cinnamon stick

1 teaspoon

black peppercorns

1/2 teaspoon

fennel seed
For the cocktail: 
2

sprigs mint
Ginger, cut into 3 slices

3 ounces

watermelon juice

1/2 ounce

simple syrup

1 ounce

pickled watermelon rind liquid

1 1/2 ounces

gin
Ice
Ginger beer
Pickled watermelon rind, for serving
---
Instructions
For the pickled watermelon rind, use a peeler to remove the outer green layer from the watermelon. Cut watermelon into 1-inch wedges and remove flesh. (A little pink leftover on the rind is okay.) Set aside flesh for juicing). Cut the rind into 1-inch cubes and set aside.
In a medium pot, combine vinegar, water, sugar, salt, ginger slices, cinnamon stick, black peppercorns, and fennel seed. Bring to a boil, then turn down to a simmer. Add watermelon rind to the pot and cook for 10 minutes, stirring occasionally. Remove from heat and let mixture come to room temperature. Transfer to an airtight container and store in the fridge for at least 8 hours and up to 2 weeks.
Prepare watermelon juice by adding watermelon flesh into a blender and blend until smooth, about 30 seconds. Strain by pouring juice over a mesh sieve into a large glass or bowl. Then, set aside.
For the cocktail, muddle mint springs and ginger slices in the tumbler of a shaker. Add watermelon juice, simple syrup, pickled watermelon rind liquid, gin, and ice. Shake until the tumbler is cold, about 30 seconds. Fill a rocks glass half way with ice and then strain the cocktail over top. Top with a splash of ginger beer and garnish with a pickled watermelon rind on a skewer. Cheers!
---