Now that many of us are focused on making the most of every piece of food on hand, it's more crucial than ever to know the right way to store it. With the right tools and guidance, you can keep your organic fruits and veggies fresher, longer between each Misfits Market box.
Wondering whether food you've had for a while is still good? Do a quick sight, squeeze, and smell test. If something looks weird (e.g., odd spots or beginning to mold), feels mushier than normal, or just smells off, go ahead and compost it.
Learn which fruits and veggies should be enjoyed first and which others have more mileage with proper storage.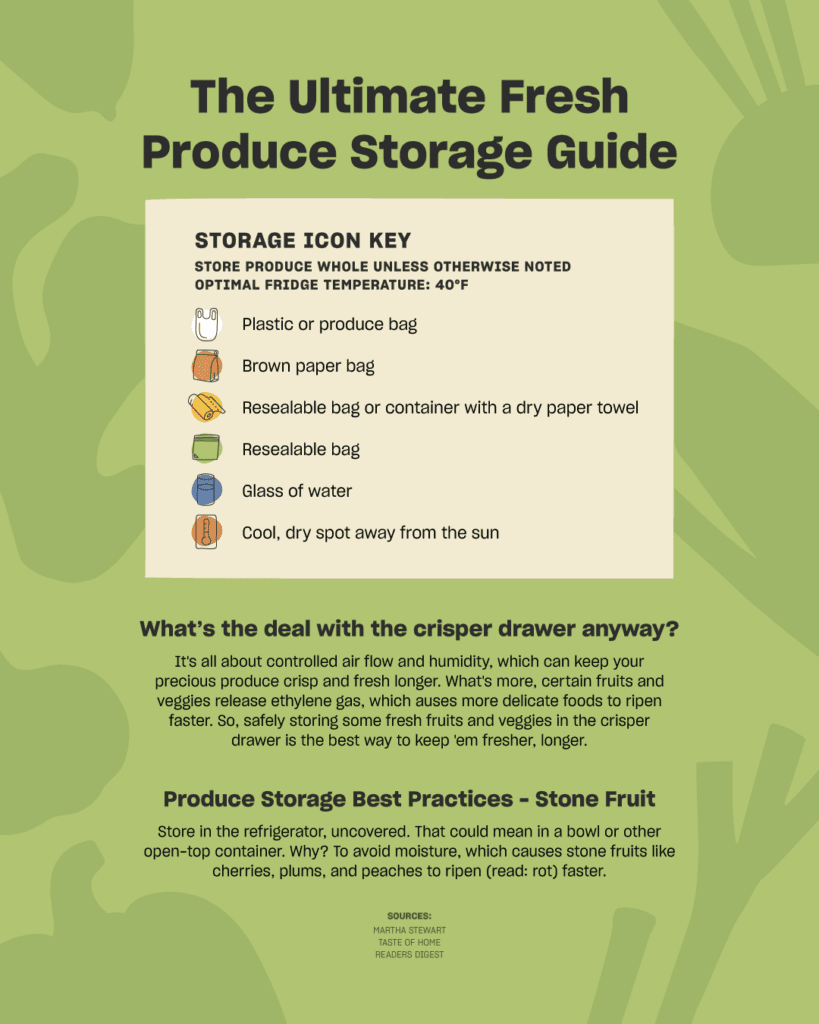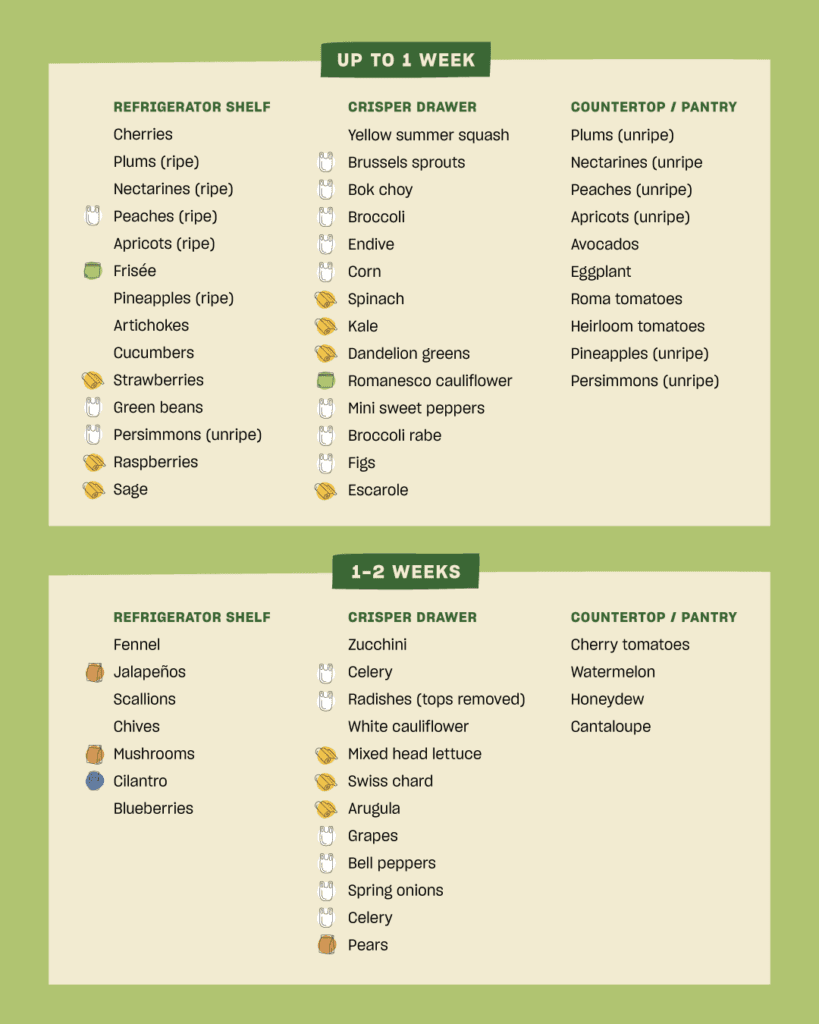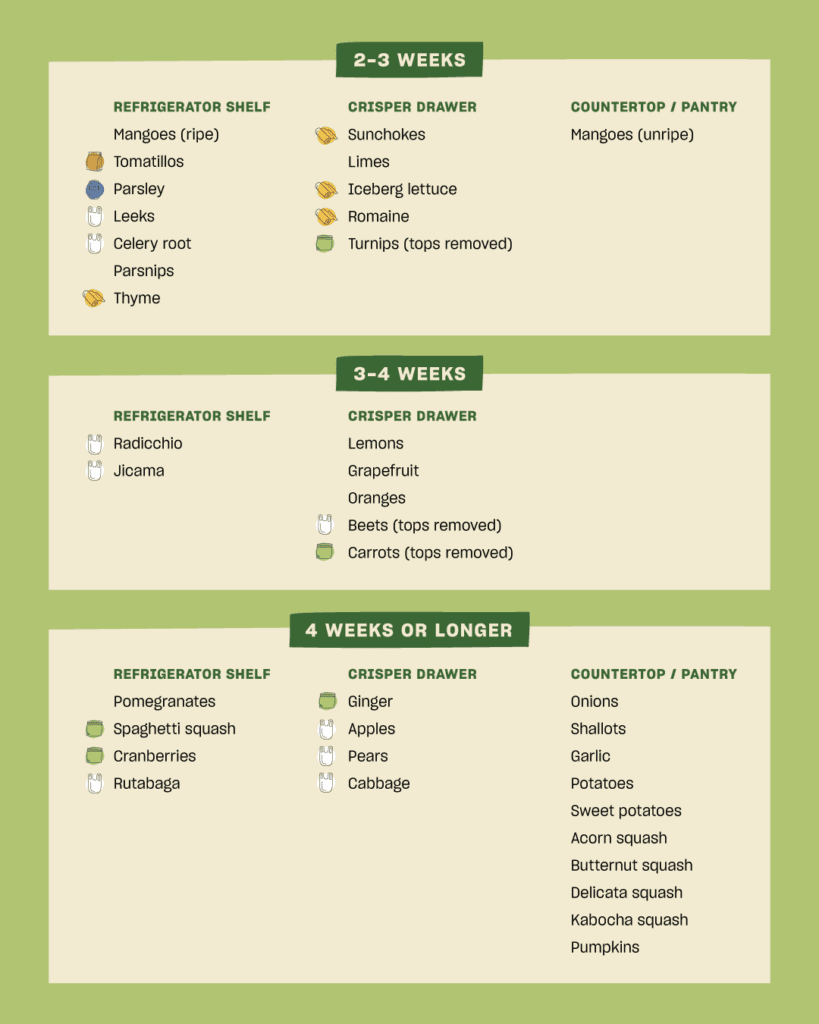 Download a printable PDF here.
Curious how to store produce all year round?
The best of winter produce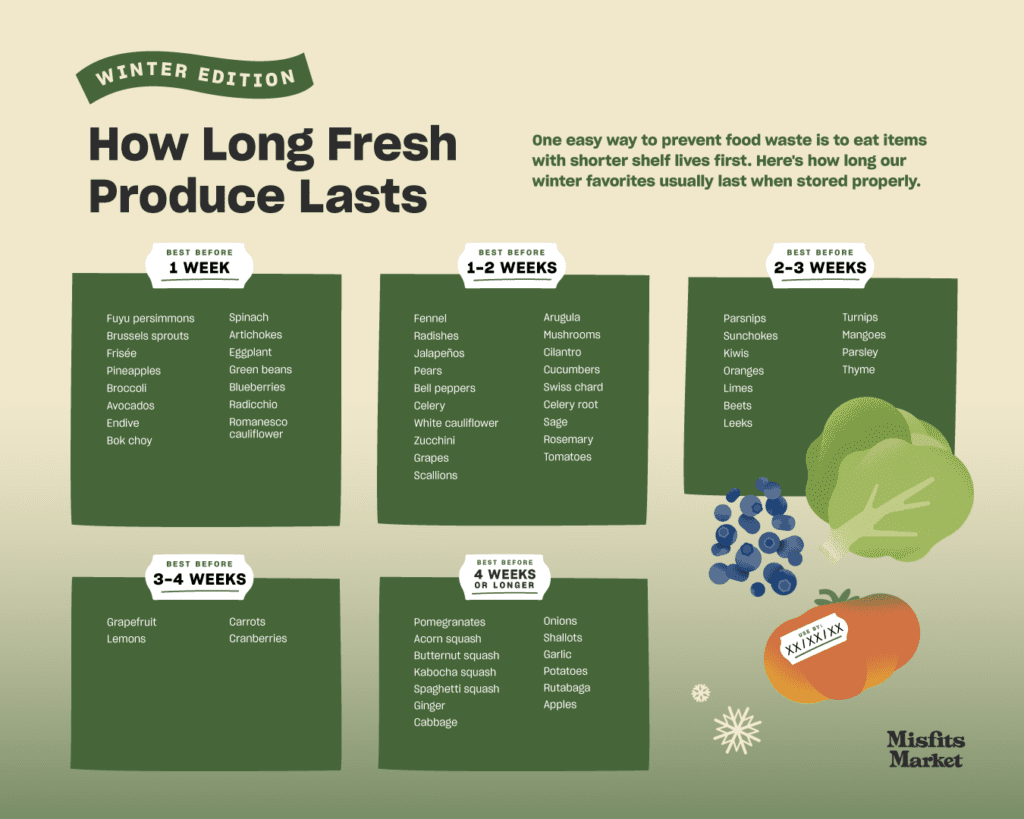 We've updated our produce guide to celebrate the best of winter. The arrival of winter means a new batch of fresh, organic fruits and veggies to add to your next Misfits Market order. From hardy squash and root veggies to the juiciest citrus of the year, we've put together a handy guide that tells you how long you've got to enjoy all of your cold-weather favorites in their prime. Learn which items should find their way onto your plate first, and which ones can hang around longer. Swipe:
Seasonal Thanksgiving produce
We put together a special seasonal version just for Thanksgiving, full of our favorite fruits and veggies for The Big Meal. This way, none of your fresh produce will go to waste and you won't need to stock up on fruits and veggies too early or too late. Swipe:
The best of spring produce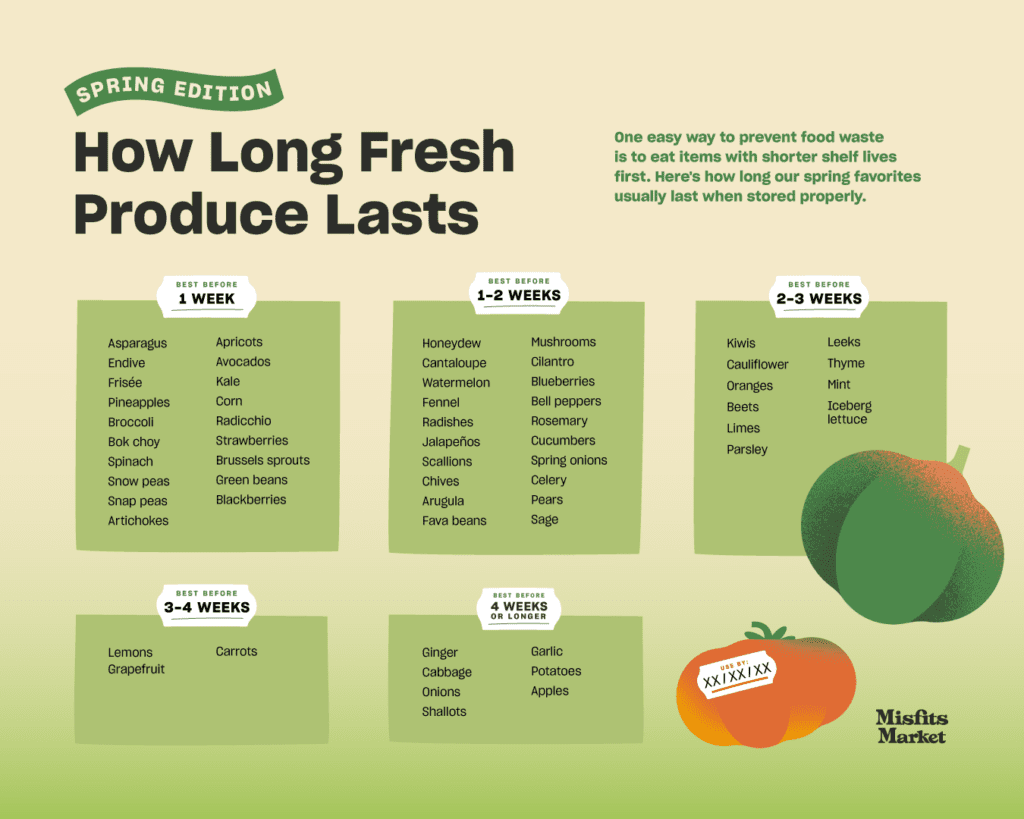 And here's our spring edition! We're celebrating a whole new season of fresh veggies—the delicate kinds that need a little extra TLC to stay fresh, like lettuces, peas, fresh herbs and berries. Swipe:
The best of summer produce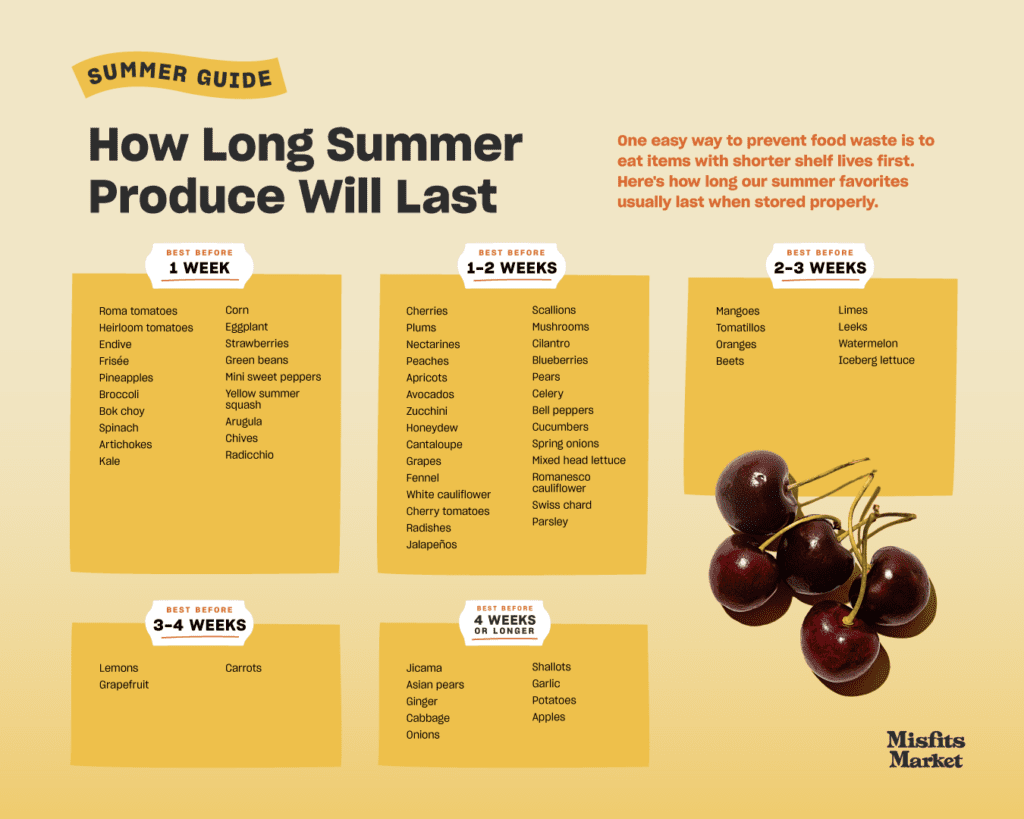 Here's our produce guide for how long produce lasts in the summer. Think: delicious tomatoes, stone fruit, juicy melons, and more. Swipe:
The best of fall produce
And we can't forget about our delicious fall produce. Think: hardy squash, root veggies, and crisp fruits like pears and apples. Swipe:
Have something in your box and don't see it on this list? Add a comment below and we'll let you know the best place to store it and how long it keeps.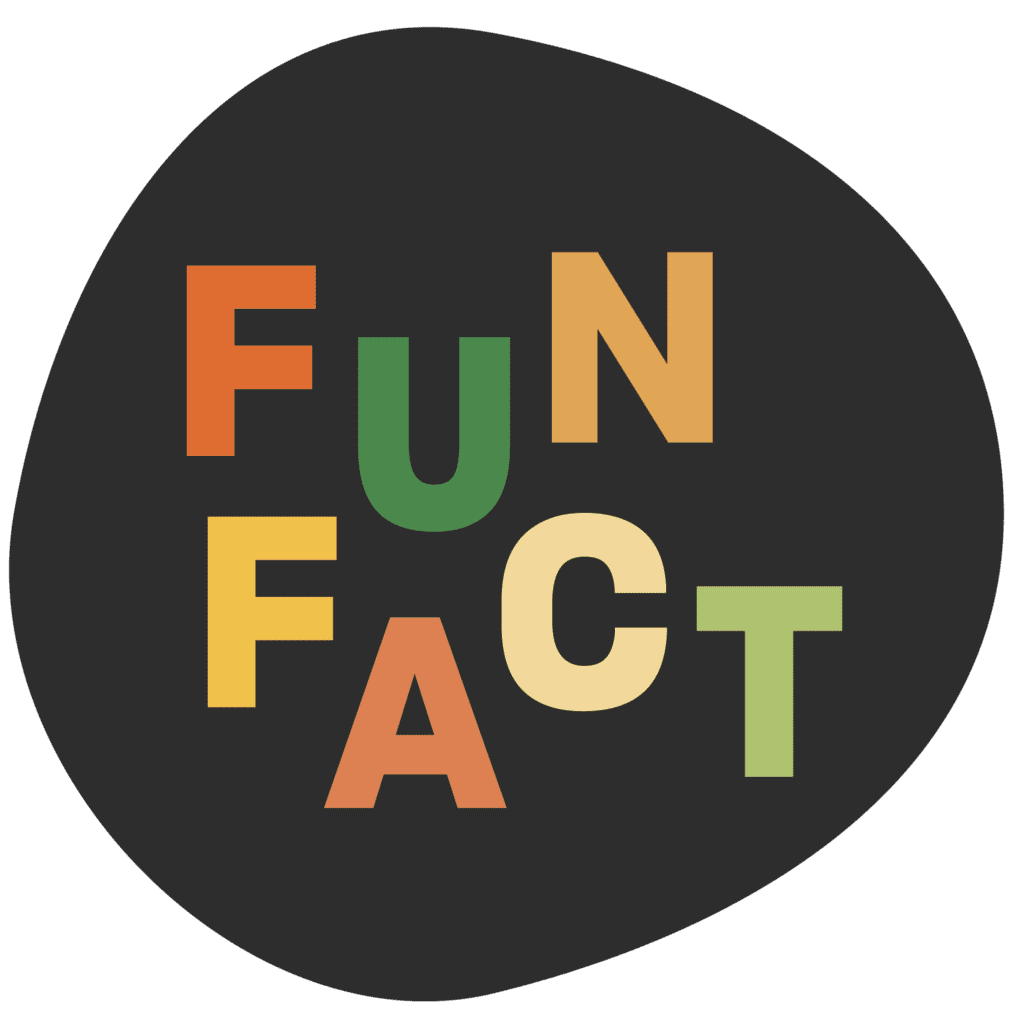 What goes in the humidity-control drawer of your refrigerator?
With a little humidity intel, using your refrigerator drawers strategically can help you avoid food waste. In most refrigerators, you can control the amount of humidity by changing the dial above the drawers. In high humidity, the window in the drawer is closed, allowing no air to escape. This is great for your leafy greens and ethylene-sensitive foods like strawberries or broccoli. Produce that wilts will greatly benefit from the high humidity setting. The low humidity setting allows the window to open partially or all the way, giving breathing room to ethylene-producing produce such as melons, peaches, pears, and apples. This ensures that your produce will stay fresh for as long as possible.