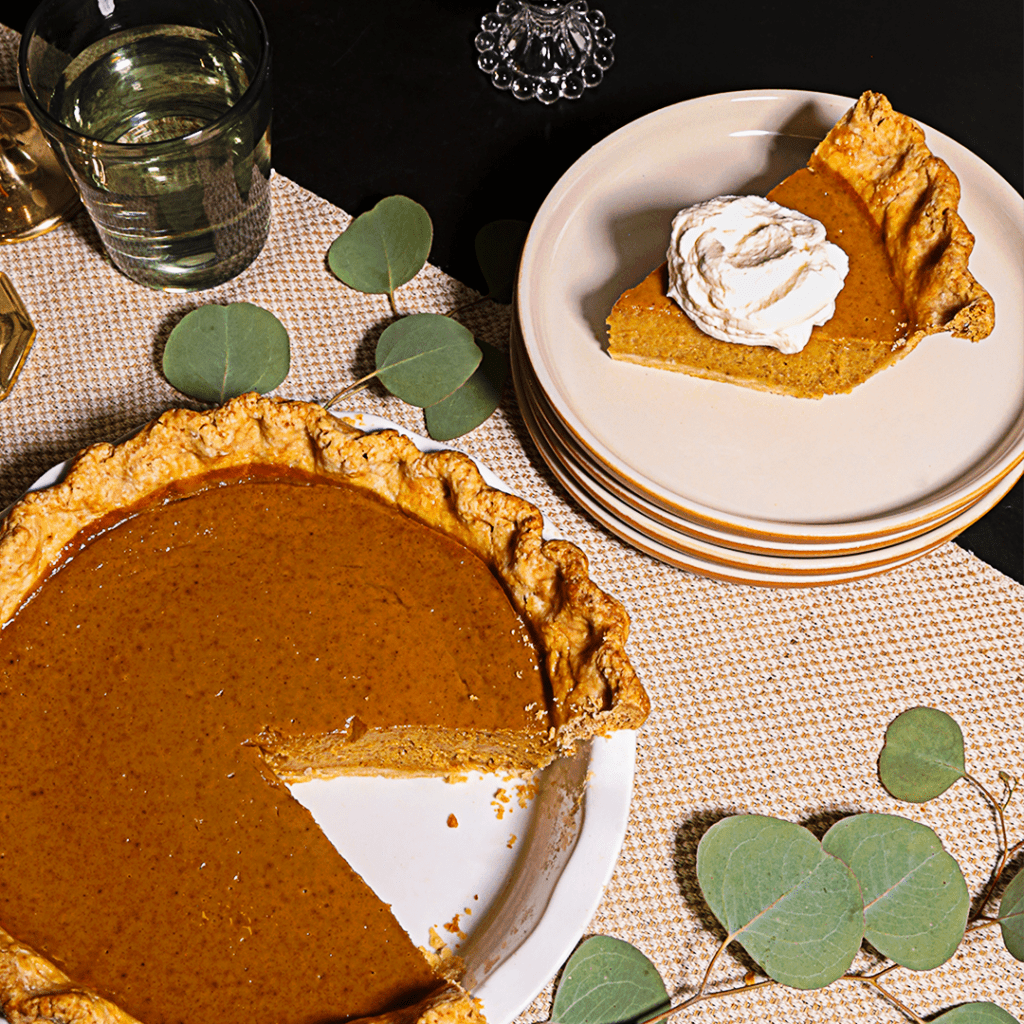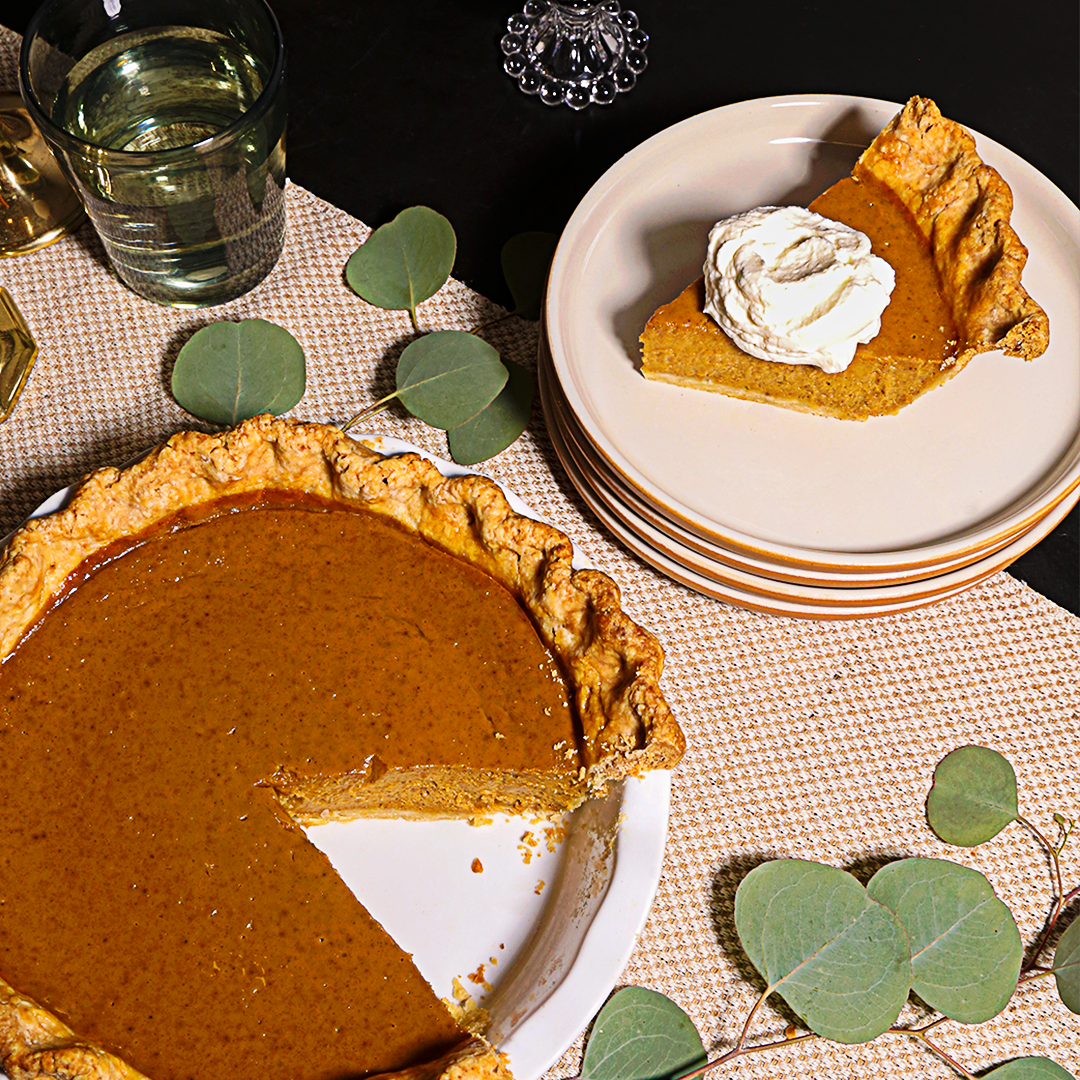 As far as we're concerned, pumpkin pie is one Thanksgiving staple that'll never go out of style. Ours follows the classic butter crust and spiced formula, but includes a can of sweetened condensed milk for an extra-silky (and very delicious) filling. Plus, if you use our Odds & Ends Pumpkin Purée, you'll also be supporting our work to reduce food waste.
Get the recipe for Silky Pumpkin Pie:
Print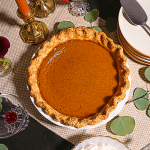 ---
For the crust:
2 cups

all-purpose flour, plus more for surface

2 tablespoons

granulated sugar

1 1/2 teaspoons

kosher salt

8 tablespoons

unsalted butter, cut into pieces, chilled

1/4 cup

ice water

1

large egg, beaten
For the filling:
1/4 cup

sugar

1 teaspoon

ground cinnamon

1/2 teaspoon

kosher salt

3/4 teaspoon

ground ginger

1/4 teaspoon

ground cloves

1/4 teaspoon

ground nutmeg

2

large eggs, plus 1 large egg yolk, beaten

1 cup

Misfits Market pumpkin purée

1 cup

sweetened condensed milk

1/4 cup

heavy cream

2 teaspoons

vanilla extract
---
Instructions
For the crust:
In a large bowl, mix together flour, salt, and sugar. Add chilled butter pieces into the bowl. Working quickly, use your fingers to combine butter pieces into the flour to create large scraggly pieces of dough. (The idea is to create different-sized clumps and strands of butter to achieve a flaky crust.)
Evenly drizzle ice water over the dough. With your fingers, bring the dough together (the dough will look a little dry). Turn the dough out onto a work surface and knead 2-3 times until the edges come together. Flatten dough to form a 1-inch thick disk, then wrap in plastic wrap. Set in the fridge for at least 1 hour or overnight.
To bake, preheat oven to 425 degrees.
On a lightly floured surface, roll out dough to form a 14-inch circle and then transfer to a 9-inch pie dish. Press dough down gently and cut the excess dough leaving a 1-inch overhang. Fold the extra dough under, then crimp all the way around. Chill for at least 45 minutes.
Using a fork, evenly prick the bottom of the pie dough. Line the inside of the pie dish with parchment paper and fill with pie weights or dried beans. Bake until the crust looks dry on the edges and is very lightly browned.
Reduce heat to 350 degrees and carefully remove pie weights. Brush the inside of the crust with egg wash and bake until the middle is dry and golden brown, another 12-15 minutes. Transfer to a wire rack and let cool completely.
For the filling: Preheat oven to 325 degrees.
In a large bowl, whisk together sugar, cinnamon, salt, ginger, cloves, and nutmeg. Add in eggs, pumpkin purée, condensed milk, heavy cream, and vanilla extract, and whisk until smooth.
Pour filling into the prepared crust and bake until the edges have set and the center still has a little wiggle, 65-80 minutes. (If the crust begins to brown too quickly, cover crimped edges with tin foil). Transfer to a wire rack and let cool for at least 4 hours before slicing. Serve with whipped cream.
---
Notes
Dough can be made up to 5 days in advance, chilled, or kept in the freezer for up to 1 month. Crust can be baked 1 day ahead, cooled, and wrapped tightly.
Like this? Try this:
No-Cook Chocolate and Pecan Pie
Apple Pie Crostata with Apple Cider Glaze