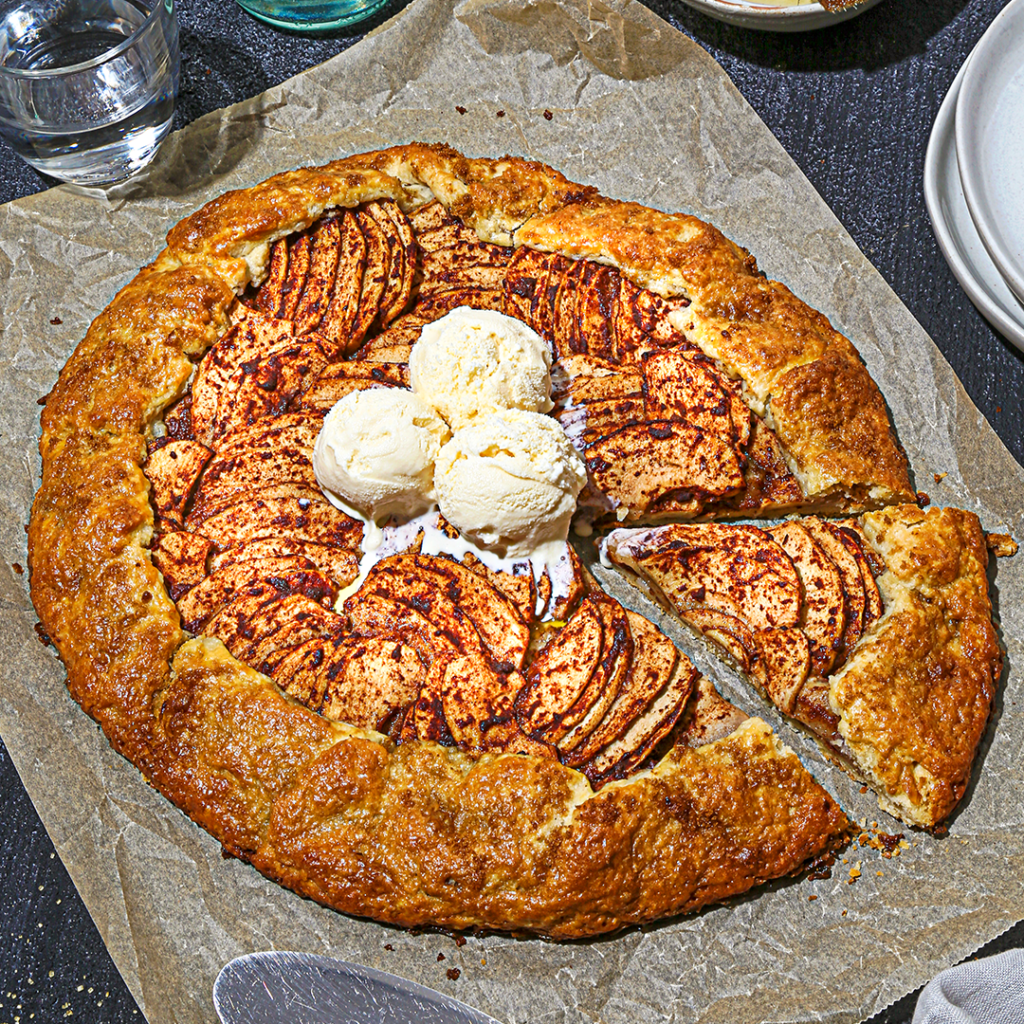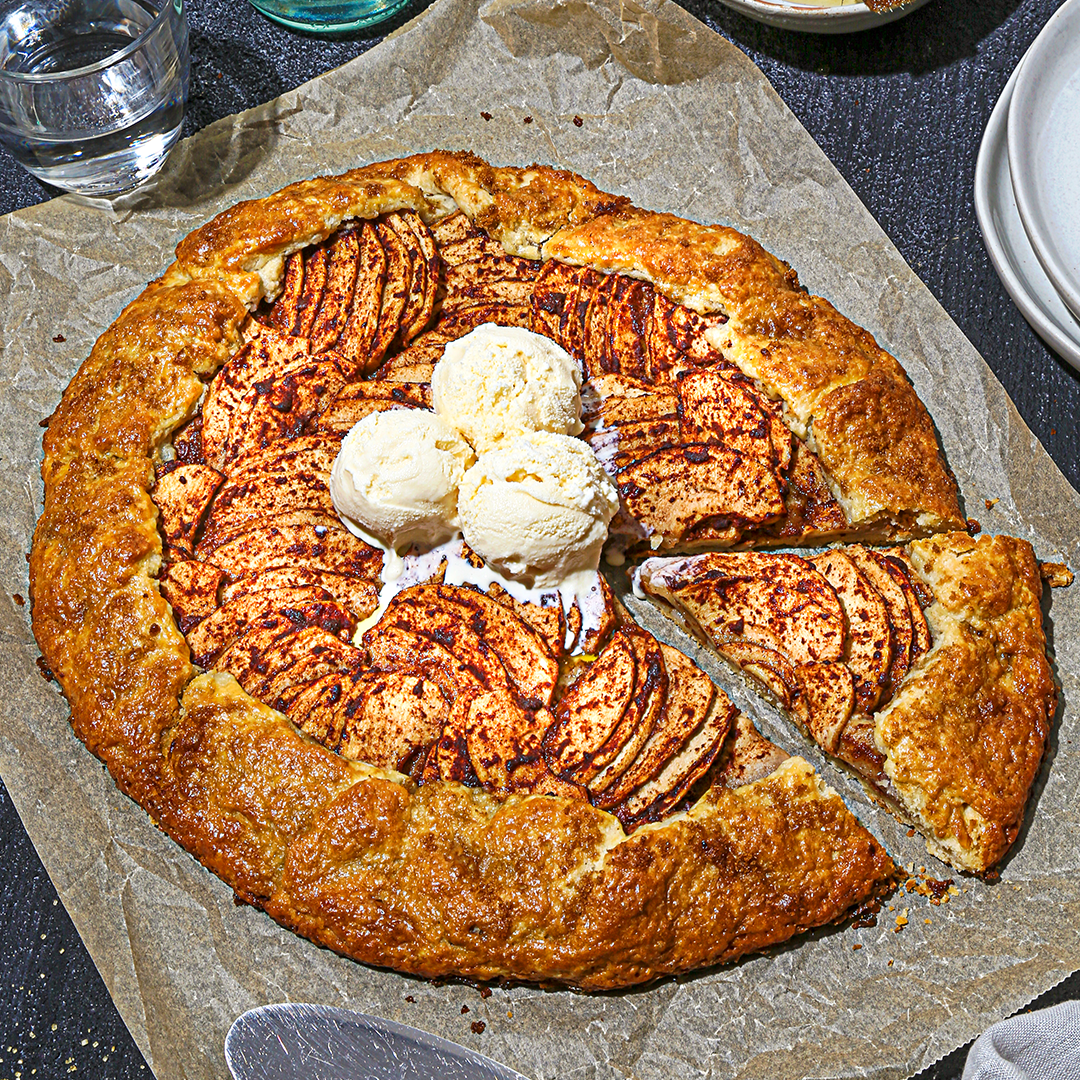 Bobby's at it again with a seasonal apple crostata (galette) with lots of fresh apples. This simple dough gets a special addition of buttermilk, and the dough can be made up to two days in advance. There's a delectable spiced apple filling featuring all the classics: cinnamon, ginger, nutmeg, and who could forget sugar? All is topped off with an apple cider glaze. It's something you can drop off on your friend or family member's porch, or save for yourself. Breakfast or dessert.
Print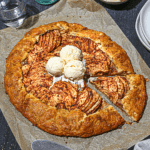 Bobby Flay's Apple Crostata with Apple Cider Glaze
---
Basic Buttermilk Dough
2 1/2 cups

all-purpose flour

1 tablespoon

sugar

1/2 teaspoon

kosher salt

1 1/2

sticks cold, unsalted butter, cut into

1

-inch cubes

1/2 cup

cold buttermilk 
Apple Cider Glaze 
1/2 cup

apple cider

1 tablespoon

honey 
Crostata 
5

apples such as Braeburn or Gala, peeled, cored, and thinly sliced

1/4 cup

sugar

3 teaspoons

ground cinnamon

2 teaspoons

ground ginger 

1/4 teaspoon

ground nutmeg
Pinch kosher salt 

1 tablespoon

all-purpose flour 

1 tablespoon

fresh lemon juice 

1

egg, beaten with 1 teaspoon water

2 tablespoons

brown sugar
---
Instructions
For the dough, combine flour, sugar, and salt in a food processor. Pulse a few times to combine. Add butter and pulse the mixture until it resembles coarse cornmeal. 
Add buttermilk and pulse until the dough begins to come together. Transfer the dough onto a lightly floured surface and sprinkle a bit more flour on top. Form the dough into a disk with your hands. Wrap tightly with plastic wrap and refrigerate for at least 30 minutes or up to two days. 
For the glaze, combine apple cider and honey in a medium saucepan over medium heat. Bring to a boil, and then immediately reduce heat to low. Continue cooking until the mixture has reduced and coats the back of a wooden spoon. Remove from the heat and set aside. 
To build the crostata, preheat the oven to 375 degrees. Line a baking sheet with aluminum foil or parchment paper. 
Combine the apples, sugar, cinnamon, ginger, nutmeg, salt, flour, and lemon juice in a large bowl. Let the apples sit and macerate while you roll out the dough.  
On a floured surface, roll out dough into a 12-inch round, 1/4 inch thick. If necessary, cut the edges of the dough to make it round. Transfer the round dough to the prepared baking sheet. Fill the center with the apple filling while leaving a 2-inch border around the edges.
Gently fold over the dough's edges to cover the apples, leaving the center exposed, and crimp the border to make a circle. Brush the folded sides of the dough with the egg wash and sprinkle with brown sugar. 
Bake until the crust is golden brown and the fruit is bubbling, about one hour. 
In the last 5 minutes of cooking, brush some of the apple cider glaze onto the apples and continue cooking. Transfer the crostata to a rack and let cool before serving.
---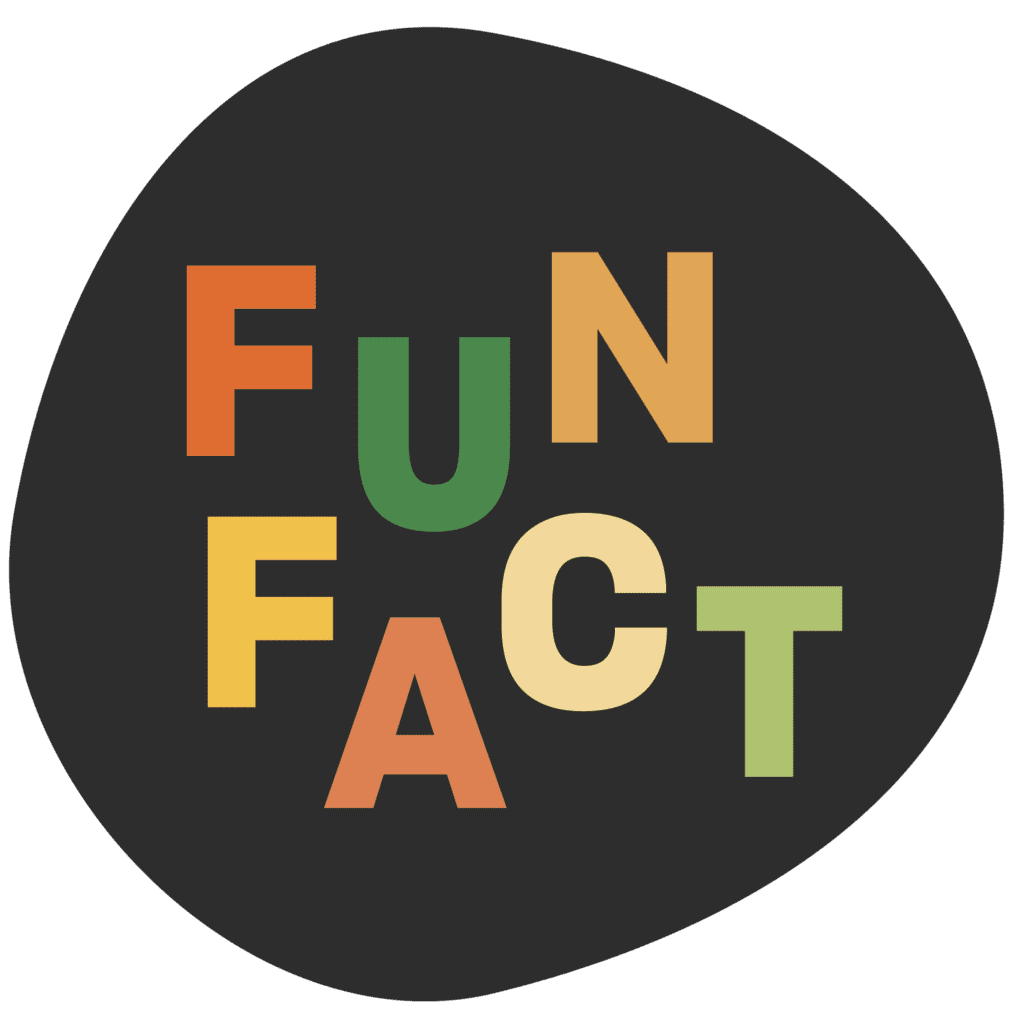 What can I do with lots of apples?
Baked goods like apple pie, apple cake, and apple dumplings are an easy way to use up a haul of apples. Another option is to turn your apples into applesauce. After peeling and coring them, you can cook them on the stovetop or in a slow-cooker. Some people add a hint of sugar or cinnamon to taste. If raw apples aren't your thing, you can dry them for a new snack idea. A dehydrator makes it quick and easy, but if you don't have one, your oven will work fine. You can also turn leftover apples into a puree, which you can easily freeze or can.