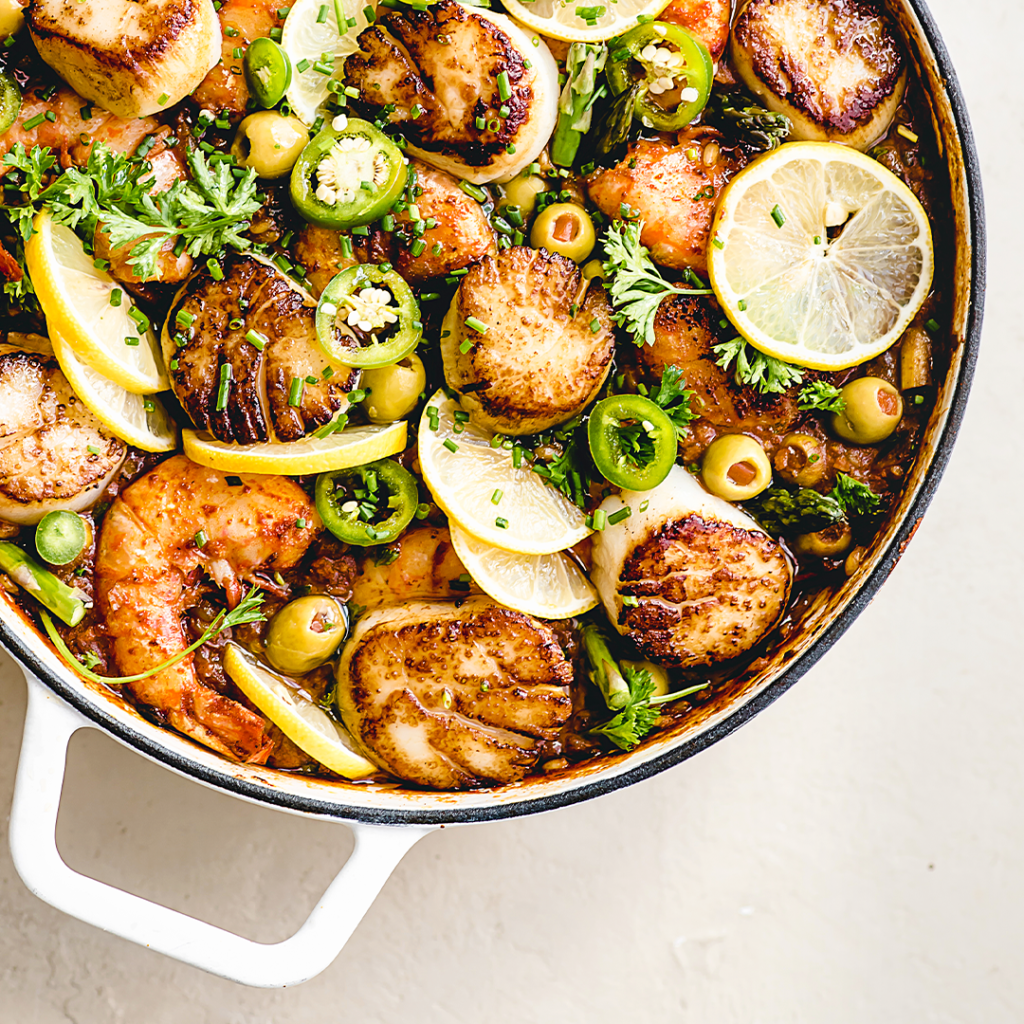 Mix up meal prep for the week by making a big pot of paella that you'll want to eat every day. This flavorful dish is filling—it's full of fresh veggies and two types of seafood. The arborio rice base gets a gorgeous golden color from saffron threads and smoked paprika. Plus, briny olives mixed with garlic, onion, jalapeño, and asparagus add a whole new dimension to the sweet, spicy, smoky, and herbaceous flavors in this paella dish. Shrimp and scallops round everything out with a wholesome, fancy protein you might not cook regularly. 
The best part? You don't have to leave home to get fresh fish to your door, thanks to friends at Fulton Fish Market, where expert fishmongers have been working since 1822. Best known for supplying fine-dining restaurants in NYC, the market lays claim to the world's largest assortment of fresh seafood—and now it's at your fingertips on their direct-to-consumer site.
Print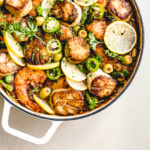 Shrimp and Scallop Paella
---
2 tablespoons

butter, olive oil, or cooking oil of choice

1 1/2

pounds scallops, rinsed and patted dry

1 1/2

pounds shell-on shrimp, deveined

2 teaspoons

saffron threads

1 tablespoon

 smoked paprika

4 cups

vegetable or chicken broth

1

pound ground chorizo, casings removed

1 cup

asparagus, chopped

1

green pepper, diced

1

red onion, diced

6

cloves garlic, minced

3 cups

arborio rice

1 cup

tomato puree

1 cup

white cooking wine

1/2 cup

Spanish green olives

2 teaspoons

salt
Freshly cracked black pepper

1 tablespoon

chives, chopped

1 tablespoon

parsley, chopped

1

lemon, juiced and zested

2

lemons, thinly sliced for garnish
---
Instructions
Add saffron threads and smoked paprika in the vegetable broth. Set aside to bloom.
In a large, deep pan, add ground chorizo and cook for 3 minutes or until it begins to brown.
Add the vegetables and stir to coat the pieces.  Cook for 3-6 minutes or until veggies begin to brown.
Stir in minced garlic. Then, pour in the rice. Stir and cook for 1-2 minutes or until the garlic begins to release its aromatics and rice is coated.
Add in tomato puree, wine, and seasoned broth. Stir in the olives and mix until combined.
Bring to a boil. Then, reduce heat to a simmer, cover, and cook for at least 15 minutes.
Remove lid and layer shrimp on top of the rice mixture. Return the lid and cook for an additional 10-15 minutes. By this time, the shells should turn red, the meat becomes opaque, and the tails curl.
Remove lid, give a stir, then cover again.
In the meantime, in a separate pan add butter (or oil) and bring to medium heat.
Add scallops, spacing them 1-2 inches. When the bottoms start to lift and become golden brown—about 3 minutes. Flip the scallops and cook the other side for 1-2 minutes. When fully cooked, transfer to a plate to set aside.
Turn off heat. Remove lid from rice and give it another stir. Add the zest and juice from one lemon, add in chopped chives and parsley, season with salt and pepper, and stir to mix.
Finally, layer the scallops and lemon slices. Garnish with extra herbs, share, and savor!
---