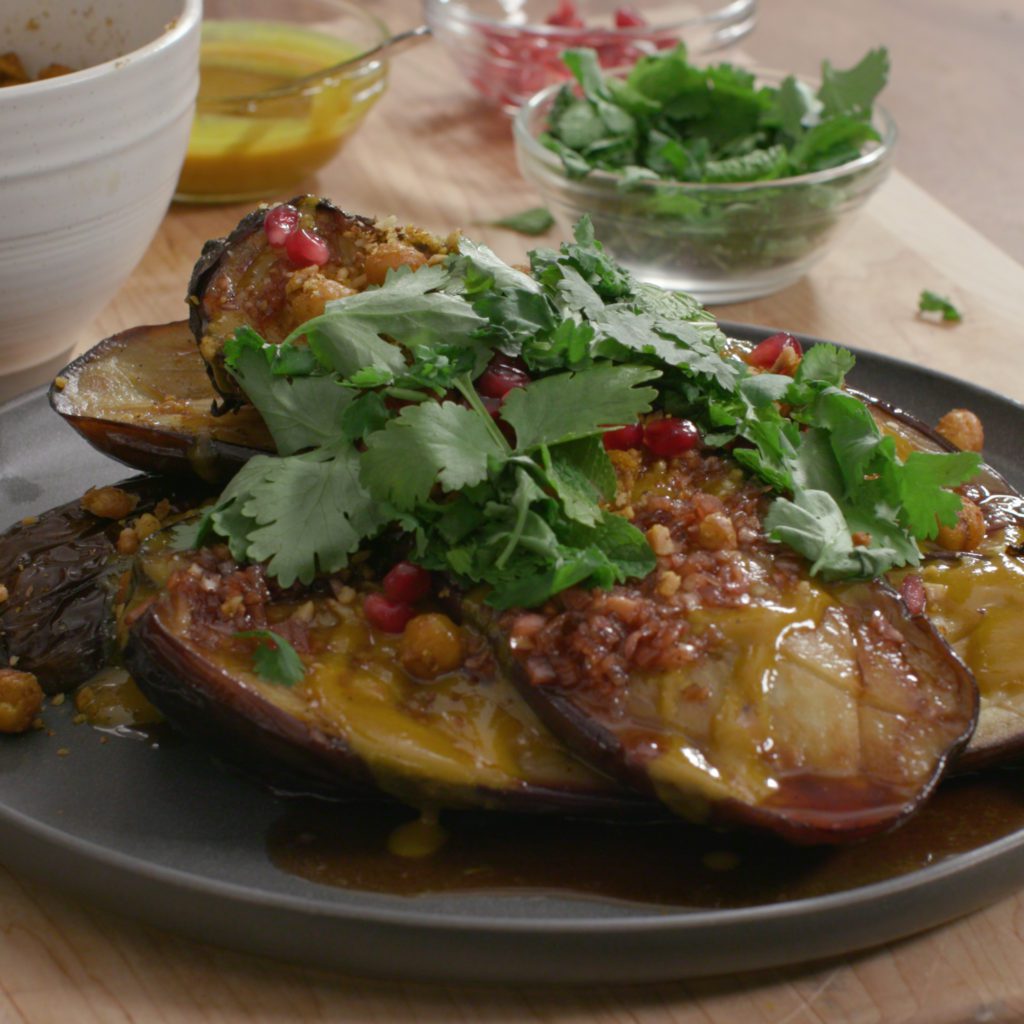 To this day, eggplant is one of Misfits Market's most controversial veggies. Why? Because it's abundant year round, we often feel that fatigue of just what to do with eggplant. If you're a fan of crunchy roasted chickpeas, savory tahini sauce, and sweet fruit garnishes, consider combining it all together and topping it on roasted eggplant. You'll be rewarded with a delicious meal that allows you to enjoy all that eggplant has to offer.
Watch now to learn how to make your own roasted eggplant with deconstructed falafel topping and savory tahini dressing:
And continue reading for the full recipe:
Print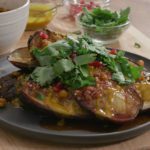 Roasted Eggplant with Tahini Sauce and Falafel Topping
---
3

medium-to-large eggplant

3 tablespoons

extra virgin olive oil

1 teaspoon

sugar

3/4 cup

walnuts, finely chopped and toasted

1

15-ounce can chickpeas, drained

1/2 teaspoon

chili powder

1/2 teaspoon

garlic powder

1/2 teaspoon

onion powder

1/2 teaspoon

turmeric powder

1/2 teaspoon

cumin

1/2 teaspoon

paprika

1/4 teaspoon

cinnamon

1 cup

cilantro leaves

1 cup

mint leaves, torn

2 tablespoons

pomegranate arils
Kosher salt to taste
Cracked black pepper to taste
Flaky sea salt to garnish, if desired
Tahini Sauce
1/4 cup

tahini

1 cup

warm water, or more if needed
Juice of

1

lemon

1/2 teaspoon

turmeric

1/2 teaspoon

garlic, grated

1/2 teaspoon

fresh ginger, grated

1 teaspoon

honey
Red Wine-Maple Reduction
1

shallot, minced

1/2 cup

red wine vinegar

1/3 cup

maple syrup
---
Instructions
Preheat oven to 375 degrees.
Slice eggplant lengthwise in half.  Lay on a lined baking sheet and season with salt, pepper, and sprinkle sugar overtop to draw out bitterness. Drizzle 2 tablespoons olive oil top and rub eggplant to incorporate.
Roast eggplant, cut-side down, rotating baking sheet halfway through baking until insides are soft and outer skin is slightly crispy, about 40 minutes.
While eggplant is baking, toss together chickpeas and all spices, chili powder through cinnamon, along with remaining 1 tablespoon of olive oil. Season with salt and pepper. Roast on a lined baking sheet until crispy, about 30 minutes, rotating halfway
Once chickpeas are crispy, remove from oven and allow to cool. When cooled, roughly mash or break apart lightly and combine with walnuts.
For the tahini sauce, whisk warm water and lemon juice into tahini, adding in ginger, garlic, turmeric, and honey. Salt to taste.
For the red wine-maple reduction, heat a small saucepan over medium heat.  Add shallot, red wine vinegar and maple syrup.  Bring to a boil then reduce heat and simmer until liquid reduces by about half and is lightly thickened.
To serve, arrange roasted eggplant on a platter.  Drizzle tahini dressing over top followed by red wine-maple reduction and falafel chickpea-walnut mix. Top with cilantro, mint and pomegranate arils and flaky salt if desired.
Serve and enjoy warm!
---