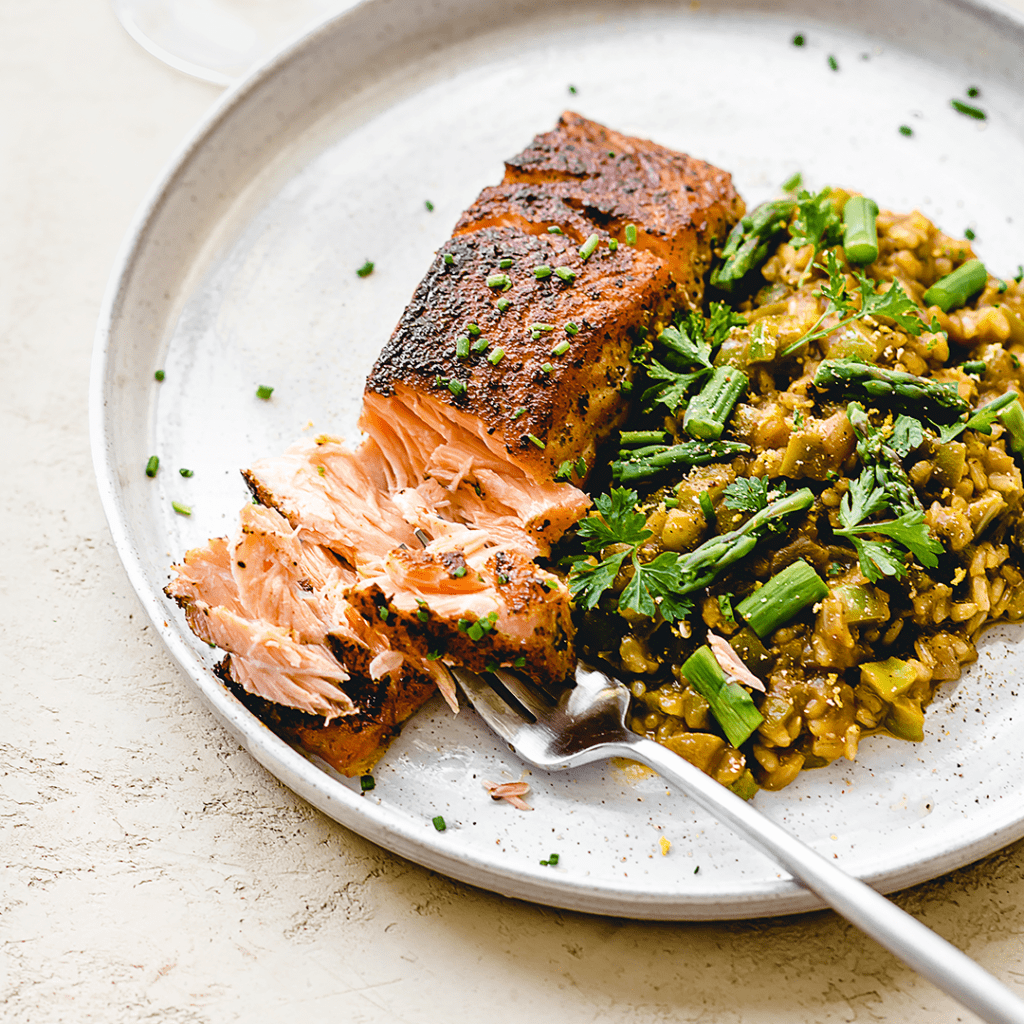 We're not sure exactly when it happened, but somehow pumpkin got typecast as just a seasonal coffee flavor or base for your favorite spiced pie. In reality, pumpkin is a relatively mild squash that can take on a lot of strong flavors. Sweet, spicy, smokey, savory. We let it shine in a whole new dimension by pairing fresh pumpkin purée with herbaceous asparagus in a filling homemade risotto. Then, to keep things interesting, we added some welcome heat with Cajun-spiced salmon fillets. It's an unexpected flavor profile that just somehow works.
The best part? You don't have to leave home to get fresh salmon to your door, thanks to our promo with Fulton Fish Market, where expert fishmongers have been working since 1822. Best known for supplying fine-dining restaurants in NYC, the market lays claim to the world's largest assortment of fresh seafood—and now it's at your fingertips on their direct-to-consumer site. For 15% off* your first Fulton Fish Market order, just use code MISFITS at checkout on FultonFishMarket.com by 11/6/20 at 11:59:59 p.m. EST.
*Caviar and gift cards excluded. Promotion ends 11/6/20 at 11:59:59 p.m. EST.
Print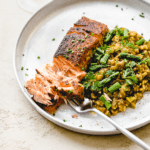 Pumpkin Risotto with Cajun-Seared Salmon
---
6

pieces salmon (4- to 5-ounces each)

2 tablespoons

Cajun seasoning
Kosher salt
Black pepper

1 teaspoon

and 1 tablespoon cooking oil

3

large sweet onions, diced

3

shallots, diced

3 tablespoons

olive oil

6

cloves garlic, minced

1 cup

asparagus, chopped

1 cup

arborio rice

1 teaspoon

ground cinnamon

1 cup

cooking white wine

1/2 cups

pumpkin purée

5 cups

vegetable stock, divided

2 tablespoons

fresh lemon juice

2 tablespoons

pumpkin seeds
---
Instructions
In a large pan, add diced onions, shallots, and 1 teaspoon oil. Bring to medium heat. Stir often and cook for 15-18 minutes until soft and brown.
Add garlic, asparagus, and rice. Season with salt and pepper and add cinnamon. Mix and cook for another 2-3 minutes. Then, reduce heat to low.
Deglaze the pan by adding the cooking wine. Stir again and gently scrape the bottom of the pan to loosen any bits. Cook for another minute or so or until the alcohol begins to evaporate.
Return heat to medium and add one cup of vegetable stock.  Stir and cook for 5-6 minutes, then add an additional cup of vegetable stock. Continue and repeat this process until all five cups of vegetable stock have been added and the rice is tender. Season with salt and pepper as needed.
Stir in pumpkin purée and fresh lemon juice. Stir until well combined. Then, cover with a lid while preparing the salmon.
Pat salmon portions dry and season with salt, pepper, and cajun seasonings. Bring a large skillet to medium heat and add remaining 1 tablespoon cooking oil. When the pan is hot, add salmon pieces, skin side down, and cook for 3-5 minutes or until salmon is browned and seared on the bottom. Refrain from moving during this time.
When ready, flip and turn off heat. Leave the salmon in the hot pan—as it cools, the fish will continue to cook for another 3-5 minutes.
Meanwhile, uncover risotto, and give another stir. Taste and season with salt and pepper. Then, portion on serving plates or in bowls.
When the salmon is ready, layer over risotto and garnish with pumpkin seeds. Serve immediately and enjoy!
---