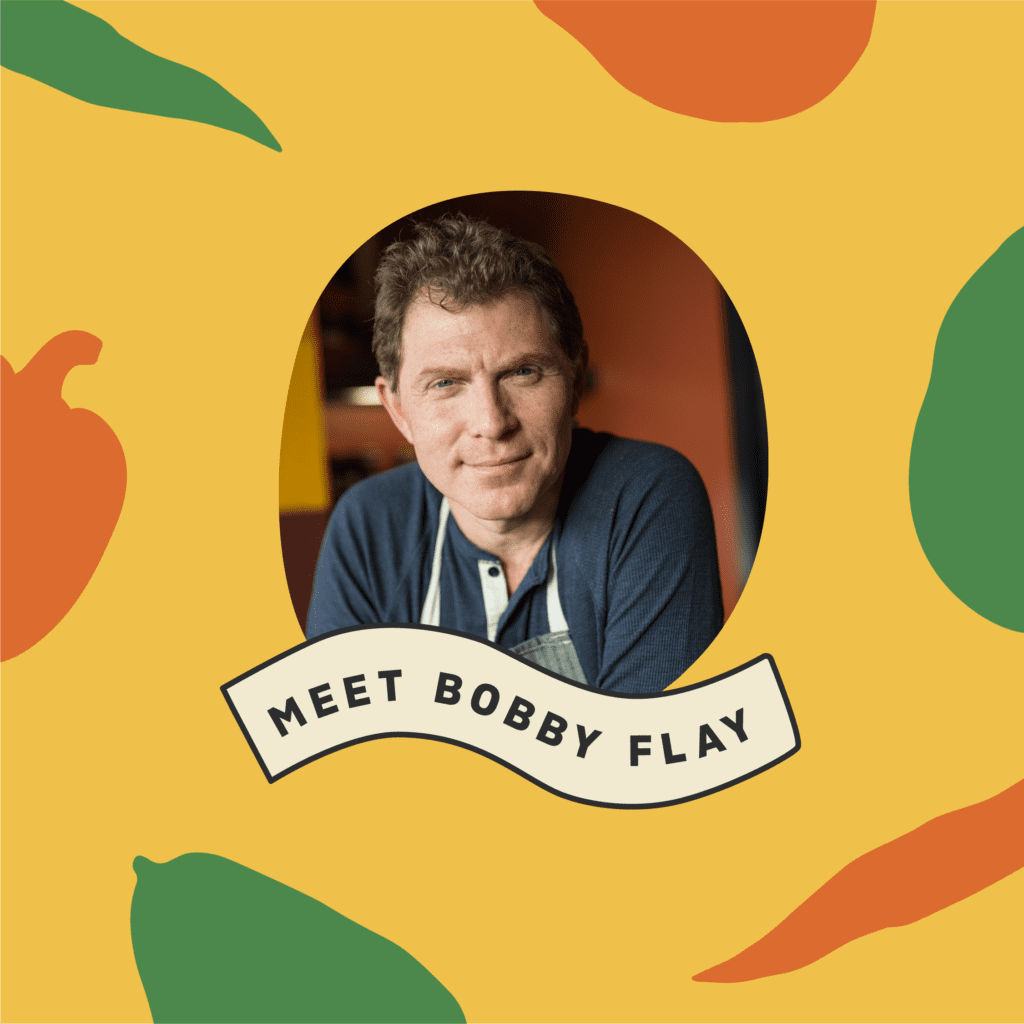 We couldn't be happier to welcome chef Bobby Flay to the Misfits Market crew! He's going to be our chef-in-residence helping us help you. Bobby's been a big fan of Misfits Market for a while now, so he knows exactly how to make the most out of each box. Just watch as he unboxes a produce box and a handful of Marketplace items, then immediately goes into game-plan mode thinking up what to cook. A pro being a pro.
Each month, we'll be getting culinary know-how, recipes, and words of wisdom straight from Bobby's home kitchen. Here, in the first installment, Bobby's already dishing out some early Thanksgiving prep tips because practice makes perfect. Plus, you'll hear how to make a savory tahini compound butter, what to do with celery root, and why no one should be sleeping on celery. 
Get to know Bobby
He's likely a familiar face from Food Network hits like Boy Meets Grill, Beat Bobby Flay or Throwdown! with Bobby Flay. Or maybe you know him from his award-winning restaurants (he's been in the game for more than 25 years!) in New York City, Las Vegas, and beyond.

These days, though, Bobby's been all about helping home cooks make the most of what they've got on hand. His Instagram is packed with videos that offer new ways to get inspired in the kitchen. And now he's ready to do the the same for you and your Misfits Market box. "Misfits Market is all about making high quality produce and pantry items affordable and accessible. It's a mission I can stand behind and I am thrilled to be joining the family," he says. "I'm looking forward to seeing just what we can make together because with Misfits Market supplying the ingredients, there's no limit to what we can whip up in the kitchen."
Fast Facts about Flay
The kitchen has been his happy place for decades.
When he was eight, Bobby asked for an Easy-Bake Oven for Christmas. His parents obliged (along with a G.I. Joe, to "balance things out," as he's recounted), and ever since then this New York City native has had a passion for all things food. Shortly after he left high school at age 17, his dad enlisted him to become a busboy at famed New York restaurant Joe Allen. A year later, he enrolled in culinary school and his path to success in the food world was forged.
He's a legit restaurant mogul
After a brief interlude working on the New York Stock Exchange, Bobby went back to the kitchen and at age 26 became executive chef of the critically-acclaimed Mesa Grill. There, he honed his signature Southwestern-inspired style, winning the 1993 James Beard Award for Rising Star Chef of the Year and eventually going on to open a host of fine-dining restaurants across the U.S. (The remaining outpost of Mesa Grill in Las Vegas is transforming into Amalfi by Bobby Flay, an Italian seafood concept, in 2021.) He's also the guy behind Bobby's Burger Palace, a chain of casual burger joints on the East Coast.
He's basically the definition of celebrity chef…
Thanks in large part to his Food Network hosting gigs, he was the first chef to get his own star on the Hollywood Walk of Fame. Even more impressive: Bobby was the subject of an entire Jeopardy! category, in which all the clues featured him. #lifegoals
…but he's not the only star at home
His cat, Nacho, an Orange Maine Coon, is an Instagram influencer in his own right with more than 200,000 fans. Worth a follow for the food-inspired name alone, the feed also features cameos from Nacho's equally-gorgeous feline sister Stella.
Tell us: What do you want to learn from Bobby? Any specific Misfits Market ingredients that always stump you in the kitchen? Leave a comment and your request may be covered in a future video!