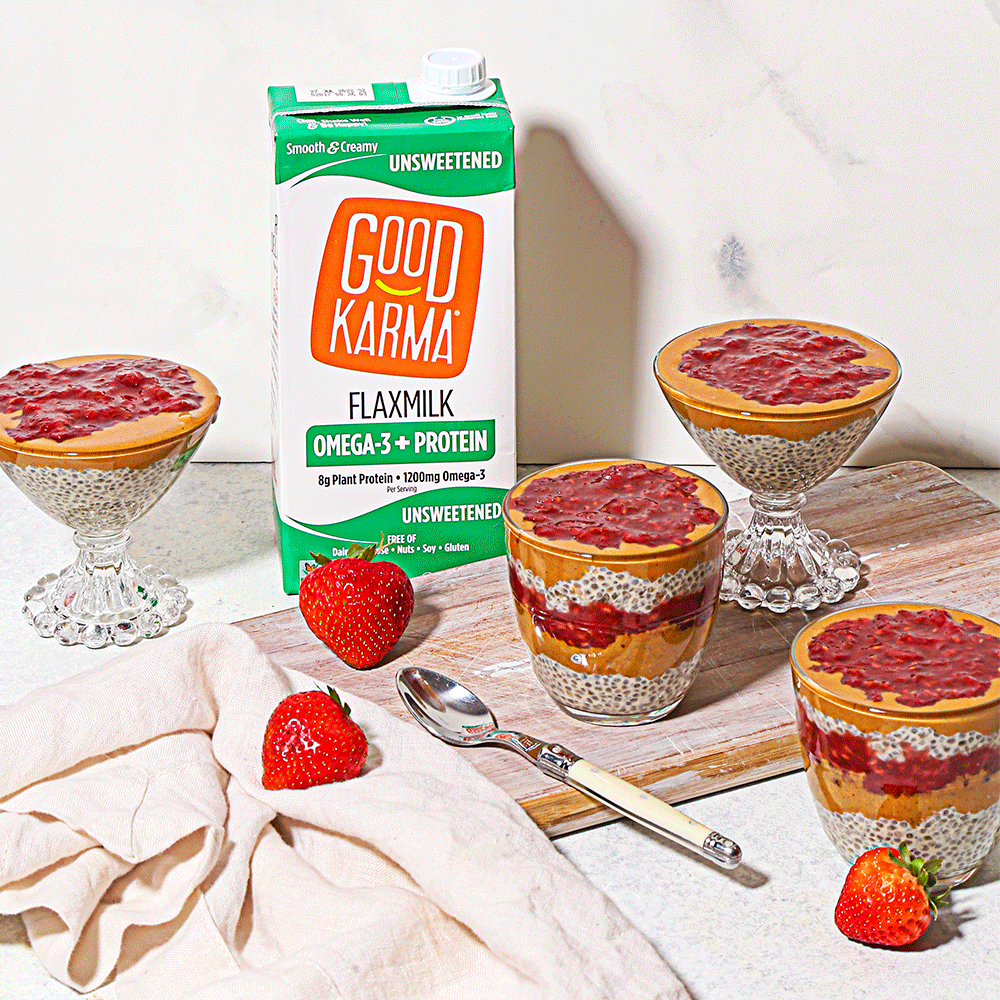 Good Karma makes high-quality flaxmilk. Yep, that tiny but mighty flaxseed from the health food aisle is the base for a delicious, surprisingly smooth beverage. This milk alternative is free of dairy, soy, nuts, and gluten, but loaded with good stuff like omega-3s and plant-based protein. And as the name suggests, Good Karma's flaxseed milk is sustainable, too. Flaxseed production uses less water than other dairy alternatives, and flax actually absorbs CO2 in the air as it grows.
Stock up on some when you build your next order and enjoy it by the glass, in cereal, or try it out in our PB&J-inspired parfait.
Print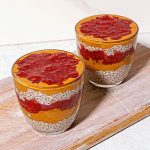 Good Karma Flaxmilk PB&J Chia Parfait
---
1/2 cup

chia seeds

2 cups

Good Karma Flaxmilk

3/4 cup

plus 3 tablespoons maple syrup, divided

2 teaspoons

vanilla extract
Pinch of kosher salt

3 cups

strawberries, hulled and halved
Peanut butter (or other nut/seed butter)
---
Instructions
Add chia seeds, Good Karma Flaxmilk, 3 tablespoons of maple syrup, vanilla extract, and a pinch of salt to a medium bowl. Stir to combine, then cover and refrigerate for at least 2 hours or overnight.
Place strawberries in a medium saucepan with the remaining ¾ cup of maple syrup. Heat over medium until maple syrup begins to bubble. Reduce heat to low and cook, stirring occasionally, until berries break down and become jammy, about 20 minutes. Remove from heat and let cool completely. (Jam can be made ahead and stored in an airtight container in the refrigerator for up to a week.)
To assemble parfaits, add a thick layer of chia pudding in a shallow glass followed by a thin layer of peanut butter and a thin layer of jam. Repeat with at least one more layer of chia pudding, peanut butter, and jam. Serve immediately or cover and refrigerate to save for breakfast or a snack.
---