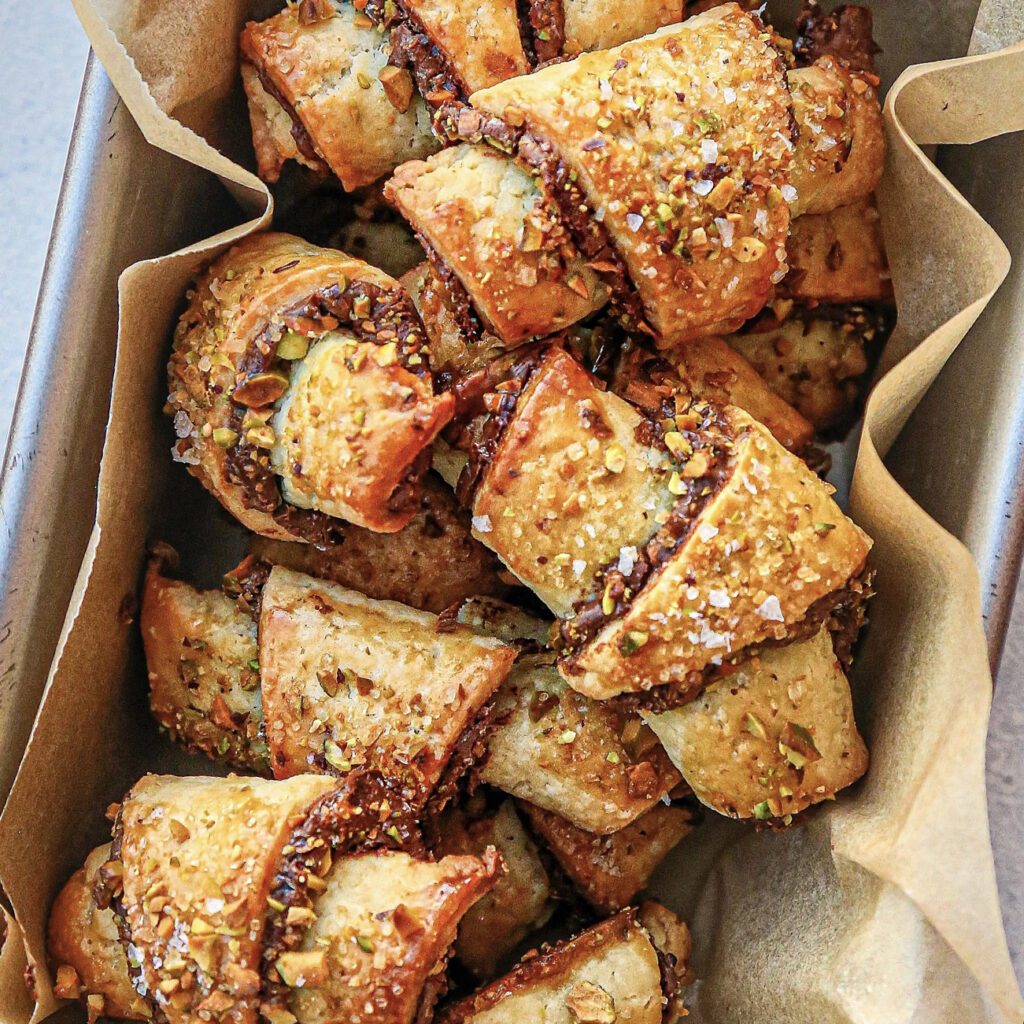 The best part of rugelach is the filling—in this case, chocolatey Nutella and crunchy pistachios. Pair 'em with coffee as a midmorning picker upper, an afternoon cup of tea, or a good ol' glass of milk.
Get the recipe for Nutella-Pistachio Rugelach:
Print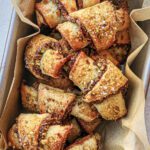 Nutella-Pistachio Rugelach
---
Dough:
2½ cups

all-purpose flour, plus more for dusting

¼ teaspoon

baking powder

¼ cup

sugar

1 teaspoon

kosher salt

½ cup

(

1

stick) cold unsalted butter, cut into pieces

8 ounces

room temperature cream cheese, cut into pieces
Nutella-Pistachio filling:
8 ounces

Nutella (or other hazelnut spread), divided

½ cup

, plus 2 tablespoons pistachios, shelled, finely chopped and divided

2 teaspoons

flaky sea salt, divided

1

large egg

2 teaspoons

demerara sugar
---
Instructions
For the dough: In the bowl of a standing mixer fitted with the dough paddle attachment, add flour, baking powder, sugar, and salt. Pulse on low until the dry mixture is combined. Add butter and beat on medium until pieces flatten and separate into smaller bits (mixture should begin to look like slightly wet sand), 3 minutes. Add cream cheese and mix until large clumps of dough begin to form, about 1 to 2 minutes.
Turn the dough onto a clean work surface and split it in half. Gently knead each half of the dough until it comes together. Pat each dough into a disk and wrap tightly with plastic wrap. Chill until dough is firm, 45 to 60 minutes.
Preheat oven to 375 degrees. 
Lightly flour your work surface and roll out dough disks, one at a time. Dust with more flour, turning over and rotating as needed, and roll out dough until it's about 12-inches in diameter. If dough is sticking, place it back into the fridge for a few minutes.
Spread half of the Nutella onto dough with an offset spatula, leaving a ½-inch border. Sprinkle ¼ cup of chopped pistachios and ½ teaspoon flaky sea salt evenly over Nutella.
With a pizza or pastry roller, cut dough into 12 even wedges. Starting with the wide end, roll each wedge towards the point to create a crescent shape, then place on a parchment-lined baking sheet. Repeat steps 3-5 with the remaining dough and filling.
Beat egg and brush over each pastry. Top rugelach with remaining 2 tablespoons of pistachios, 1 teaspoon of flaky sea salt, and Demerara sugar. Bake until rugelach is golden brown, 25-30 minutes.
Let cool before serving, and store extras in an airtight container.
---
Notes
You can really add anything you'd like as a filling. Other options we like are: raspberry jam, brown sugar and cinnamon, nuts, and dried fruit.
Like this? Try this:
Crispy Celery Root and Leek Latkes