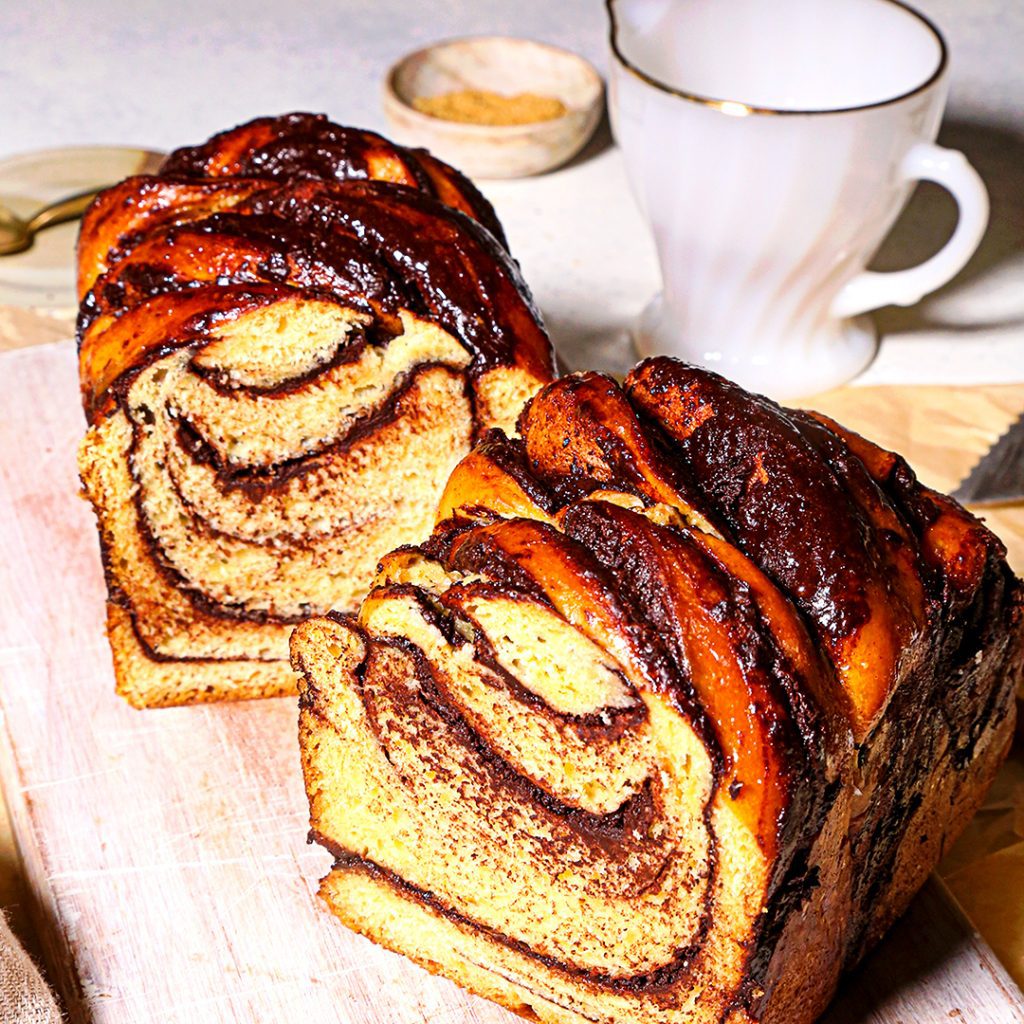 Layers of fluffy brioche-like dough and cocoa make for a delicate and celebratory babka to mark the end of Hanukkah. You'll want to save this one to try later with other delicious fillings like cinnamon, raisins, hazelnut spread, and even cheese.
Get the recipe below. As with any dough, a few hours are required for proofing, but it's worth the wait for a deliciously doughy homemade bread.
Print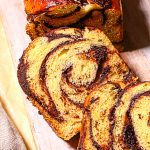 ---
For the dough:
⅔ cup

lukewarm whole milk 

4 tablespoons

sugar

1 teaspoon

vanilla extract 

1 tablespoon

dry active yeast 

3

large egg yolks, whites saved for brushing

2¾ cup

all-purpose flour

1 teaspoon

kosher salt

5 tablespoons

room temperature butter, cut into pieces
For the filling:
¾ cup

semi-sweet chocolate chips

½ cup

(

1

stick) unsalted butter

½ cup

powdered sugar

½ cup

cocoa powder

½ teaspoon

cinnamon

½ teaspoon

kosher salt
For the glaze:
---
Instructions
For the dough: In the bowl of a stand mixer, combine milk, sugar, vanilla, and yeast. Let sit for 10 minutes to make sure yeast activates. If there are bubbles at the top, it's time to continue.
Next, mix egg yolks into milk mixture. Add flour and salt to the bowl and mix on low speed with a hook attachment until the dough looks saturated. Turn speed up to medium and add in butter, one piece at a time, making sure butter is fully worked in before adding the next piece. After 8-10 minutes the dough should look semi-glossy and very smooth.
With your hands, form a ball with the dough and transfer to a lightly greased large bowl. (You can add a little bit of oil to your hands if the dough is too sticky to handle.) Cover the top of the dough with a little bit of oil, then cover the bowl with plastic wrap and let the dough proof on the counter for about 1-1½  hours until it doubles in size. Chill in the refrigerator to finish proofing for at least 4 hours or overnight. 
For the filling: Fill a small saucepan with 2 inches of water and bring to a simmer. Place a medium heatproof bowl on top of the saucepan and melt chocolate and butter, whisking occasionally. Once melted, remove the chocolate mixture from heat. Whisk in powdered sugar, cocoa powder, cinnamon, and sugar until smooth. Set aside to let cool and slightly thicken. 
To assemble: Grease a 9"x4" loaf pan with oil or butter, then line with a rectangular sheet of parchment paper. Roll dough into a ½-inch thick rectangle (should be about 10"-12" in length) on a floured surface. Mix filling, then spread it onto the dough with a spatula. Leave a ½-inch border around the edge. 
Starting at the base of the longer side, tightly roll the dough up into a log and then slice the log in half lengthwise. (If the dough is a bit too soft to create a clean cut, freeze the log for 10-15 minutes to make it easier to work with.) Lay the two strands of dough next to each other. Form an "X" by laying one strand of dough on top of the other. Continue to twist the two strands together from the top and the bottom, pinching the ends together. Transfer the babka into the prepared pan and cover with a damp tea towel to rise for another 1-1½ hours. 
Bake: Heat oven to 350 degrees. Lightly brush the top of the babka with the leftover egg whites. Bake babka until golden brown, about 40-45 minutes. 
Glaze: Meanwhile, add the sugar and water to a small saucepan over low heat. Cook, swirling occasionally until the sugar dissolves. 
Once the babka is baked through, remove from the oven and brush on the glaze to lock in the moisture and to create a glossy finish. Let cool completely before serving. It's hard to wait but worth it for a nice clean cut!
---