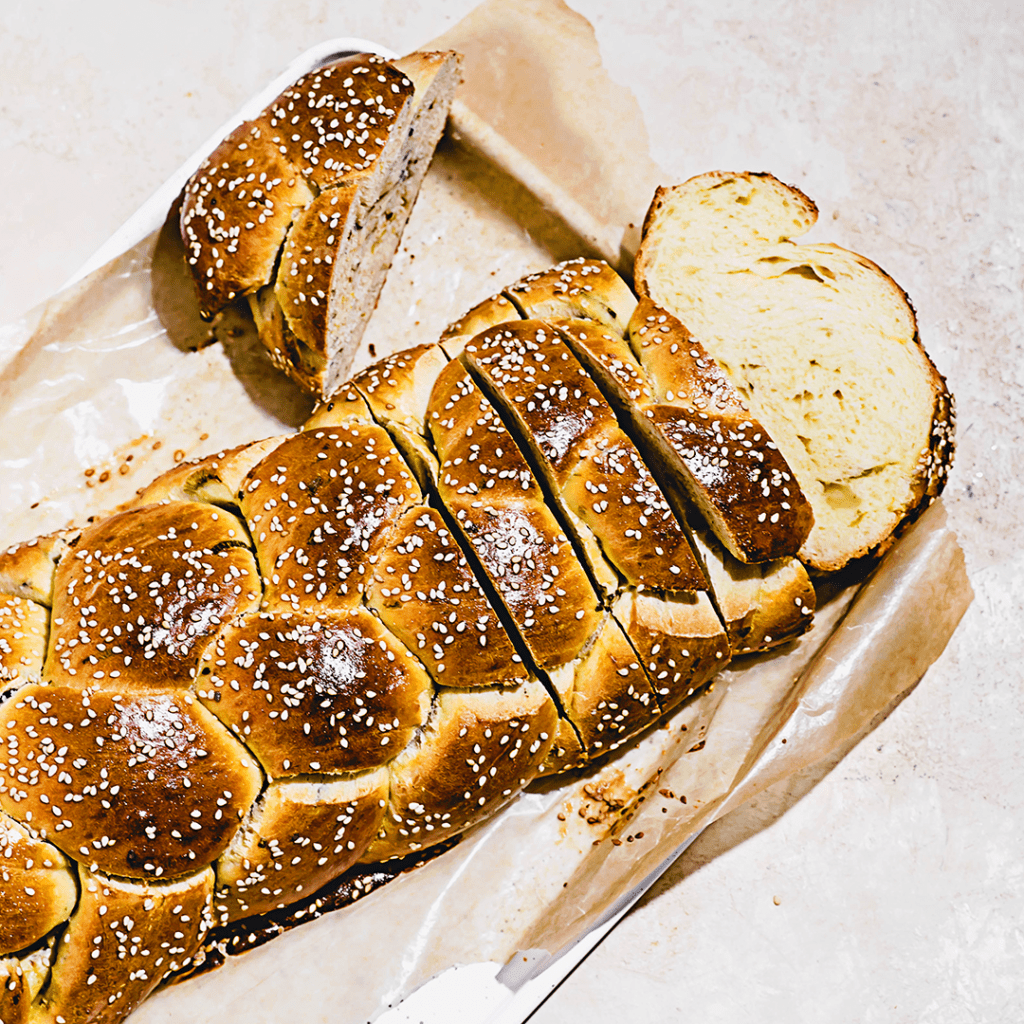 Focaccia and sourdough are so 2020. The bread recipe we're mastering this winter is the braided challah loaf. This twisted, semi-sweet loaf most closely resembles a brioche with one big difference: no butter (or dairy whatsoever) is used in the classic Jewish challah. But we couldn't leave you with just a plain version. This one is chock-full of minced garlic and sautéed leeks, adding savory, oniony flavors throughout the eggy dough. Master the braided technique and add ample amounts of egg wash to achieve that beautiful plait and deep golden crust.
Print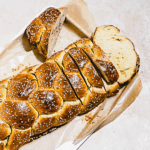 Garlic and Leek Braided Challah
---
1

large leek, washed and thinly sliced (about

2 cups

)

9

garlic cloves, minced

1 teaspoons

kosher salt
Dough
1 teaspoon

cooking oil

1 3/4 cup

warm water

1 1/2 tablespoons

kosher salt

1 1/2 tablespoons

active dry yeast

1/2 cup

granulated sugar

1/2 cup

extra virgin olive oil

4

large eggs, whisked

7

–

8

cups all purpose flour

1 tablespoon

toasted sesame seeds
Egg Wash
1

egg

1 tablespoon

filtered water

1/2 teaspoon

kosher salt
---
Instructions
Add cooking oil to a sauce pan and bring to medium heat. Add leeks and garlic and sauté for about 10 minutes or until golden, soft, and fragrant.  Set aside to cool.
In a large mixing bowl, add filtered water, yeast, sugar, and kosher salt. Let sit for 5-8 minutes or until bubbly and frothy.
Add in the cooled, cooked garlic and leeks, and pour in the olive oil and eggs. Stir to blend.
Add 6 cups of flour and mix. Then, gradually add in more flour, 1/4 cup at a time, until the consistency is no longer sticky.
Transfer mixture to a lightly floured surface and knead until smooth, about 10-15 minutes.
Clean the previous bowl and grease with drizzle of oil. Place the dough in the bowl, brush more oil on top, and cover the bowl with a damp towel.
Allow dough to proof (rise) in a warm, dry location for about 1 hour or until it has doubled in size.
After an hour, remove the towel and press down into the dough to redistribute the gluten. Cover and allow to rise for another 45 minutes to 1 hour.
Transfer the dough to a lightly floured surface. Gently knead dough, then divide into 6 equal pieces. Roll dough into ropes about 1-2 inches thick. Braid into one large, 6-strand challah or divide into two, 3-strand challahs.
Prepare a parchment lined tray (or two) and carefully place the challah dough on top, leaving about 2 inches of space around the edges to prevent spilling over.
Next, whisk together the egg wash and carefully brush over the loaf or loaves. Sprinkle the sesame seeds on top.
Preheat the oven to 375 degrees F. Bake for about 35-45 minutes or until the bread reaches an internal temperature of 190°F.
Remove from the oven and allow to cool, which will help the steam distribute throughout the bread as it comes to room temperature, leaving it nice and fluffy. Finally, slice and enjoy!
---